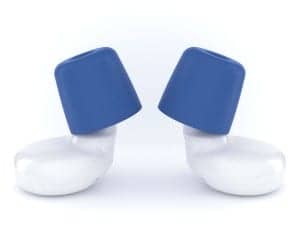 Hush Technology Inc has announced the availability of Hush, the world's first Smart Earplugs. Hush is a new kind of sleep wearable that helps tinnitus sufferers and others by combining noise isolation in the form of earplugs with access to 15 different soothing sound tracks to block out disturbing noises via a smartphone app.
Hush Technology's new product is applicable for anyone having difficulty falling asleep, including patients with tinnitus, snoring spouses, those in loud residential areas, or those who need to sleep during frequent travel. Hush Smart Earplugs are designed to effectively block out up to 70dB of noise through the combination of two proven noise blocking methods and replace it with a soothing sound, such as white noise, rain, waterfall, or forest sounds. The product also can be set to generate personal alarms to ensure the user is able to wake up in the morning.
Audiologists and otolaryngologists may purchase Hush directly from St. Louis-based Oaktree Products, a resource and distributor of supplies to the hearing care industry.
"Hush Smart Earplugs were originally designed to block out noise and provide people with a good night's sleep," said Daniel Lee, CEO of Hush Technology Inc. "However, we soon discovered that Hush could also help people with tinnitus sleep better by masking the irritating ringing that becomes especially acute at night."
"I have been personally testing a sample of Hush, and now I believe that in my practice, this may become the most effective and inexpensive way of treating patients with specific sleep-related problems," said otolaryngologist Robert Woods, MD. "I recommend Hush to any of my patients experiencing difficulty sleeping due to ringing of the ears or a snoring partner."
According to the manufacturer, by connecting Hush wirelessly via Bluetooth with a smartphone, the patient can upload audio clips for relaxation or to mask the "ringing in the ear" sound. The audio clips are stored in the Hush earplug so no audio is streamed from the cellphone throughout the night. A key feature is the ability to hear notifications such as an alarm clock or an emergency phone call while wearing the earplugs.
"I was introduced to the Hush Smart Earplugs while at the recent AudiologyNOW! American Academy of Audiologists conference in Phoenix, Ariz," said A.U. Bankaitis, PhD, FAAA, vice president of Oaktree Products. "We are excited to offer the Hush earplugs to our audiology and ENT customers so they may offer an option to their patients experiencing sleep issues as a result of tinnitus."
Hush Technology Inc is a private corporation located in San Diego, Calif, that develops and manufactures sleep and health-related wearables. Through a successful crowdfunding project, the company raised over $600,000 to bring the Hush Smart Earplugs to market. For more information or to order the earplugs, visit the Oaktree Products website.
Source: Hush Technology