With help from crowdfunding on the Virgin Business Voom website, a company called LimitEar is launching HearAngel®, an app for your smartphone that allows you to monitor how you and your kids listen to music, and lets you know when you or family members are in danger of overexposure to noise. The HearAngel app is designed to intervene to reduce sound to prevent you from exceeding your Daily Sound Allowance (DSA).
In light of recent news reports on studies showing that teens are being exposed to dangerous sound levels through earphones, headphones, and in a range of environments, the arrival of this app seems timely.
LimitEar was formed five years ago to develop hearing dose management technologies for professional headphone users. The company's technology, HDM®Pro, protects users in line with Noise at Work Regulations. The technology, which is being utilized for the HearAngel phone app, is said to have no negative effect on sound quality and has been selected for use in military, live events, and broadcast applications. The company reports that it has contracts with Sennheiser and Meridian/ACS and has been selected by Racal Esterline to be used in a new aviation headset.
Why Use an App That Monitors Headphone Use?
According to HearAngel developer and LimitEar founder, Stephen Wheatley, children, teens and adults use headphones more and more in our daily lives, and if left unchecked, this increased usage could cause irreversible damage to our ears. The hearing damage from noise exposure is caused by the complex relationship between how long and how loud you listen. HearAngel is designed to work out this relationship for you, and help protect your whole family's hearing.
How the App Works to Protect You from Hearing Damage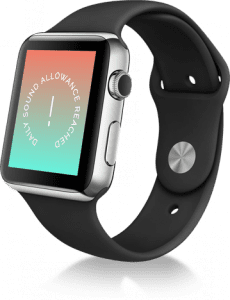 Everyone has a Daily Sound Allowance (DSA). How fast your DSA is used up is dependent on several factors: how long, how loud and what you listen to through earphones on your smartphone or other handheld electronic devices. By tracking your listening habits, HearAngel® is designed to never let you exceed your DSA and to prevent you from being exposed to harmful levels of listening.
The App Notifies You When You or Your Children Are Reaching the Limit for Allowable Noise
HearAngel has "Inform" and "Manage" modes that can provide you with a green, amber, or red status to let you know how close you or your children are to reaching your daily limit of allowable noise. The app will give you a warning message when you're about to move from one mode to the next.
The HearAngel app is designed to be easy to use. After you have downloaded it, you need to enter your name with your headphone type, and you are "good to go." The company says the app is fully compatible with all wearable technology, allowing you to monitor your listening with just a glance at your wrist. Importantly, you can observe the listening patterns of your children and other family members by syncing your phone or wearable with their devices.
Source: LimitEar/HearAngel; LinkedIn; VMBVoom.com
Image credits: LimitEar/HearAngel; Dreamstime