In this special Tech Focus, The Hearing Review shines a spotlight on selected sound suites and anechoic test chambers used by hearing health care professionals in the assessment of hearing deficits and the testing and fitting of hearing instruments. The information presented here was supplied to HR by the respective manufacturers of the products. To obtain more information on these test chambers, fill out the Reader Service Card found on page 70 of this magazine, or contact the companies directly.
---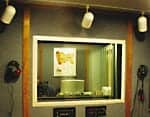 Acoustic Systems
Acoustic Systems has fabricated a wide range of standard and custom audiometric enclosures since 1971. The enclosures are offered with different levels of acoustic performance, variations in floor plans, and numerous appearance options for private practices, clinics, hospitals, government facilities, and research environments throughout the United States. Additionally, the company has developed products specially adapted to the stringent requirements of government facilities and shipboard applications.
Selection of an audiometric enclosure can be from either standard floor plans or the company can design a custom enclosure to meet the most exacting requirements. In addition to custom sizes, enclosures can include interior wall covering, track lighting, dimmer controls, and special interior/exterior finishes. Custom enclosures are typically engineered and shipped within 30 days. With empirical knowledge gained after two decades of dealing with government agencies and general contractors, Acoustic Systems is capable of meeting the critical requirements and deadlines demanded with the coordination of the project from design and fabrication through final assembly at the job site.
Rooms or Suites, whether in custom or standard design, can be relocated with no loss in acoustic performance. With the simple addition of wall, roof, and floor panels, they can even be reconfigured. This becomes important when considering the ever-changing programs and venues of hospitals and private practices.
Engineered for constant use by dispensing professionals, doctors, and patients, Audiometric Enclosures by Acoustic Systems are designed to perform for years under the most demanding environments. All components are fabricated from heavy duty steel. Panels are finished to a film thickness of 1.5 mm to 2 mm with an electrostatic powder coat paint, suitable for industrial, commercial, and institutional applications.
Acoustic System's audiometric enclosures are selected, designed, and installed with the assistance of its network of professional dealers. All Acoustic Systems' dealers have been factory-trained regarding specifications, product performance, installation, and offer selected products to complete the testing equipment requirements.
Acoustic Systems is reportedly the first manufacturer of audiometric enclosures that maintains a National Institute of Standards and Technology (NVLAP) accredited research facility (NVLAP code 100286-0) for noise reduction testing of acoustical enclosures. The lab facility conducts constant product research and performance assurance, in addition to acoustic research for various manufacturers throughout the United States. This level of acoustic technology and commitment assures certified, predetermined performance with each audiometric enclosure manufactured.
Acoustic Systems, Austin, TX: 800-749-1460; www.acousticsystems.com.
---
Eckel Industries – Audiometric Division
Clinical Life Science Series
Eckel offers a wide range of standard single-wall and double-wall audiometric rooms and suites to meet audiological clinical and research requirements. All combine high performance, versatile design, and economy. The company's acoustically engineered Cam-Lock construction is designed to afford excellent noise reduction. Choose from 19 demountable models. Custom designed rooms are available to suit specific requirements of customers.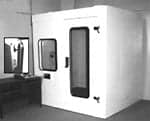 Dispenser Series
Eckel manufactures nine standard models of dispensing and evaluation audiometric rooms. These are designed for installation in clinics and offices that dispense hearing aids. There are two floor designs: 1) the standard steel panel floor with vibration isolators, and 2) the Low Profile floor system using an acoustic solid rubber pad which supports the audiometric room. This Low Profile floor system is ideal for wheelchair access or for situations in which elderly patients need to walk in and out via the use of a ramp.
Hearing Conservation and Screening Booths
There are five models of mini-booths. Two (AB-200 and AB-2000) are all-welded unitized construction, while the AB-4230/40/&50 models are demountable. The Eckel audiometric booths are specifically engineered with features that maximize performance: double acoustic windows, 6 position cable panels, continuous magnetic gasket door seals, incandescent lighting, silenced ventilation, and either HD Castors or Rubber vibration isolators are included with the booths.
Infant Acoustic Isolette
The Infant Acoustic Isolettes are designed to be used when performing early infant screening tests such as OAEs and ABRs. Manufactured using hospital-grade cleanable plastics, the units have cable management slots, static ventilation, and built-in hand access holes.
Eckel Industries, Morrisburg, Ontario: 800-563-3574; www.eckel.ca