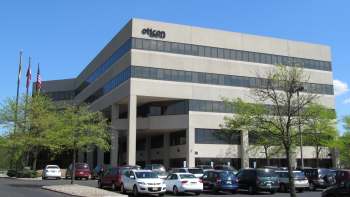 The expansive 5-story building about a mile away from Oticon's previous headquarters provides the growing company with more space, as well as new offerings, including the ability to bring dispensing professionals into its offices for educational events and seminars like the one provided on the Intigai.
Oticon has a new, large, beautiful home for its US hearing aid operations, and it already reflects much of the People First characteristics that have made the company one of the world's largest and most successful hearing aid manufacturers. Featuring an expansive auditorium and learning center, an open floor-plan with natural lighting in almost all areas, and an impressive atrium lobby, the building is designed to fulfill Oticon's strategic and growing operational needs.
For over 5 years, the company had been weighing all options for moving from its nice—but bulging at the seams—Somerset, NJ, headquarters that had served as its home since 1979. Any new building or construction site would need to be within a reasonable distance to prevent losing any of their skilled workforce. "It was absolutely essential to keep all our workers," says Oticon President Peer Lauritsen. "You simply can't replace most of them. And replacing any worker is expensive. For example, it takes 3 months to train someone on our [custom ITE manufacturing floor] and a half-year for one of our people in customer services."
With more than 400 on-site employees, parking was a problem, and all of the potential sites were unsuitable for one reason or another. Oticon expanded across the street to a second facility in mid-2006—roughly following the launch of its Delta product line—to accommodate rapid growth and make room for an expanded customer service department.
Relocation options remained limited until a nearby business went bankrupt, and what was a huge headache for that failing company and its bank became a godsend for Oticon. Once acquired from the bank, the process of renovating the building completely from the walls in, and then reconstructing it to fit Oticon's needs—as well as its decidedly unique office culture and architectural style—was undertaken by Lauritsen, Executive Director Rasmus Borsting, Vice-president of Operations Tom Falvey, and the rest of the Oticon team.
Oticon President Peer Lauritsen (right) and Executive Director Rasmus Borsting (left) played crucial roles in establishing the new US headquarters.
Vice-president of Sales Jim Kothe (right) presents a toast at the short ceremony that opened the company's new People First auditorium, with Lauritsen doing the ribbon-cutting honors.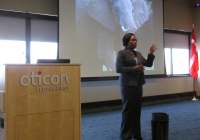 Vice-president of Marketing Sheena Oliver provided a look at buyer behavior and available products for a wide variety of hearing aid users, as well as tools that match patients' needs with appropriate devices.
Distinctly Oticon
The result is an impressive amalgam of a modern US hearing aid manufacturing facility and the Danish architectural designs found at the company's world headquarters at Kongebakken (about 20 miles west of Copenhagen).1 Like its world headquarters, interior walls are almost completely absent from the building's five floors, and like Kongebakken all workers—including Lauritsen and most other top executives—sit at open work centers.
Rasmus Borsting took members of the US trade press on a tour of the new facility. The bottom three floors are primarily devoted to manufacturing, and include a large custom ITE production center complete with special areas for digital shell production and hearing aid assembly, Oticon Medical's US offices, and even a fitness center for employees. The fourth floor contains much of the company's administrative, sales, and marketing departments, while the fifth floor is mostly devoted to educational venues that include the large People First auditorium, a working dispensing office complete with a reception area and soundproof testing suite, and a cafeteria.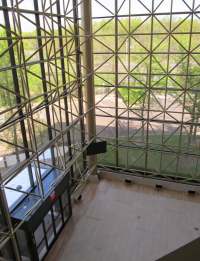 The three-story atrium/reception area in Oticon's new headquarters features a 3D tetrahedron-like lattice inside large plate glass windows to the outside.
Lauritsen has considerable experience moving Oticon offices. Prior to their most recent offices in Somerset, he, Senior Manager Henning Falster, and the late Preben Brunved worked at the first Oticon US headquarters in Union City, NJ, which was established in 1967 (prior to that time, Oticon products were sold through a US distributor). "When we moved from Union City to our Somerset building in 1979, we thought we were in heaven because there was so much space at first," says Lauritsen. Now, 33 years later, Oticon once again has some elbow room for growth in a new home.
Breaking In the People First Auditorium: Showing Off Intigai
One of the most important capabilities the new facility gives Oticon is to bring in groups of dispensing professionals for educational events, as well as to have them meet their audiologists, hearing aid technicians, and sales and marketing experts. To inaugerate these new offerings, the company hosted a 2-day educational seminar on first-time users and the company's new Intigai invisible-in-the-canal (IIC) hearing aid.
"What we wanted to do with Intigai is to change consumers' perceptions into a new reality," said Vice-president of Marketing Sheena Oliver, AuD, MBA, during her seminar on how Intigai fits into a practice. "And that's what we've set out to do with this product. If you recall when we launched Intigai, we talked about how—although the device is an essential part of this process—it's really more about the bigger picture: the process involved in managing the patient from the beginning point of attracting them to your office to when they become an experienced and successful hearing instrument user."
The event included presentations from Lauritsen on how Baby Boomers are influencing hearing healthcare; Vice-president of Audiology and Professional Services Donald Schum, PhD, on audiological issues for first-time users; Vice-president of Sales Jim Kothe, MS, on counseling new users; Product Manager Paul Bauer on mini-BTEs; and Senior Marketing Manager Nancy Palmere on how to market the new Intigai product. It also featured several break-out sessions that included how hearing aid technicians place the various components of hearing aids into the shell, and the use of the company's eCaps and new eCaps Pro software counseling tools. —KES
---
Reference
Strom KE. Oticon renews and re-energizes its "People First" strategy with new support tools and launch of Agil. Hearing Review. 2010;17(4):56,65.