Williams Sound has been "helping people hear" for 30 years—and it's just getting started.
The employees of Williams Sound Corp receive thank-yous from their clients all the time. It's one of the things that make working at the Eden Prairie, Minn, company so rewarding, according to Chad Engel, Williams Sound's communications manager. Customers call or write to thank the company for creating products that enabled them to hear a sermon, enjoy a movie, or spend time watching television in the same room as a non-hearing-impaired spouse.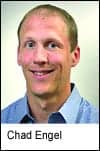 Recently, the company got a different sort of call after a female customer tried the company's Pocketalker, a personal assistive listening device, on her dog. "The dog was old and nearly deaf and unable to interact with its owners the way it once had," Engel says. "They hung the Pocketalker headphones on his neck, and he could hear it. It normalized his behavior in many ways, and they were elated to have their dog back."
Of course, this doesn't mean the company will broaden its motto, "Helping People Hear," to include the animal kingdom.
Williams Sound has upheld its business philosophy since it was founded 30 years ago and has no plans to veer from its course. The mission has provided direction for the company's growth from a basement shop that helped churchgoers hear sermons, to an international company, helping all creatures to engage more in their everyday lives.
Birth of a Business
Williams Sound occupies a small niche in the marketplace. "We are really a manufacturer of hearing assistance equipment rather than hearing aids, which represent a more medical approach. Our products are designed to help people hear in more specific listening applications, such as in the car or small groups. They are designed not only to overcome hearing loss but also to enhance the overall listening experience," Engel says.
The company's first product was developed by founder Gerald I. Williams. Asked by his pastor to help an elderly churchgoer hear the sermon, Williams built a special radio transmitter by modifying a receiver. In his history of the company, Williams writes that when he was at the University of Minnesota, "the transistor had not yet been invented, and my computer industry experience with transistors did not really pertain to radio transmitters. I bought a little Sony receiver and removed the loudspeaker and fixed the station selector to the frequency of my homemade transmitter."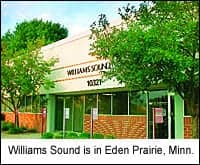 It worked so well that the woman cried with joy—she had not been able to hear a sermon in 3 years. The not-yet-established Williams Sound had its first grateful customer. The woman's daughter directed Williams to others in need of similar devices, and a business idea was born.
In 1975, Williams began to pursue his entrepreneurial venture more earnestly, redesigning the receiver to meet new Federal Communications Commission regulations and marketing it to church administrators. He established Williams Sound in 1976, working out of the basement of his home in the hours he was off from his full-time job with Control Data Corp, then of Minneapolis. On February 25 of that year, Williams Sound made its first sale: a personal public address (PA) AM radio system to Faith Lutheran Church in Austin, Tex. In 1979, Williams quit his day job to operate Williams Sound full-time, moving it out of the basement and into a new industrial townhouse in Eden Prairie.
By 1986, just 7 years later. the company had 35 employees and moved into a bigger space in nearby Minnetonka. One year later, Williams retired, selling the company to its then-55 employees. Williams stayed on as chairman of the board of directors through 1994, but has since fully retired.
Williams Sound is still owned primarily by its employees and has continued to thrive. The company eventually returned to Eden Prairie, moving into larger facilities that keep the accounting, engineering, and sales departments together on-site. The company now employs 76. International sales staff market the company's products overseas. "We don't sell directly to customers, but rather, we have a large network of dealers and distributors who sell our products around the globe," Engel says.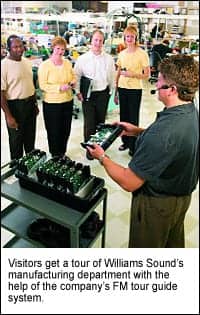 Product Talk
The company offers several lines of products spanning three categories: commercial sound products, which include personal PA FM listening instruments and tour guide systems; assistive listening products, such as personal amplifiers; and listening accessories, including headphones, earphones, and cases.
Cinemas, churches, schools, theaters, conference centers, sports arenas, courtrooms, boardrooms, museums, factory tours, and guided tours are primary markets for the SoundPlus Infrared Listening Systems, Personal PA FM Listening Systems, Hearing Helper Tour Guide Systems, and Williams Sound Accessories brands.
The company's personal assistive hearing devices are marketed and sold to persons with hearing loss through audiologists, clinics, specialty catalog, and online retailers. Among the products the company offers are the Hearing Helper Personal FM Systems, Pocketalker Personal Amplifiers, SoundPlus TV Infrared Systems, Teletalker and Phonemax Amplified Telephones, and Ringmax Amplified Telephone Ringers.
Engel likens the SoundPlus TV more to an entertainment system than a hearing device. The base connects directly to a television, VCR, or DVD player; wireless headphones or other listening devices receive an infrared signal. Controls allow users to adjust the volume to their comfort level; in some models, different volumes can be leveled for each ear. "A user can watch television discreetly. Someone else can be in the room, reading or sleeping, and not be blasted out by the TV," Engel says.
Other models add further convenience with a built-in on/off switch in the headphones. "The system is turned on and off as the arms are pulled apart to fit the head, avoiding battery drain," Engel says. The headphones recharge while in the cradle.
The company's most recognizable brand may be the Pocketalker. "The origins of the Pocketalker go back 25 years; the original Pocketalker Pro is still available," Engel says. The assistive listening device helps users hear more clearly by amplifying close sounds while reducing background noise. The device is ideal in one-on-one conversations or small groups, as well as in situations such as watching television.
The newest version, the Pocketalker Ultra, which has been on the market roughly a year and a half, adds aesthetic features and external tone control. "The Pocketalker Ultra allows the user to adjust the tone with a fingertip rather than having to go to an audiologist," Engel says. The sleeker style is smaller, more attractive, and less likely to look like a hearing device.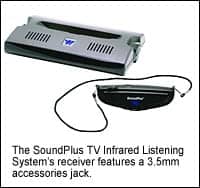 Breaking the Sound Barriers
The aesthetic redesign represents a new trend in device design, making audiology equipment, such as the Pocketalker, as cool as today's personal music devices. "There has been much more emphasis over the past 10 years on styling. The consumer used to ask, 'Does this product work for me?' Now they ask, 'Does it work for me and does it look good?'" says Williams Sound's president and CEO Paul Ingebrigtsen.
For now, there is still a barrier within certain age groups against hearing products. "Baby Boomers feel the visibility of a hearing product doesn't match their active lifestyles, and most surveys show they don't seek listening devices on their own without prodding," Engel says. "More trendy systems that mimic handheld electronic devices are perceived more as tools for everyday living than as tools that say, 'I have a hearing disability.' "
Williams Sound hopes that its products will help break that barrier. Engel says the company is working on redesigning a number of its products with a focus on function, form, and style. "We are keeping the products simple and easy to use while incorporating the human factor," he says.
The company lets customers help drive its direction. "We try to listen to the voice of our customer," Engel says. The company attends trade shows where it asks for feedback from audiologists; it speaks with its contractors and distributors; and it conducts focus groups to get direct customer input. This research is then compared to company products and engineering ideas, and eventually results in new products for the market.
Currently, Williams Sound is seeing more interest in infrared technologies, an area in which it already features product lines. "This technology is becoming more popular because of its secured transmission possibilities. An FM signal will bleed into neighboring rooms, but infrared doesn't transmit outside opaque walls," Engel says, adding the systems have become popular with government organizations.
Other trends include environmentally friendly components, a shift toward wireless technology, and more digital signal processing (DSP), which provides control over audio through software. Only proven technologies are incorporated into Williams Sound products; the company prefers to protect its reputation for durable, reliable products by using technologies known to work. "We're not the first investors in the latest and greatest technology. We wait to see what's proven and will work and then we incorporate it into our products," Engel says.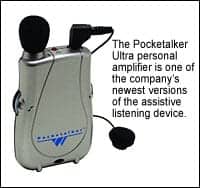 That does not mean, however, that the company is behind the times. "We are always looking at new technologies that could become mainstream and considering how we might integrate them into our products to achieve our goal of helping people hear," Engel says.
Currently, products in development feature more software, programming, LCD displays, and microprocessors. Inge­brigtsen shares that another company goal is to further strengthen its product design and development team to incorporate newer technologies, such as DSP. The company also seeks to add to its local manufacturing capability.
Sound Planning
All of Williams Sound's plans are directed toward achieving the company mission. "Helping people hear" has been its motto since Williams made that first amplification system more than 30 years ago. The philosophy guides the company in all aspects, from product development to staffing to marketing. "There are so many opportunities for us as a company—a new product to develop for market or a new country to market to. If we were to take on every one, we would spread our resources too thin. By focusing on what helps people to hear, it keeps us on track," Engel says.
Williams Sound is known in its niche markets, but the company aims to capture the interest of consumer America. "Our 5- to 10-year goal is to make hearing systems products more mainstream. The general public is not very aware of the products that could help them in their everyday lives. We want them to discover those products and have our name become synonymous with hearing systems," Engel says.
The company has a number of strategies in place to achieve this, including marketing and public relations efforts. The company's Web site features a broad range of information on company products and the industry in general, with links to journals, associations, and white papers. Educational materials and articles targeting specific markets are expected to generate further awareness.
Renee Diiulio is a contributing writer for Hearing Products Report.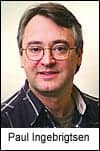 Getting the Lead Out
Williams Sound Corp has a storied history and big plans for the future. But what is the company doing now? According to President and CEO Paul Ingebrigtsen, the company is focused on complying with the RoHS Directive—short for the "restriction of the use of certain hazardous substances in electrical and electronic equipment."
The directive is based in the European Union, but Ingebrigtsen notes that it has been adopted in other countries and even by some states in the United States. "The change is really a green movement with the aim of keeping these potentially hazardous substances out of our landfills, water, and air," Ingebrigtsen says. The RoHS directive restricts the use of harmful substances, such as lead, cadmium, mercury, hexavalent chromium, PBE, and PBDE in certain electronic and electrical equipment.
Meeting these requirements is a huge undertaking. Williams Sound has had to convert all of its products and processes from leaded to unleaded, a time-consuming and expensive change. "It requires new manufacturing equipment that, depending on the type of manufacturing and volume you are handling, could run anywhere from $50,000 to hundreds of thousands of dollars. It requires lead-free components, which we've found run between 3% and 5% more than their leaded counterparts. It also requires unleaded solder, which is more expensive than leaded solder," Ingebrigtsen says.
More difficult to quantify is the resources put into new training and administration costs. "We've had to hire an additional purchasing professional to handle the extra volume," Ingebrigtsen says. With every part needing to be replaced by its unleaded counterpart, for Williams Sound, this has meant 4,000 new items.
Even with new parts, however, not every product design will be a simple conversion. "There is a small handful of components that are not available as a lead-free version. In those cases, you have to redesign and work around the part you don't have," Ingebrigtsen says.
Despite the work involved, however, Williams Sound has chosen to switch over all of its facilities, including manufacturing plants, inventories, and shipping routes. "It's easier in the long run to switch everything over now than maintain two systems," Ingebrigtsen says.