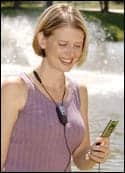 Neck loops, such as this CLA-7 available from ADCO Hearing Products, help hearing aid wearers listen to music from personal listening devices.
Getting consumers to actually wear their hearing aids after a hearing loss has been detected can be challenging. Convincing them that the devices will enhance their lives is often key to gaining their compliance. Beyond the devices themselves are also countless hearing instrument accessories designed to make end users' lives easier, while also ensuring that the devices provide maximum benefit.
Hearing health care professionals can help consumers make the most informed purchasing decisions about the accessory products that will best fit their needs.
Among the considerations to take into account when deciding on which accessories to recommend is the type of instrument a person wears. "First and foremost, patients should always consult their hearing health care provider to determine the best options, because there are three different types of hearing aids. Depending on what type they are being fitted with, they would have different types of items to use for it," says Joe Vespe, director of operations for Hal-Hen Company Inc, Garden City Park, NY, a supplier of hearing health care accessories since 1946.
"For instance, if you're going to be buying a dehumidifying product and you buy the small jar, it's not going to work [with a BTE] because it won't fit," Vespe says. "So a patient would need to know ahead of time [what to purchase], and usually a hearing health care professional will give them a recommendation or lead them in that direction [by saying], 'Here's the size you need, and it goes with this product.' "
Another consideration regarding accessories is where consumers can find replacement parts. Kathy Palmersten, account manager for Warner Tech-care® Products Inc, Minneapolis, which has supplied hearing aid products to audiologists and hearing instrument specialists since 1984, says consumers don't always think about going back to the provider where a hearing aid accessory was purchased. Instead, Palmersten says consumers might try to find a replacement part at a local drugstore or discount store.
"It's best to go back to their primary provider, because that's who should be providing follow-up care for them anyway," Palmersten says. "If you are a hearing aid provider, it's good to keep those products visible so that people know they can come back to buy replacement parts and replacement accessory products from you."
The ability to use a hearing instrument accessory in the future should also be considered, according to Lynn Stambaugh, vice president of sales and marketing for ADCO Hearing Products Inc, Englewood, Colo, which has provided assistive products and services, including hearing aid accessories, since 1991.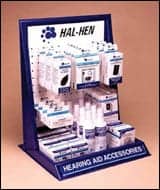 Hal-Hen Company offers a hearing aid accessories display.
"Adding a telecoil to the hearing aid can open up tremendous opportunities for future success using the hearing aid with phones, cell phones, TV systems, or even listening to music from an iPod," Stambaugh says. "A neck loop accessory is available for all of these applications and will increase the consumer's satisfaction with their hearing aid."
The Basic Accessories
Among the most important accessories are products that are critical to the maintenance of the aids. The experts interviewed agree that basic maintenance tools are vital to keeping hearing aids in optimum working order.
"The most popular accessory products would be products that people can use to care for and maintain their hearing aid," Palmersten says. Such products can include cleaning devices, dryers, cerumen removal kits, nonalcohol ear cleaners, picks, brushes, and wipes.
"A nonalcohol ear cleaner [can be used] to wipe the outside of the outer part of the ear canal to keep that area clean and fresh so users don't get infection in that part of their ear," Palmersten says.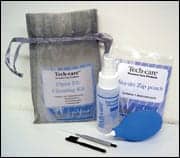 Warner Tech-care Products offers a kit for the special needs of maintaining open-fit devices.
Stambaugh says the most popular hearing aid accessories purchased from ADCO are those for moisture control, ranging from very sophisticated drying units to simple covers or sleeves worn over a BTE device to protect against moisture and perspiration. "Moisture is the leading cause of hearing aid failure," Stambaugh says. "Using the proper product or products for moisture control will not only prevent problems and repairs, but will often improve the performance and clarity of the hearing aid."
Hal-Hen's Vespe suggests that hearing care professionals and end users have a small brush and sanitizing spray on hand to clean the instruments. "You can get sweat and skin debris and that kind of stuff on [the hearing aids]," he says.
Climate can also play a role in choosing the best hearing aid accessories for a patient. For people living in more humid climates, drying products are essential to keeping hearing aids in good working order. "What happens if you have too much moisture is it could hurt the internal components, so keeping them dry when they are not in use helps enhance and lengthen the life," Vespe says.
Another basic yet important tool Vespe recommends is a magnetic stick to help pick up, remove, and place batteries.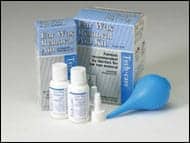 The Tech-care™ Ear Wax Removal Aid Kit helps soften and remove excess cerumen.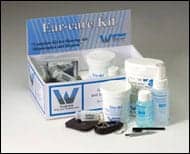 The Tech-care™ Ear-care Kit is a complete kit for hearing aid maintenance and ear hygiene.
Assistive Devices
Besides maintenance and care products, other popular accessories are assistive listening devices (ALDs), including amplified telephones, cell phone accessories, and personal amplification systems. "They come in all shapes and sizes, and they all have one common denominator: They enhance hearing, and in some cases they even enhance hearing aids through different ways [such as] focused sound," Vespe says.
Cell phone accessories are a new niche for Hal-Hen. The rationale is that most individuals uses cell phones, including individuals who are hard of hearing; and because a cell phone can be hard to use for someone with a hearing loss, the company features a new line of accessories that includes loops that work with T-coils to help enhance hearing. "The line truly enhances the quality of life for hearing aid users who have cell phones, as well as [personal listening] devices," Vespe says.
Stambaugh says ADCO constantly receives requests for telephone amplification, since phone communication can be challenging even with the use of hearing aids. "We recommend that professionals carry telephone amplifiers for home and travel, telephone pads to eliminate feedback, and cell phone amplifiers and accessories," she says.
Pediatric Accessories
Hearing aid accessories for children are gaining in popularity—as well as in colors and practicality.
"When children are playing in a park or with their friends, and if they have a hearing aid on, it could fall out of the ear and onto the floor, and the parent wouldn't even know until it's completely lost," Vespe says.
For children who wear BTEs, covers can be applied to keep them clean and dry. Those accessories are available in a variety of colors, and some even come in camouflage patterns.
In addition to covers, Hal-Hen offers the Kiddie Cap™, a wool cap that fits over the head to keep a child's hearing aid in place. Mesh fabric covers the microphone, so sound is not obscured. "It was actually developed by a mother for her child. She came to us, and we said this would be great for everybody else, too," Vespe says. "She makes them for us, and they're all different colors."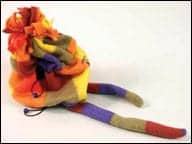 The Kiddie Cap™, available from Hal-Hen, is among the many pediatric accessories now available.
Bands are also available that connect to hearing aids and can be clipped to the back of a child's shirt or jacket so the devices won't get lost. Warner Tech-care Products, for instance, carries Ear Gear and Critter Clips. "They're bright, they're colorful, they're kind of cute, so hopefully it will encourage a small child to enjoy wearing them or using them," Palmersten says.
At ADCO, testing devices are available that allow parents to listen to a hearing aid to make sure it is functioning properly. "In addition, we provide a complete selection of books and videos on parenting, how to care for hearing aids, how to choose the best means of communication with your deaf or hard of hearing child, and story books that are entertaining and educational for children," Stambaugh says.
Also on the market are supplies for professionals to make a child's visit less intimidating, including animal-shaped covers for use with diagnostic equipment. ADCO offers pediatric eartips for testing.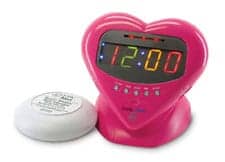 Some pediatric accessories, such as this vibrating alarm clock available at ADCO, are made specifically for boys or girls.
Accessories and the Stigma of Hearing Aids
Although for some individuals there can be a stigma associated with wearing hearing aids, the experts interviewed say today's hearing aid users are often more concerned with their quality of life.
"We've seen that people really want to hear well. It's gotten to the point where that is the priority," Vespe says. "When you really have to wear hearing aids year after year, they're not going to say, 'Let me hear only half the time or only half as well, and maybe I'll look more discreet.' People want to hear better, enjoy life, and live to the fullest, and we're seeing people who understand that. That's why we think there's a little less stigma because of the desire for a better quality of life."
The selection and look of today's accessories mean more people are embracing wearing hearing aids instead of trying to hide them.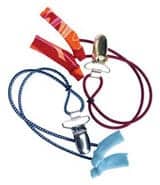 Hal-Hen sells Ear Gear clips to keep hearing aids in place.
"Wherever you go, you see people with earphones on and earbuds and this kind of stuff," Vespe says. "So from a stigma standpoint, people who need the products aren't standing out as much as they might have in the past. They blend in with everyone else, and in some cases, they actually make it even more obvious. I think that these days populations are more tolerant, they understand that things need to be better, and that people want to better themselves, and that [wearing a hearing aid] is not an issue."
Palmersten agrees, adding that more and more people today are walking around with something attached to their ears, whether it's an MP3 player or a cell phone device.
"People are just used to seeing people walking everywhere with some kind of attachment or some kind of plug in their ear. And obviously, I think that is going to change the stigma that has maybe existed," she says.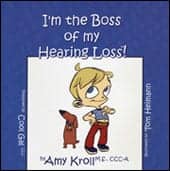 ADCO offers books and videos on hearing loss and how to care for hearing aids.
Stambaugh says the fact that hearing aid products and accessories have become more attractive in recent years makes any stigma less of a concern. "In addition to better designs and more choices, hearing aid accessories often come in fun color choices or clever packaging," she says.
Stambaugh says pediatric accessories such as hearing aid dehumidifiers are now available in containers decorated with fish and ducks, hearing aid moisture sleeves are available in assorted colors, and even vibrating alarm clocks are available in pink heart shapes for little girls and with superheroes for boys.
"The products are becoming fun, colorful—and with attractive packaging, hearing aids and their accessories are gaining more exposure and creating more of a fashion statement," Stambaugh says.
Vespe sums up the use of accessories this way: "The fact is, hearing loss affects people of all ages and all walks of life. It doesn't necessarily have to be one type of person, one area, or one economic standard. Today's hearing aids and high tech computers have made a big difference in the lives of many people around the world," he says. "What we do with accessories is we try to have products that compliment new hearing aids."
Morgan Saffari is a contributing writer to Hearing Products Report. For more information, contact the editor at .