Section One – Hearing Aids
Section Two – Diagnostics
Section Three – Accessories & Services
Section Four – Batteries & Components
Section One – Hearing Aids
Audifon GmbH – Booth No. 1470
Manufacturer and distributor of a complete range of digital, programmable, and classical hearing instruments. Audifon Germany was established in 1955. The creation of Audifon USA Inc is the latest in its efforts to promote better hearing. (800) 776-0222; www.audifon-usa.com.
Audina Hearing Instruments – Booth No. 809
Audina® Hearing Instruments Inc manufactures a complete line of custom, OTE and BTE hearing aids, including digital, programmable, and analog technologies. Recently Audina unveiled several exciting new products including the SPARO™, an over-the-ear (OTE) instrument, and the INTUITION®, a family of custom ITE and BTE aids—both offering the latest in advanced digital circuitry. Visit our AudiologyNOW! Booth #809 to learn about our complete line of hearing instruments and meet our team members including Pinkie, the tallest Florida Flamingo! (800) 223-7700; www.audina.net.
Bernafon LLC – Booth No. 1458
PRIO is the "Best in class". With PRIO, Bernafon delivers the most advanced automatic performance in the entry-level class, offering significantly more than standard hearing instruments in this category. PRIO delivers a unique, individualized automatic program, with a variety of predefined signal processing strategies, optimized for your client's needs. This results in less fine-tuning time for you. PRIO always sets PRIOrities right—for you and your clients. (888) 941-4203; www.bernafon.com.
Coselgi SPA – Booth No. 662
A leading Italian aid manufacturer since 1961. [email protected] is a bone conduction eyeglass hearing aid equipped with a 2-channel, 100% digital circuit with WDRC amplification. Also offered: OPERA, a 4-channel digital CIC/ITC; complete range of instruments from CIC/ITE (kits, semi-modules, and stock canal), BTEs (NOAH programmable). 39-06-912022; www.coselgi.com.
Ear Technology/TransEar – Booth No. 1114
TransEar is fast becoming the remedy of choice for single-sided deafness because it's effective, affordable, doesn't require surgery, and doesn't occlude the good ear. New for 2007: a half shell model which improves patient comfort and allows you to fit a wider range of patients, including those with small ear canals. We're also introducing exciting new products in the Dry & Store product line, which you'll want to see first-hand. Ear Technology—Helping people hear better every day. (888) 382-9327; www.eartech.com.
Electone Inc – Booth No. 442
Complete line—analog to digital—of custom built ITEs, canal, and CIC instruments; miniature, standard and open fit BTEs; prewired faceplates; shell and earmold fabricating; batteries, components, impression materials, marketing materials, and direct mail support. (800) 432-7483; www.electoneonline.com.
GN ReSound – Booth No. 1028
One of the world's largest manufacturers of hearing instruments, GN ReSound is known internationally for setting the pace of innovation in the industry. GN ReSound invites you to visit our booth and learn more about our Pulse product line—the latest hearing instrument providing patients with supercharged convenience, performance, and style. Pulse offers patients unrivaled convenience and optimized open performance to fit the demands of their active lifestyles. (800) 248-4327; www.gnresound.com.
Hansaton Hearing Systems – Booth No. 1208, 1409
Hansaton Hearing Systems is a 50-year-old manufacturer of hearing instruments with distribution in 70 countries. In February 2006, Hansaton established its US headquarters in Tampa, Fla, as part of a major initiative to begin distribution in the USA. Hansaton offers a complete line of hearing instruments, including its award-winning Leonardo, Soundmanager, and Relaxx Hearing Systems. (866) 449-9757; www.hansatonusa.com.
Interton – Booth No. 407
Interton's complete portfolio of digital hearing instruments provides simple, powerful solutions for your patients. Interton is dedicated to its five core values and principles: accountability, innovation, result oriented, openness, and commitment. (800) 247-4741; www.interton-usa.com.
Lisound Hearing Aid (Fuzhou) Co – Booth No. 1839
Manufacturer, marketing, distribution network, and maintenance of custom-made hearing aids, pre-wired faceplate kits, pocket aid, BTE hearing aid, exclusive distributor of Sonic Hearing Instrument, and distributor of Phonak hearing instruments in China. +86-591-8351900; www.lisound.org.
Magnatone – Booth No. 1455
Proudly celebrating our 40th anniversary, Magnatone is planning a festive event. Join us as we turn back time to 1967. We will have a photo studio, iconic figures from our inaugural year, and a fabulous anniversary cake for all to enjoy. We will also have new product releases, fantastic games, exciting giveaways, great conversation, and lots of fun. Come celebrate with us! (800) 789-6543; www.magnatone.com.
Micro-Tech – Booth No. 346
Stop by Micro-Tech's booth to experience the Radius series of hearing instruments. Powered by nFusion technology, Radius instruments are designed to maximize patient satisfaction yet remain easy to use. Micro-Tech will also debut a new set of practice-building tools. You'll be able to see the freshest ideas for marketing your practice. (800) 745-4327; www.hearing-aid.com.

Oticon, Inc. – Booth No. 333
It's possible…Over the past year, Delta has become the highest-selling product in the history of Oticon USA. Finally hearing care providers have a hearing device that appeals to younger first-time users. This year we will reveal a groundbreaking new communications strategy to bring the Delta message to even more of the millions of Americans who need amplification, but who simply refuse to wear traditional hearing aids. Oticon will also reveal a new hearing instrument line that has taken 450 man-years to develop. More than just the world's most advanced hearing aid, it defines new possibilities with hearing devices. At AAA, you will have the chance to experience why—from May 1, 2007—you won't be able to just offer your patients better hearing, you will be able to give them the world! (800) 526-3921; www.oticonusa.com.
Phonak Hearing Systems – Booth No. 1418
Phonak invites you to explore its interactive sound tunnel and immerse yourself in an amazing auditory experience. Bring your colleagues and enjoy this "Wow" listening moment together. Not to be missed is the launch of a breakthrough product designed to truly—once and for all —take the Baby Boomer market by storm. You have never seen anything like it! Phonak—The Right Fit for you and your patients. (800) 777-7333; www.phonak.com.
Rexton, Inc. – Booth No. 1447
With Rexton's competitive product landscape you can expect to find the perfect product to fit your patient's hearing needs. Each instrument is built with Rexton's state-of-the-art technology, giving your patients the ultimate solution to their hearing loss: A quality, cosmetically appealing hearing instrument that won't break their budget. Rexton also offers innovative technologies such as C-Guard, the latest advancement in wax protection. C-Guard provides your customers with long-lasting protection that requires virtually no maintenance. Visit us at AAA, booth #1447 to find out more about any of our product lines: Revera Premier-Plus; Calibra and Calibra FREE D Premier; Targa Intermediate, and Arena classic instruments. You can also ask about our NEW Better Hearing DVD! (800) 876-1141; www.rexton-online.com.
Sebotek Hearing Systems – Booth No. 1267, 1270, 1467, 1067, 1070
SeboTek Hearing Systems, a worldwide leader in the exploding "thin tube" BTE market, continues to drive industry innovation with its patented PAC hearing instrument. The PAC is the only "thin tube" device that offers all of the benefits of comfort, cosmetic appeal, same session fit, and no occlusion effect for those with even severe hearing loss. The SeboTek PAC uses a unique design and technology to deliver superior sound quality and performance in noise, including exceptional directionality in both low and high frequencies. The PAC is also the smallest sound processor in the world that uses a No. 13 battery. (800) 388-9041; www.sebotek.com.
Siemens Hearing Instruments – Booth No. 1428
Siemens Hearing Instruments, Piscataway, NJ, continues to revolutionize the hearing instrument industry with innovative hearing solutions. Addressing specific consumer needs, Siemens is proud to introduce the INTUIS™ family of instruments and CENTRA Active™. INTUIS instruments offer key advancements in performance at a great value. CENTRA Active was designed to meet the needs of active individuals with key features such as rechargeability and Siemens AquaProtect™ technology that provides resistance to sweat, moisture and humidity. (800) 766-4500; www.usa.siemens.com/hearing.

SONIC innovations – Booth No. 364
SONIC innovations will preview two outstanding new product solutions at AAA 2007. Velocity, our next-generation premium product offering, sets a new standard in automatic and adaptive technology. Ion 200, the newest member of our incredibly small and very powerful open-ear family, features enhanced case styling and new colors. Stop by our booth for details, as well as training and education courses on our entire family of digital hearing aid products. (801) 365-2800; www.sonici.com.
Starkey Laboratories – Booth No. 346
Starkey Laboratories Inc, Eden Prairie, Minn, offers custom hearing aid manufacturing and repair service for all makes/models of hearing aids. The company also provides standard products and batteries, as well as equipment sales and audiometer calibration/repair, new instrument and repair warranty services, and marketing, training, and practice management services and support. (800) 328-8602; www.starkey.com.
Unitron Hearing – Booth No. 1442
Unitron Hearing introduces Moxi™, the first no compromise micro-BTE offering cosmetics, performance, and a full fitting range. Moxi supports canal receiver technology and features onBoard™ control, a push-button configurable as a program button or volume control. A choice of external receivers provides both instant and custom fittings for mild to severe hearing losses. Moxi is available at four price points with Indigo™ and the Element™ series. (800) 888-8882; www.unitronhearing.com.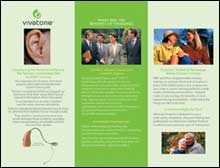 Vivatone Hearing Systems – Booth No. 670
Vivatone is a fast, effective way to enjoy more natural hearing while eliminating occlusion and minimizing insertion loss. Vivatone's exclusive Total Open Canal (TOC) Receiver-in-the-Ear (RITE) technology offers lightweight design, unmatched cosmetic appeal, comfort, and clarity of sound to fit all patients' needs. The Vivatone™ Entré™ line is the next generation of RITE technology. Five models are available featuring an automatic directional, multi-microphone system that switches automatically between omni and fixed directional patterns; a dynamic layered noise reduction system to provide exceptional understanding of speech in any situation; adaptive automatic feedback cancellation to ensure feedback elimination without gain reduction; and an advanced digital processor with enhanced fitting range. (877) 278-8482; www.vivatone.com.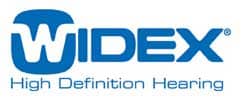 Widex Hearing Aid Co – Booth No. 355
At this year's convention, Widex is proud to present their line of outstanding Integrated Signal Processing (ISP) hearing instruments that offer unique features and significant benefits. Widex believes that ISP is the present and future of hearing aid technology. INTEO ISP models, for example, provide the one-of-a-kind Audibility Extender, which can be a tremendous asset to patients. AIKIA – a line of exceptionally smart hearing aids—now brings patients additional ISP options. INTEO and AIKIA are both also available in popular Open-Fit BTE models. (800) 221-0188; www.widexPro.com.
Section Two – Diagnostics
Acoustic Systems – Booth No. 1101
Acoustic Systems manufactures a wide range of modular acoustic enclosures for audiology and hearing conservation programs. Factory trained representatives will help plan your project. (800) 749-1460; www.acousticsystems.com.
Amplivox Ltd – Booth No. 1311
Amplivox manufactures screening diagnostic and industrial automatic audiometers. The products are CE marked to medical device directive and produced within ISO 9000 QU assurance scheme. All the instruments are very cost effective solutions for your audiometic requirements. +44 1865 842411.
Audioscan – Booth No. 900
At Audioscan Booth 900 we will be previewing the most exciting improvement in hearing instrument fitting systems since we introduced speech as a test signal in 2001. Now you can achieve the best fit for your patient and demonstrate the benefits and features of digital aids in one integrated test. Verify and demonstrate benefit at the same time! Stop by for a test drive. (800) 265-2093; www.audioscan.com.
Balanceback – Booth No. 1273
Balanceback is the product of work done by the American Institute of Balance®, a renowned engineer with over 25 years experience working on Air Force projects, and a multinational, publicly traded electronics-medical manufacturing company. Look at the intuitive software and displays, and investigate the enhanced report writing system. Put on the user-friendly goggles, try the ExacTrak™ feature, and stand on the DPSP platform to experience the hydraulic sensors. (877) 63-DIZZY; www.balanceback.com.
Bio-logic Systems Corp – Booth No. 1042
Bio-logic offers OAE and ABR hearing screening and diagnostic systems. ABaer and AuDX provide the technology of choice for UNHS (DPOAE, TEOAE, AABR, or combination systems). Navigator Pro provides diagnostic AEP capability. Product line includes MASTER (ASSR) CHAMP (Cochlear Hydrops Analysis Masking Procedure), HINT Pro (Hearing in Noise Test system), VEMP test capability, and BioMAP (Biological Marker of Auditory Processing). (800) 272-8075; www.bio-logic.com.
E-A-R Auditory Systems – Booth No. 1222
E-A-R Auditory Systems, the manufacturer of the E-A-RTONE 3A, and the next-generation E-A-RTONE 5A Audiometric Insert Earphone, invites you to visit us at Booth 1222. We'll show you how you can enhance the quality and efficiency of the audiometric testing you perform by taking advantage of both the practical and infection control benefits of coupling the E-A-RTONE Insert Earphone's disposable E-A-RLINK' foam eartips to your patient's ear canals. (317) 656-5714; www.e-a-r.com/auditorysystems.
Earmold Design Inc – Booth No. 1219
EDI is a distributor of hearing health care products for audiologists and hearing aid specialists. Supplies include silicone impression material, earmold cleaners, modification tools, select-a-vents, and related components and parts. (800) 334-6466; www.earmolddesign.com.
Etymotic Research – Booth No. 1255
Etymotic Research will show Baby Blues ™ earplugs, the newest flat attenuation earplug for small ear canals, and a new lightweight, inexpensive portable Noise Dosimeter. Also featured will be the Companion Mics™ wireless multi-talker system that allows up to three talkers to speak to a single listener. Unlike other assistive technologies, Companion Mics are a many-to-one system. (888) 389-6684; www.etymotic.com.
Frye Electronics, Inc – Booth No. 1200
Frye Electronics will be showing the newest version of the FONIX 7000 Hearing Aid Test System. Version 1.6 provides the expanded and improved default settings and navigation features that make the instrument easier to use. The portable FONIX FP35 will be on display, as will the FONIX FA-10 Hearing Evaluator. The Decos Audiometer Workstation, a high-end computer-based system, will be shown for the first time in the United States. (800) 547-8209; www.frye.com.
G.R.A.S. Sound & Vibration – Booth No. 1356
Offers the KEMAR Manikin Type 45BA, acquired from Knowles Electronics, an acoustic research tool, which permits reproducible measurements of hearing instrument performance on the head, and of stereophonic sound recordings as heard by human listeners. (+45) 4566 4046; www.gras.dk.
GlaxoSmithKline Consumer Healthcare – Booth No. 1804
Debrox provides a safe, non-irritating method of softening and removing earwax. With Debrox, ears can stay clear of built-up earwax, dirt, and debris. Debrox is safe, gentle, non-irritating, and features an active ingredient clinically proven to be effective. More doctors recommend Debrox than all other earwax removal products combined. http://debrox.com.
GN Otometrics – Booth No. 303
GN Otometrics will be featuring solutions from our three expert areas: Hearing Assessment (MADSEN), Fitting Systems (AURICAL), and Balance Assessment (ICS). Visit us for a demonstration of the successful ICS Chartr 200 vestibular system including a new, compact light bar. Or, discover how our software universe, OTOsuite, allows seamless integration between your instruments for a more efficient diagnostic and verification process. (800) 289-2150; www.gnotometrics.com.
Hal Hen Company Inc – Booth No. 1061
Comprehensive supplier for all aspects of audiology practices for true one-stop shopping for hearing health care professionals. Tools, ALD's, infection control, otoscopes, diagnostic equipment, cerumen management, patient accessories, batteries, and much more. (800) 242-5436; www.halhenpro.com.
Industrial Acoustics Co – Booth No. 519
World leader provider of products and systems for noise control, including modular rooms for audiometric examination and medical research. (718) 931-8000; www.industrialacoustics.com.
Intelligent Hearing Systems – Booth No. 1046
Intelligent Hearing Systems Corp has dedicated the past 23 years to developing integrated systems that allow for screening and complete diagnostic testing using evoked potentials (EcochG, ABR, eABR, ASSR, MLR, P300, VEMPs), otoacoustic emissions (DPOAE, TrOAE, SOAE), and audiometry (IVRA, VVRA, MVRA) techniques. (800) 447-9783; www.ihsys.com.
IntelliNetx – Booth No. 1349
The IntelliNetx VNG I Video ENG System is a compact analytical instrument ideally suited for field use. Everything needed for ENG testing is provided, including an air irrigator and hard copy printer. IntelliNetx VNG II Video ENG System is the state-of-the-art analytical tool for the study and analysis of eye movements. The system includes the Vestibular Ocular Reflex Test (VORT), which is an active head shake rotational test. (877) 370-0477; www.intellinetx.com.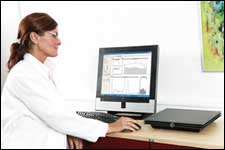 Interacoustics – Booth No. 606
Interacoustics' signature product for 2007 is the Eclipse, a diagnostic platform for performing ABR and OAE tests directly from your own computer. Choose from any combination of ABR, advanced ABR, DPOAE, and TEOAE in a Windows-based software that makes moving from one software module to another seamless. In addition, the OtoAccess™ database allows you to store your test sessions in one central database for fast searching and efficient retrieval. (800) 947-6334; www.interacoustics-us.com.
JEDMED – Booth No. 1206
Jedmed has supplied quality products to the specialities of otolaryngology and audiology for over 21 years. (314) 845-3770; ww.jedmed.com.
Larson Davis – Booth No. 1177
Precision instrumentation for the measurement of sound and vibration, plus turnkey audiometer calibration systems. (888) 258-3222; www.larsondavis.com.
Maico Diagnostics – Booth No. 1033
With a new, simplified approach to diagnostic middle-ear analyzing and the most popular OAE instruments in the country, Maico is an AudiologyNOW! must-see. Visit the Maico booth for special promotions, hands-on demonstrations, or tech-talk with the development staff. (888) 225-0380; www.maico-diagnostics.com.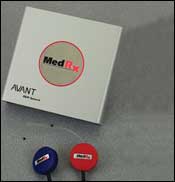 MedRx Inc – Booth No. 1123
MedRx Inc, Largo, Fla, will display their complete AVANT™ Line of audiological, diagnostic, and micro-fitting systems. These PC-based systems will feature live speech mapping, hearing instrument fitting, and audiometry. Multi-purpose video otoscopes and hearing instrument restoration systems will also be on display and available for hands on demonstrations. Additionally, MedRx will introduce their new hearing instrument test chamber that features a rotational pad for testing and Polar Plots to determine directional effectiveness of hearing instruments. Visit our booth #1123 for additional information on these quality products. (888) 392-1234; www.medrx-usa.com.
Micro Audiometrics Corp – Booth No. 1238
Micro Audiometrics is celebrating 27 years of excellence in the design and manufacture of hearing testing equipment. The product line, which includes Earscan Audiometers and Impedance Audiometers, now features Earscan3 Screening, Threshold, and Manual Audiometers. (866) EARSCAN; www.earscan.com.
Micromedical Technologies Inc – Booth No. 1242
Micromedical specializes in products and systems for vestibular and balance assessment and rehabilitation. Turnkey configurations include complete Balance Centers and Fall Prevention Clinics, as well as laptop vestibular testing systems for the ultimate in portability. (800) 334-4154; www.micromedical.com.
Mimosa Acoustics – Booth No. 1016
Manufacturer of hardware and developer of software for the DPOAEs and accessories, an easy-to-use, reliable, portable, and lightweight system for non-invasive, objective cochlear diagnosis, and especially useful in infant screening. (800) 805-7515; www.MimosaAcoustics.com.
NASED – Booth No. 1031
The National Assn of Special Equipment Distributors is a national trade association of special instrument distributors dedicated to maintaining the highest standards of service, calibration, and support. Offers certification cources to qualify audiometric technicians. (215) 361-7050; www.nased.com.
NeuroCom International Inc – Booth No. 1055
Providing objective assessment and rehabilitation management for vestibular and balance problems, worker's compensation cases (symptom amplification/exaggeration), mild head injury in athletes, elderly fall risk, and activities of daily living. (800) 767-6744; www.onbalance.com.
Otodynamics Ltd – Booth No. 1038
The world's leading supplier of OAE instruments for neonatal hearing screening, diagnostic audiology, and research. (800) 659-7776; www.otodynamics.com.
OTOVATION – Booth No. 362
OTOVATION offers a range of innovative audiometry products, including the new Amplitude T-Series line of wireless handheld audiometers that can be operated with a Windows PC, PDA, or SmartPhone. (866) OTOVATION; www.otovation.com.
Pediatrix Medical Group – Booth No. 1103
Through Pediatrix Screening, we screen newborns for hearing loss and hidden metabolic disorders. Detecting these conditions early can help improve an affected newborn's chances to overcome physical and developmental challenges. (800) 243-3839; www.pediatrix.com.
Sennheiser Electronic Corp – Booth No. 1128
Audiometric headphones for high frequency testing. (877) 736-6434; www.sennheiserusa.com.
Sensimetrics Corporation – Booth No. 1838
Sensimetrics conducts basic and applied research in speech and hearing science. (617) 625-0600; www.sens.com.
Synapsys – Booth No. 312
SYNAPSYS is a leading manufacturer of VideoNystagmoGraphy technologies. A unique set of meaningful VNG normative data and the best eye tracking system reportedly enhance the effectiveness of diagnosis for patients with balance disorders. (866) SYNAPSYS; www.synapsysusa.com.
Tympany Inc – Booth No. 370
Tympany offers the automated diagnostic auditory system. Includes comprehensive audiometry with masking; tympanometry and acoustic reflex; otoacoustic emissions (DPOAE); and stenger. No sound booth required. Standardized easy-to-read report can be integrated with EMR and NOAH v 3. Available in over 10 languages. (866) 316-3606; www.tympany.net.
VIASYS Healthcare – Booth No. 61
Manufactures neurophysiological instruments, offers a complete line of evoked potential systems for ECochG, ABR, SEP, VEP, computerized ENG analysis systems, EMG, EEG, sleep analysis, TCD, intra-operative monitoring systems, and customer support, training, service, and supplies. (800) 356-0007; www.viasyshealthcare.com.
Vivosonic Inc – Booth No. 1011
Vivosonic Inc. is a partner in clinical efficiency through innovation. We have overcome many obstacles that previously prevented clinicians from testing children. Our technology means that regardless of the testing environment, results are now attainable. Now there is a way to perform these tests without sedation! Integrity™ is the world's first and only wireless ABR system, extensible to ECochG, VEMP, ASSR, TEOAE, DPOAE. Constellation of 21st-century technologies enables testing infants, children, and adults in electro-magnetically harsh environments and even non-relaxed patients.
Warner Tech Care – Booth No. 1131
Single source distributor for hearing instrument specialists and hearing aid manufacturers. Product offerings include impression materials, diagnostic equipment, ALDs, repair products, and private label products for resale. Full line, 132-page catalog with 1,100 items. (800) 328-4757; www.warnertechcare.com.
Western Systems Research Inc – Booth No. 1249
WSR Inc specializes in medical diagnostic equipment for vestibular and balance disorders. (800) 701-7078; www.4WSR.com.
Section Three – Accessories & Services
ASSISTIVE DEVICES
ADCO Hearing Products Inc – Booth No. 1867
Complete line of hearing aid accessories, hearing protection, and assistive devices. (800) 726-0851.
Able Planet – Booth No. 1667
Online resource for a variety of assistive products. (303) 215-9770; www.ableplanet.com.
Auriplex, Ltd – Booth No. 1176
The Auriplex iEar wireless listening solution has been designed to meet communication needs in difficult situations where even advanced hearing aids cannot fully help. +44-1223-437-010; www.auriplex.com.
Clarity – Booth No. 1843
Clarity designs and manufactures assistive communication devices including: amplified telephones, telephone and cell phone amplifiers, remote controlled speaker phones, answering machines, notification systems, personal amplified listening devices, and text telephones/TTYs. (800) 426-3738; www.clarityproducts.com.
Comfort Audio Inc – Booth No. 1306
Comfort Contego is a step forward regarding security, design and speech understanding. Comfort Duett is a small, easy to use, rechargeable assistive listening device with superior sound. (310) 945 3048; www.comfortaudio.com.
Conversor Limited – Booth No. 1842
The Conversor is an FM personal assistive listening solution for use with your existing hearing aid. The Pocket Listenor is an affordable, one-piece assistive listening device worn around the neck by users with Telecoil-equipped hearing instruments. +44 (0) 800 298 9982; www.conversorproducts.com.
Ear Pro by SureFire – Booth No. 1214
SureFire EarPro products include comfortable electronic and non-electronic communications earpieces for hearing protection and hearing enhancement. (800) 504-5897; www.opticsplanet.net.
Global Assistive Devices Inc – Booth No. 1846
Vibration alarm/watches and alarm clocks, bedshakers, door knock and telephone ring signalers, portable telephone amplifier, and telephone caller ID for TV. (888) 778-4237; www.globalassistive.com
HARC Mercantile Ltd – Booth No. 1025
HARC offers over 500 assistive listening device products: TTYs, amplified telephones, alerting systems, and hearing aid supplies and accessories. ALD display units and ADA compliance consultation services. (800) 445-9968; www.harc.com.
HITEC Group/ClearSounds Com – Booth No. 1006
HITEC is a full-service distributor of assistive equipment. ClearSounds is bringing essential features, such as Caller ID, speakerphone, and hands-free operation to the market in a style that appeals to a broader, active, style-conscious audience. (800) 965-9043; www.clearsounds.com.
Lifeline Amplification Systems – Booth No. 1138
Lifeline Amplification Systems manufactures and distributes high quality amplification systems, including FM and infrared soundfield, desktop systems, personal listening devices, and large room amplification systems. (800) 236-4327; www.lifelineamp.com.
LightSPEED Technologies, Inc. – Booth No. 1325
The REDCAT is an all-in-one classroom amplification system that works right out of the box and requires no installation. This system can be mounted on the wall like a picture frame, or placed on a bookshelf or desktop. It distributes sound evenly throughout the classroom and is specifically engineered to deliver outstanding voice intelligibility at a surprisingly low price. (800) 732-8999; www.lightspeed-tek.com.
Sennheiser Electronic Corp. – Booth No. 1128
Full range of assistive listening devices for TV listening. Direct Ear Soundfield Amplification System for classrooms. Audioport A200, and Mikroport 2015 Personal FM. Audiometric headphones for high frequency testing. A world leader in microphone technology, RF-wireless and infrared sound transmission. (877) 736-6434; www.sennheiserusa.com.
SoundBytes – Booth No. 1017
SoundBytes is a catalog, web and retail-based company that offers a wide range of hearing assistive devices to benefit anyone with a hearing loss. In 2003, SoundBytes opened its first retail store within the League for the Hard of Hearing's New York City offices. (888) 816-8192; www.soundbytes.com.
Warner Tech Care – Booth No. 1131
Single source distributor for hearing instrument specialists and hearing aid manufacturers. Product offerings include impression materials, diagnostic equipment, assistive listening devices, repair products, and a family of private label products for resale. Full-line, 132-page catalog featuring 1,100 items. (800) 328-4757; www.warnertechcare.com.
Williams Sound Corp – Booth No. 1264
Williams Sound manufactures and markets a full line of assistive listening systems and devices, including personal amplifiers, amplified phones, personal FM systems, TV infrared systems, and a variety of accessories. (800) 328-6190; www.williamssound.com.
DISPENSING GROUPS/NETWORKS
American Hearing Aid Associates – Booth No. 1019
AHAA offers its nationwide network of over 2,000 independent hearing aid professionals a virtual franchise without loss of autonomy. AHAA services include customized business/marketing plans and materials, owner/staff training, and consolidated purchasing and billing. The company's "Strategic Solutions" services help independent providers expand their businesses through acquisition. (800)984-3272; www.ahaanet.com.
Audigy Group LLC – Booth No. 318
AuDNet, Inc – Booth No. 1813
Beltone Electronics – Booth No. 523
Complete custom and conventional hearing aid line, digital hearing instruments, hearing aid accessories, batteries, hearing aid fitting software, educational materials, hearing aid insurance, publications, marketing and sales materials, training manuals, and video tapes. (800) 621-1275; www.beltone.com.
The Ear Q Group Inc. – Booth No. 1323
The EarQ Group is the only independent privately held organization dedicated to supporting all business aspects of today's hearing health care practice. (866) 432-7500; www.earq.com.
EPIC Hearing Health Care – Booth No. 1203
HEAR USA – Booth No. 1233
HearingMed – Booth No. 700
Newport Audiology Centers – Booth No. 1351
Sonus USA – Booth No. 1464
Sonus is the largest network of audiology-based hearing centers in North America. Provides training, products, marketing support, and services to Sonus Network members and HearPO managed care partners. (888) 333-9152; www.sonus.com.
EARMOLDS/PLUGS, HEARING AID DRYERS, AND DISPENSING SERVICES
All American Mold Laboratories – Booth No. 1051
Custom earmolds, industrial hearing protection, floatable swim plugs, full line of silicone impression material, and accessories for the hearing aid dispensing professional. (800) 654-3245; www.AllAmericanMold.com.
Doc's Proplugs, Inc. – Booth No. 1009
Swim plugs and ready-to-wear earmolds for BTEs. (800) 521-2982; www.proplugs.com.
Dreve Otoplastik GmbH – Booth No. 1130, 1063
Manufacturer of silicones, acrylic resins, and laboratory units for ear impression-taking and earmold ITE-shell production. +49 2303 88 07 0; www.dreve.com.
E-A-R Auditory Systems – Booth No. 1222
E-A-R Auditory Systems, the manufacturer of the E-A-RTONE 3A, and the next generation E-A-RTONE 5A Audiometric Insert Earphone invites you to visit us at Booth 1222. We'll show you how you can enhance the quality and efficiency of the audiometric testing you perform by taking advantage of both the practical and infection control benefits of coupling the E-A-RTONE Insert Earphone's disposable E-A-RLINK' foam eartips to your patient's ear canals. (317) 656-5714; www.e-a-r.com/auditorysystems.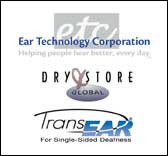 Ear Technology Corp/TransEar – Booth No. 1114
TransEar is fast becoming the remedy of choice for single-sided deafness because it's effective, affordable, doesn't require surgery, and doesn't occlude the good ear. New for 2007: a half shell model which improves patient comfort and allows you to fit a wider range of patients including those with small ear canals. We're also introducing exciting new products in the Dry & Store product line which you'll want to see first-hand. Ear Technology—Helping people hear better everyday. (888) 382-9327; www.eartech.com.
EarGear – Booth No. 1137
Ear Gear is a water-resistant spandex nylon sleeve that is available with or without cord and clip. Ear Gear protects hearing aids from moisture and dirt, and makes hearing aids more comfortable and fun to wear. (888) 766-1838; www.gearforears.com.
Earmold Design Inc. – Booth No. 1219
A full service earmold lab for custom earmolds for hearing instruments, noise protection, ear protection, and communication. EDI is also a distributor of hearing health care products. Supplies include silicone impression material, earmold cleaners, modification tools, select-a-vents, and related components and parts. (800) 334-6466; www.earmolddesign.com.
Egger Corp. – Booth No. 1330
Full line of hearing care products, accessories, tubing, impression materials, otoblocks, ear lights, otoscopes, UV material, and light curing units. (800) 327-0573; www.eggerlabs.com.
Emtech Laboratories Inc. – Booth No. 1604
Emtech manufactures custom earmolds for use with behind-the-ear hearing instruments, swim plugs, hearing protection, pilot molds, TV newscaster molds, stethoscope molds, and ER9, 15, 25 musician molds. We also distribute impression and other supplies to the hearing health industry. (800) 336-5719; www.emtech-labs.com.
Hal-Hen Company Inc – Booth No. 1061
Comprehensive supplier for all aspects of audiology practices for true one-stop shopping for hearing health care professionals. Tools, ALDs, infection control, otoscopes, diagnostic equipment, cerumen management, patient accessories, batteries, and much more. (800) 242-5436; www.halhenpro.com.
Hearing Components – Booth No. 1228
Improving the physical fit of hearing and communications products that are inserted into the ear canal. Our Compliant, patented technology and products adapt static materials to an active ear canal. Comply products are the universal standard for BTE/stock CIC applications. (800) 872-8986; www.hearingcomponents.com.
Insta-Mold Products, Inc. – Booth No. 1245
Insta-Mold Products, an American company, formulates and manufactures specialty silicones for the hearing health industry. Insta-Mold is the originator of instant silicones for the manufacture of custom ear protectors and earmolds made on-the-spot, at any location in only minutes. We offer complete hearing systems with all the accessories, coatings, adhesives, and technical support needed for the hearing professional. Our product line also includes impression materials and heat curable silicones for earmold labs and hearing aid manufacturers worldwide. (800) 523-4081; www.instamold.com.
McKeon Products Inc. – Booth No. 1156
Since 1962, McKeon Products, Inc. has led the retail ear care industry with its original and #1-selling Mack's® Pillow Soft® silicone earplugs. Today McKeon manufactures a full range of moldable and pre-molded silicone and foam earplugs for a variety of uses. (586) 427-7560; www.macksearplugs.com.
Microsonic Inc – Booth No. 414
Microsonic is now in two locations, Ambridge, Pa, and Budapest, Hungary. The company continues to provide unsurpassed service to an expanding customer base. Services include an informative product catalog, customer support, and a satisfaction guarantee. (800) 523-7672; www.microsonic-inc.com.
Mid-States Laboratories – Booth No. 1065
Mid-States has added a new, compact electric hearing instrument drying unit to its product list. The unit features both the small drying case and a larger storage case for overnight protection. In addition to the convenient size, the unit dries the instruments in 3 hours or less (often 1 1/2 to 2), a substantial improvement from the typical 8 to 10 hour requirements. (800) 247-3669; (316) 262-7013; www.mid-stateslabs.com.
MiraCell – Booth No. 1149
Eight MiraCell takes trauma out of cerumen removal, renews ear health after cerumen removal, reduces ear impression irritation when applied to otoblock. and comforts ears while adjusting to new aids. Safe, gentle, effective, and all natural. (800) 748-5040; www.miracell.com.
Oaktree Products – Booth No. 1224
Please visit Oaktree Products Inc Booth 1224 to receive a copy of our new 2007 Catalog. Also check out new products such as the Contego wireless communication system and the Companion Mic, a breakthrough product for communicating in noise. You can also check out the NoizFree Beetle, a Blue Tooth induction device, and all of our show specials. (800) 347-1960; www.oaktreeproducts.com.
Perfect Seal Labs – Booth No. 1155
Manufacture high quality earmolds for all sorts of applications. (800) 311-9810; www.perfect-seal.com.
Precision Laboratories – Booth No. 425
Precision Laboratories is a full service manufacturer of custom earmolds for all amplified and non-amplified applications, special products (Challenger Division), hearing protection, monitor earphones, glow-in-the-dark, sparkles, veins, total hearing health care supply source providing over 300 supplies from bench grinders to batteries and impression materials. (800) 327-4792; www.precisionweb.com.
Sahara DryEar – Booth No. 1007
Formed in 2004 to finalize the design of the Sahara DryEar Ear Canal Dryer, Sahara Design and Marketing Group LLC, Las Vegas, makes available its device worldwide to anyone who has problems resulting from water in their ear canal. Sahara DryEar is designed to reduce moisture levels in the ear canal. (800) 319-0476; www.DryEar.net.
Westone Laboratories Inc. – Booth No. 1437
Westone Laboratories Inc, Colorado Springs, Colo, has been making the highest quality earpieces for more than 45 years, and offers one the most extensive product and supply lines for the hearing health care provider. Stop by the company's booths at IHS and ADA to review the latest earpiece styles and emerging technologies. Find out how to get more involved in custom solutions for musicians and audiophiles. (800) 525-5071; www.westone.com.
SERVICES & RESOURCES
Auricle Ink Publishers – Booth No. 1152
Publishes books on hearing loss and vestibular problems. These are intended as a primary educational resource for patients. (928) 284-0860; www.hearingproblems.com.
CareCredit – Booth No. 1073
Come to the CareCredit Booth #1073 to listen and learn as leading practice management consultant Kevin St. Clergy conducts daily 10-minute Snapshot Sessions on three key practice issues: 1) setting financial goals, 2) increasing profitability, and 3) managing cash flow by decreasing accounts receivable. Also learn how CareCredit has been proven to increase acceptance of optimal technology and average ticket sales and decrease returns. For information on CareCredit, call (800) 300-3046, ext 4519; www.carecredit.com.
Computers Unlimited – Booth No. 324
TIMS for Audiology manages your office, connecting the diagnostic and administrative functions in audiology offices. (800) 763-0308; www.timsforaudiology.com.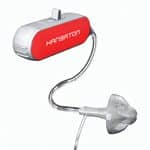 Discovery Hearing Aid Warranties – Booth No. 1247
Discovery Hearing Aid Warranties is the industry forerunner in providing the most comprehensive loss, damage and component failure coverage on all makes and models of hearing aids including processors for bone anchored hearing aids and cochlear implants. Discovery has created a superior, user friendly, sales and service system for both the dispenser and client. Dispensers appreciate Discovery's minimal paperwork and streamlined process used to file claims for losses, damages or component failures. Discovery compensates dispensers for their time and efforts with a consistent rebate on each warranty sold or renewed and has built an added incentive into new warranty sales for 2007. Discovery Hearing Aid Repair is a rapid response, full service all make repair company that works in tandem with the warranty program. It offers the added advantage of vast experience in repairing older and newer hearing aids to enhance its value as a repair company. (800) 525-7936; www.discovear.com.
EARtrak Pty Ltd – Booth No. 1319
EARtrak™ is an easily implemented survey of hearing aid outcomes. Client opinion surveys are externally analyzed and confidentially reported, enabling practices to identify strengths and weaknesses, information essential for Continuous Quality Improvement. +61 3 5174 0699; www.eartrak.com.
ESCO-Ear Service Corporation – Booth No. 1230
ESCO loss and damage insurance coverage offers an affordable, hassle-free way to give hearing aid owners the peace of mind they expect. We offer loss, damage, and repair coverage designed to take over after manufacturer warranties expire. These programs are complemented by several innovative practice-building tools designed to help you grow your business and enhance your professional image. We offer leasing/financing options, patient reminder, recall, and retention services, as well as custom billing for your patients. (800) 992-3726; www.earserv.com.
Healthcare Providers Service Org – Booth No. 1312
Healthcare Providers Service Organization (HPSO) has over 30 years experience in providing healthcare providers with insurance solutions and now provides coverage to over 70 healthcare professions. (800) 982-9491; www.hpso.com.
Hearing HealthCare News – Booth No. 1236
Hearing HealthCare News™ (for patients) and Audiology HealthCareNews™ (for physicians) are newsletters specifically designed to increase patient satisfaction, hearing aid sales, and new patient referrals. The Practice Development Program provides ready-to-use tools and techniques that sustain long-term growth. (800) 342-1643; www.hearinghealthnews.com.
Hearing Review/Hearing Products Report – Booth No. 323
Stop by the HR and HPR booth to receive more information about these leading monthly trade magazines for hearing care professionals. (310) 642-4400; www.hearingreview.com; www.hearingproductsreport.com.
HIMSA, Inc – Booth No. 1258
Integrate hearing aid fittings, diagnostic measurements, and office management with NOAH 3. Also offers NOAHlink™ and NOAH's Questionnaire Module with integrated APHAB and COSI®. (800) 435-9246; www.himsa.com.
Midwest Hearing Industries, Inc. – Booth No. 1211
Midwest Hearing has been providing loss and damage coverage to the hearing industry for more than 45 years. Three programs are available including the Refitting Allowance Program, which pays you a refitting fee on each claim submitted. All programs are easy to understand using a three-tier premium level, offering your patients' the lowest premium around. Coverage is available on all makes and models. (800) 821-5471; www.mwhi.com.
Sensimetrics Corporation – Booth No. 1838
Sensimetrics Corporation was founded in 1987 with the mission of providing useful tools for researchers, educators, and clinicians in the field of human communication. (617) 625-0600; www.sens.com.
SYCLE.NET – Booth No. 806
SYCLE.NET is a practice management system designed for and by the hearing healthcare industry. (888) 881-7925; www.sycle.net.
Section Four – Batteries & Components
BATTERIES
Audio Energy – Booth No. 1337
Audio Energy provides customized battery packaging that enables the dispenser to see more patients, sell more hearing aids, and create customer referrals—all popular packaging options available. (800) 332-2323; www.audioenergy.com.
Duracell/The Gillette Co – Booth No. 1216
Duracell is a leading manufacturer and marketer of high-performance alkaline batteries. Duracell also sells primary lithium and zinc air batteries, as well as rechargeable nickel-metal hydride batteries. (866) 285-6264; www.duracell.com.
Energizer Battery Co – Booth No. 1361
Full line of zinc air hearing aid batteries including the Energizer EZ Change. Energizer Alkaline batteries for test equipment. (314) 985-1639; www.energizer.com.
iCellTech Corp – Booth No. 1164
iCellTech's new generation hearing aid batteries are specially designed to operate with a longer lifetime in high-current drain applications, maintaining higher operating voltage and an increased voltage reserve to the 1.1 V cutoff limit of the latest digital hearing aid devices. iCellTech is the fastest growing zinc air battery brand in the world. (+82) 2 3665 6962
Micropower Battery Company – Booth No. 424
Retailer/wholesaler of zinc air hearing aid batteries. (866) 999-2355; www.microbattery.com.
Rayovac Corporation – Booth No. 822
Rayovac, the world's longest-lasting hearing aid battery, sells the ProLine Brand exclusively through audiologists and hearing care professionals throughout North America and Europe. You can count on ProLine to provide you and your patients the most advanced battery—technology and a battery that is consistent from cell to cell. Stop by our booth at AudiologyNOW! to find out how ProLine's marketing program can help you grow your business. (800) 356-7422; www.spectrumbrands.com.
Renata – Booth No. 1106
Enter the Renata Challenge and you might win a FREE trip for 2 to Switzerland! For a limited time, we are also offering a great deal: 10 Cartons of 60 for only $10.60 each, with a no-questions-asked money back guarantee! Now it's easy for your patients to test Renata's great performance! See us at AAA in Denver! For more information, contact Magnatone at (800) 789-6543 or visit https://www.audiology.com/renata.
Varta Microbattery (POWER ONE) – Booth No. 1612
Power one demonstrates world-class innovation by being the first to offer primary and secondary battery technology for hearing instruments. These rechargeable batteries (p10 accu, p13 accu, p312 accu & p675 accu) deliver highly reliable performance with the convenience of our patented pen charger. Also featured are next generation IMPLANT Plus batteries for cochlear implants. These batteries deliver a 20% increase in hearing time from previous generations. Power one IMPLANT plus is the only battery recommended by Cochlear™. (800) 468-2782; www.varta-microbattery.com.
Zeni Power, Zhi Li Battery Co Ltd – Booth No. 1347
ZeniPower has been a hearing aid battery manufacturer for 18 years in China. We export to more than 40 countries, and our batteries are reportedly at the world's best pricing while keeping the top performance in this industry. (+86) 756 252 6620; www.zenipower.com.
COMPONENTS & INDUSTRY SUPPLIERS
AMI Semiconductor – Booth No. 903
AMI Semiconductor offers the most widely deployed open platform DSP systems for the hearing aid market, including the Toccata Plus and Orela 4500 series. (208) 233-4690; www.amis.com.
Gennum Corporation – Booth No. 1058
Gennum Corp is a Canadian high technology company that designs, manufactures, and markets silicon integrated circuits (ICs), modules and thin-film hybrid microcircuit components. (905) 632-2996; www.gennum.com.
In'Tech Industries Inc – Booth No. 1815
In'Tech is a leading supplier of miniature plastic hearing aid component parts for the hearing health industry throughout the world. Offering a variety of standard products to the industry, along with in-house custom design, tooling, and SLA capabilities to meet your specific needs. Our product line features faceplates, digital ear shells and earmolds, wax guard systems, BTE cases, faceplate programming systems, venting systems, and a variety of other miscellaneous components. (763) 576-8100; www.intech-ind.com.
Intri Con (RTI) – Booth No. 1406
IntriCon-RTI is a leading world supplier of digital circuit solutions and algorithms for the hearing health and related industries. (877) 651-1636; www.IntriCon.com.
Knowles Electronics – Booth No. 1648
Knowles Electronics manufactures a full line of microphones, receivers, electromechanical controls, telecoils, and wax protection components for all ranges of hearing instruments. (630) 250-5100; www.knowles.com.
Sonion – Booth No. 1607
Sonion is the leading supplier of miniature components to the hearing industry, providing a complete line of microphones, receivers, telecoils, volume controls, trimmers, switches, combination units, programming systems and wax protection. Superior Solutions Made Smaller. (952) 543-8300; www.sonion.com.