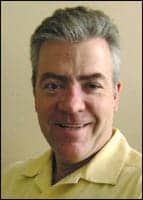 As I approach the end of my third week here as your new editor of Hearing Products Report, there is one thing I've learned: I have a lot to learn.
Not about the tasks and duties of editing. Thankfully, I have some 15 years of experience within a wide range of publications across that field. But with the hearing health care industry, my experience is substantially less in comparison—by about 14 years and 49 weeks.
And I'm OK with that—at least for now.
Come back with me to the winter of 1994 and my third month on my first editorial job with Dimensional Stone magazine. I'm on a plane to Salvador, Brazil, going in my publisher's place at the last minute to give a hastily drafted speech on the state of the United States stone industry at an international architectural conference taking place there. No sweat, I thought, figuring I'd be speaking to a small group in a hotel conference room or classroom. Not quite. Try a huge auditorium replete with translators of several foreign languages in soundproof booths along the back wall. I felt as if I was speaking at the United Nations.
Stepping to the podium, this is what I said: "Into my third month as an editor with Dimensional Stone magazine, there is one thing I've learned about the state of the US stone industry: I have a lot to learn."
Now, I told you that to tell you this: Though I may lack built-in industry knowledge out of the gate, I'm thankful for the opportunity and up to the challenge, and I'm extremely grateful to have Karl Strom, editor-in-chief of HPR's sister publication The Hearing Review and one of the industry's most knowledgeable chroniclers, in my corner as my editorial director and a go-to source for information and insight. With his guidance, coupled to my enthusiasm to build off the good works of my predecessor Danielle Cohen, my goal is to keep HPR—as a magazine and a Web portal—growing as the reliable resource you depend on for complete coverage of the industry's latest offerings.
Speaking of the latest: As I write this, in about 3 weeks, my publisher is sending me to the Academy of Doctors of Audiology (ADA) Convention taking place in Orlando, Fla, October 9-13. Not to worry, I haven't been charged with giving any presentations on the state of the US hearing products, technologies, and service industries. I'll be there to get acquainted and begin my education in earnest—and I'm very much looking forward to it. While there, I'll also be doing an HPR first: a blog that will provide unique coverage from the convention floor. If you didn't catch it live, you can still read all about it via the link you'll find on our home page.
Will Campbell
[email protected]