By Phil Roth, Communications Manager, UT Dallas
Vestibular disorders plague more than one-third of people over 40, and now those affected with such inner-ear dysfunctions have a new resource for testing— The University of Texas at Dallas' Callier Center for Communication Disorders.
After a recent program expansion, the Callier Center is one of the few facilities in North Texas that has the capability to provide a full battery of tests for problems associated with dizziness, balance, or uncontrollable eye movements, according to an article published on the UT Dallas news center.
The Callier Comprehensive Assessment of Balance (CAB) includes seven tests that can evaluate patients for issues related to the vestibular system. Dr Andrea Gohmert, director of audiology clinical operations at the Callier Center, said the ears must work together to help a person determine where they are in space. If there's a problem with one ear, then vertigo or dizziness is likely to occur.
"If you have vertigo or dizziness, you're at risk for falling," said Gohmert, also a clinical assistant professor in the School of Behavioral and Brain Sciences. "Falls can lead to broken bones and additional costs, so there's a big push to evaluate people, figure out the cause of their issues, and then make sure they get into some sort of rehabilitation program."
The goal for the new program is to ensure that people get help before their problems get worse.
"Our testing will help identify the location of the problem—which ear, which nerve. We can even identify the specific portion of the nerve that's affected. Sometimes we'll detect a small tumor on the acoustic nerve or the vestibular nerve," she said.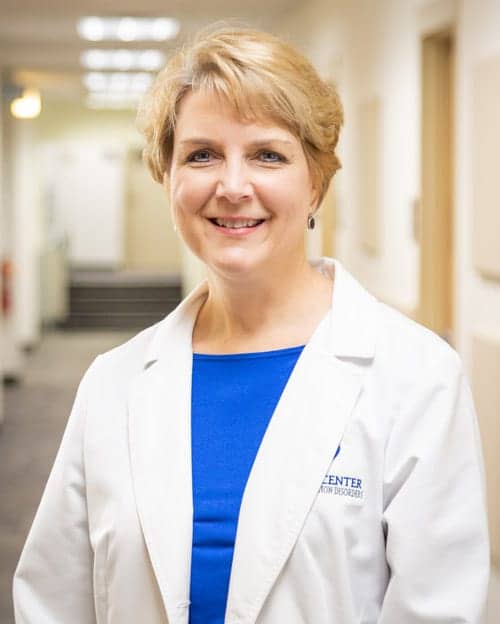 The Callier CAB includes tests of the eyes, hearing, reflexes, blood pressure, balance, and dizziness. A special chair that rotates while a patient's eyes are tracked is a key diagnostic element of the program.
"By using the rotary chair at different speeds, we can see where patients are having issues. Based on their eye movements as we spin them, we can determine if there's a deficit," Gohmert said.
The entire assessment takes about three hours to complete. Gohmert said it is not painful, although some people experience dizziness.
Last year, more than 100 people were evaluated at Callier for dizziness and balance issues. After an evaluation is done, patients are referred to physicians or therapists as needed.
Gohmert and clinical audiologist Dr Jason Baker oversee the testing, which occurs at Callier's Dallas campus, and audiology students gain experience by learning about balance issues.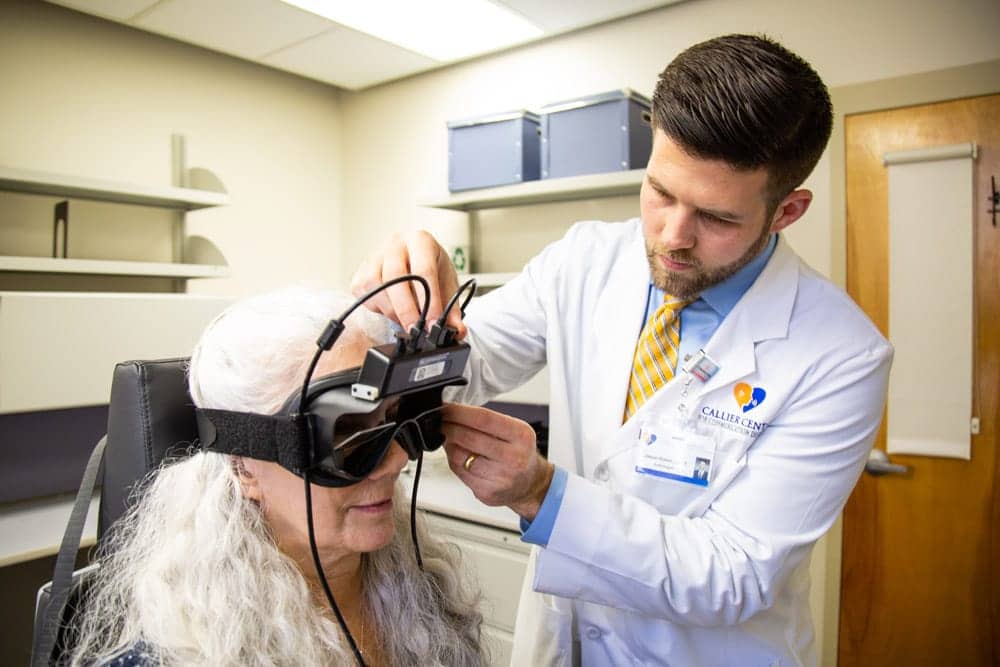 Gohmert said the number of doctors' referrals for the CAB is increasing. After more patients are seen and more data is collected, she expects to publish results that will demonstrate the importance of using a full battery of tests to assess vestibular disorders.
"There are a number of issues that can affect balance," she said. "Our comprehensive assessment capability is providing a lot of good information to doctors and patients so that balance can be restored and lives improved."
To learn more about the program or to schedule a test, email Gohmert or call Callier Dallas at 214-905-3030.
Source: UT Dallas
Images: UT Dallas