Acoustic Systems
Acoustic Systems manufactures a wide range of modular acoustic enclosures for audiology and hearing conservation programs. Factory trained representatives will help plan your project.
(800) 749-1460
www.acousticsystems.com
Booth No 1887
---
Amplivox Ltd
Amplivox manufactures screening diagnostic and industrial automatic audiometers. The products are CE marked to medical device directive and produced within ISO 9000 QU assurance scheme. All the instruments are very cost effective solutions for your audiometic requirements.
+44 1865 842411
Booth No 2140
---
Audient
Booth No 2132
---
Audioscan Hearing Instrument Fitting Systems
The Verifit hearing instrument fitting system featuring Viewport software is designed to make it possible to verify and demonstrate audibility, noise reduction, directionality, and feedback suppression. These objective measures are collected and presented on one screen or printout. Don't leave the show without seeing a brief demonstration of this free software upgrade at booth 1530.
(800) 256-2093
www.audioscan.com
Booth No 1530
---
Bio-logic Systems (Natus)
Bio-logic offers OAE and ABR hearing screening and diagnostic systems. ABaer and AuDX provide the technology of choice for UNHS (DPOAE, TEOAE, AABR, or combination systems). Navigator Pro provides diagnostic AEP capability. Product line includes MASTER (ASSR) CHAMP (Cochlear Hydrops Analysis Masking Procedure), HINT Pro (Hearing in Noise Test system), VEMP test capability, and BioMAP (Biological Marker of Auditory Processing).
(800) 272-8075
www.bio-logic.com
Booth No 1029
---
Eckel Noise Control Technologies
Booth No 1124
---
Etymotic Research
Etymotic Research will show Baby Blues™ earplugs, the flat attenuation earplug for small ear canals, and a new lightweight, inexpensive portable Noise Dosimeter.
(888) 389-6684
www.etymotic.com
Booth No 1733
---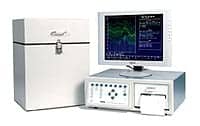 FRYE ELECTRONICS
Frye Electronics will be at booth #1127. The FONIX FP35 Portable Hearing Aid Analyzer has new software v.4.0 to be shown for the first time. New versions of our computer programs, WinCHAP and FONIX NOAH module, will also be demonstrated. These computer programs can be used with all of our current instruments, including the FONIX 7000 Hearing Aid Test System. There will be a drawing for a Pendleton Indian blanket. The Decos Audiology Workstation which Frye Electronics will distribute in Oregon and Washington will also be on display
(503) 620-2722
www.frye.com
BOOTH NO 1127
---
GRAS Sound & Vibration
Offers the KEMAR Manikin Type 45BA, acquired from Knowles Electronics, an acoustic research tool which permits reproducible measurements of hearing instrument performance on the head, and of stereophonic sound recordings as heard by human listeners.
(+45) 4566 4046
www.gras.dk
Booth No 601
---
GN Otometrics
(see Otometrics)
---
Industrial Acoustics Co
A world leader of products and systems for noise control, including modular rooms for audiometric examination and medical research.
(718) 931-8000
www.industrialacoustics.com
Booth No 511
---
Intelligent Hearing Systems Corp
Intelligent Hearing Systems celebrates 25 years of developing innovative, integrated systems that allow for screening and complete diagnostic testing using evoked potentials (EcochG, ABR, eABR, ASSR, MLR, P300, VEMP), otoacoustic emissions (DPOAE, TrOAE, SOAE), and audiometry (IVRA) techniques. Visit us to discover how our ingenuity can make your testing easier.
(800) 447-9783
www.ihsys.com
Booth No 925
---
Interacoustics
Interacoustics is a leading supplier of audiometric equipment, with over 40 years of experience. Visit us at Booth No 1975 to learn more about our specialized Solution Centers, including Pediatric; Portable; Balance/Vestibular; Fitting Dispensing; and Networking.
(800) 947-6334
www.interacoustics-us.com
Booth No 1975
---
JEDMED
Jedmed has supplied quality products to the specialities of otolaryngology and audiology for over 21 years.
(314) 845-3770
www.jedmed.com
Booth No 1330
---
Larson Davis
Precision instrumentation for the measurement of sound and vibration, plus turnkey audiometer calibration systems.
(888) 258-3222
www.larsondavis.com
Booth No 1430
---
Maico Diagnostics
With a new, simplified approach to diagnostic middle-ear analyzing and the most popular OAE instruments in the country, Maico is an AudiologyNOW! must-see. Visit the Maico booth for special promotions, hands-on demonstrations, or tech-talk with the development staff.
(888) 225-0380
www.maicodiagnostics.com
Booth No 1525
---
MedRx
MedRx® Inc will have on display an extensive array of hearing health care products. The AVANT Line includes full integrated, computerized testing and fitting systems, diagnostic and clinical PC-based audiometry, complete traditional real ear measurement systems featuring live speech mapping, a PC-based hearing instrument test chamber and a variety of video otoscope systems.
(888) 392-1234
www.medrx-usa.com
Booth No 1030
---

MICRO AUDIOMETRICS CORP
Micro Audiometrics is celebrating 27 years of excellence in the design and manufacture of hearing testing equipment. The product line, which includes Earscan Audiometers and Impedance Audiometers, now features Earscan3 Screening, Threshold, and Manual Audiometers.
(866) EARSCAN
www.earscan.com
BOOTH NO 1325
---
Micromedical Technologies
Micromedical specializes in products and systems for vestibular and balance assessment and rehabilitation. Turnkey configurations include complete Balance Centers and Fall Prevention Clinics, as well as laptop vestibular testing systems for the ultimate in portability.
(800) 334-4154
www.micromedical.com
Booth No 1425
---

NEURO KINETICS
Neuro Kinetics provides leading-edge diagnostic solutions to neurologic, neuro-otologic and ophthalmic researchers and clinicians, which quickly, accurately and non-invasively detect disease and aid in the efficient treatment of patients by measuring eye movements and pupil changes.
www.neuro-kinetics.com
BOOTH NO 1862
---
NeuroCom International Inc
NeuroCom provides objective assessment and rehabilitation management for vestibular and balance problems, worker's compensation cases (symptom amplification/exaggeration), mild head injury in athletes, elderly fall risk, and activities of daily living.
www.onbalance.com
Booth No 1759
---
Otodynamics Ltd
Otodynamics will be showing the Otoport family of competitively priced, handheld OAE instruments. Choose from a fast, effective screening version with automated pass and refer criteria, to a quick and easy to use DPOAE pediatric screener, or to full clinical capability, for in-depth OAE studies—all with advanced IT options.
(800) 659-7776
www.otodyamics.com
Booth No 1625
---
Otometrics
Otometrics will be featuring solutions from our three expert areas: Hearing Assessment (MADSEN), Fitting Systems (AURICAL) and Balance Assessment (ICS). Visit us for a demonstration of the successful ICS Chartr 200 vestibular system, including a compact light bar and new, enhanced interpretation assistance. Or, discover how our software universe, OTOsuite, allows seamless integration between your instruments for a more efficient diagnostic and verification process. Booth No 2242.
(800) 289-2150
www.otometrics.com
Booth No 2242
---
Otovation
OTOVATION offers a range of innovative audiometry products, including the new Amplitude T-Series line of wireless handheld audiometers that can be operated with a Windows PC, PDA, or SmartPhone.
(866) OTOVATION
www.otovation.com
Booth No 1785
---
Pediatrix Medical Group
Through Pediatrix Screening, we screen newborns for hearing loss and hidden metabolic disorders. Detecting these conditions early can help improve an affected newborn's chances to overcome physical and developmental challenges.
(800) 243-3839
www.pediatrix.com
Booth No 1793
---
Shire Human Genetic Therapies
Booth No 220
---
SonaMed Corporation
SonaMed Corp is a leading innovator in newborn hearing screening devices and newborn hearing screening program management. The company offers complete screening program solutions using patented dual screening technology.
(781) 899-6499
www.sonamed.com
Booth No 1737
---
Synapsys
SYNAPSYS is a leading manufacturer of VideoNystagmoGraphy technologies. A unique set of meaningful VNG normative data and the best eye tracking system reportedly enhance the effectiveness of diagnosis for patients with balance disorders.
(866) SYNAPSYS
www.synapsysusa.com
Booth No 503
---
VIASYS Healthcare
Manufactures neurophysiological instruments, offers a complete line of evoked potential systems for ECochG, ABR, SEP, VEP, computerized ENG analysis systems, EMG, EEG, sleep analysis, TCD, intra-operative monitoring systems, and customer support, training, service, and supplies.
(608) 273-5000
www.viasyshealthcare.com
Booth No 515
---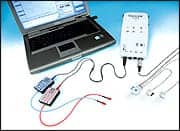 VIVOSONIC INC
Vivosonic Inc. is a partner in clinical efficiency through innovation. We have overcome many obstacles that previously prevented clinicians from testing children. Our technology means that, regardless of the testing environment, results are now attainable. Now there is a way to perform these tests without sedation! IntegrityTM is the world's first and only wireless ABR system, extensible to ECochG, VEMP, ASSR, TEOAE, DPOAE. Constellation of 21st-century technologies enables testing infants, children, and adults in electro-magnetically harsh environments and even non-relaxed patients.
BOOTH NO 1633