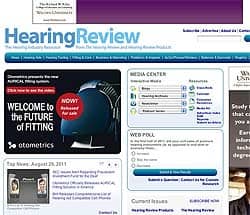 TOP ACCESSED ARTICLES AT HR ONLINE

Speech in Noise Potential of Hearing Aids with Extended Bandwidths
Basic Tympanometry in the Dispensing Office
Real-World Safety Experience with a 24/7 Hearing Device
Auditory Steady-State Response (ASSR): A Beginner's Guide
A New Model for Tinnitus Treatment
The Dos and Don'ts of Open Fittings
Severe to Profound Loss: What Do We Know and How Do We Manage It?
Tinnitus Treatment and the Effectiveness of Hearing Aids
Hearing Aid Selection and BTEs: Choosing Among Various "Open-ear" and "Receiver-in-canal" Options
ABRs or ASSRs? The Application of Tone-Burst ABRs in the Era of ASSRs
Patient Adjusted Fine-Tuning Approach for Optimizing Hearing Aid Response
Study: Early hearing intervention more than pays for itself. According to a new Australian study, every Australian dollar (A$) invested in early intervention services for deaf children produces almost A$2 dollars' worth of social, educational, vocational, and economic benefit.

The analysis, commissioned and launched by First Voice, a coalition of Australian hearing charities, showed that costs of early intervention programs, wages foregone by caregivers, costs of therapy, and costs of hearing devices were dwarfed by the long-term benefits, such as higher incomes, reduction in disability, avoidance of extra school costs, and the likelihood of those who underwent therapy being in longer term paid work.

Using a 50-year horizon, the cost of early intervention services was estimated at A$203,307 in current dollar terms. while the lifelong benefit was conservatively estimated at A$382,894 in current dollar terms, delivering an overall benefit-to-cost ratio of 1.9:1.

First Voice chairperson, Dr Dimity Dornan, said the report provided the economic rationale for government investment in early intervention services for Australia's deaf children. "We've known for some time that almost all of the hearing-impaired children who participate in early programs that focus on listening and speaking go on to do well at mainstream schools," says Dornan. "This report confirms the longer term economic and social benefits of that progress. These children end up in better jobs with higher salaries than they would have otherwise. It clearly shows they are avoiding the additional costs of special schools and the need for ongoing disability support."

The report assumed a government contribution of 40% of the operational costs, or around $6,000 per child per year, then goes on to conclude that "the [Australian] government is thus able to leverage private contributions to achieve an important social outcome with economic benefits that significantly exceed the government contribution."

Motorcycle helmets protect your head but don't protect your ears. A new study shows how motorcycle helmets may be contributing to hearing loss for riders, despite helmets covering ears from the high-speed wind noise. The study, "Motorcycle helmets and the frequency dependence of temporary hearing threshold shift," was published in the Journal of the Acoustical Society of America.

Even at legal speeds, wind noise can exceed safe decibel levels, yet there was no indication of how the wind noise directly affected the motorcyclists' hearing. Now, researchers from the University of Bath and Bath Spa University, United Kingdom, have mapped the airflow and noise patterns for motorcyclists by placing helmets on top of mannequin heads, then mounting these in a wind tunnel and turning on the fans.

By placing microphones at different locations around the helmet and at the mannequin's ear, the researchers found that an area underneath the helmet and near the chin bar is a significant source of the noise that reaches riders' eardrums.

The team also investigated how helmet angle and wind speed affected the loudness. Future tests will move beyond the wind tunnel to real-life riders on the open road. The findings may one day be used to design quieter helmets.

Study points to vitamin A and E as helpful in hearing health. A new study from Vanderbilt University and Australia's University of Sydney shows evidence that vitamin A and E supplements may reduce the prevalence of age-related hearing loss by up to 47%.

The authors' goal was to examine the link between dietary and supplement intakes of antioxidants, and both the prevalence and 5-year incidence of measured hearing loss. The researchers looked at a total of 2,956 participants in Sydney, aged 50 and above, who were examined during 1997 to 1999 and 2002 to 2004.

Dietary data was collected in a semi-quantitative food frequency questionnaire, and calculations were made of intakes of a-carotene, beta-carotene, beta-cryptoxanthin, lutein, and zeaxanthin; lycopene; vitamins A, C, and E; and iron and zinc.

After adjusting for age, sex, smoking, education, occupational noise exposure, and other factors, each standard deviation increase in dietary vitamin E intake was associated with a 14% reduced likelihood of prevalent hearing loss.

Those in the highest quintile of dietary vitamin A intake had a 47% reduced risk of having moderate or greater hearing loss, compared to those in the lowest quintile of intake. However, dietary antioxidant intake was not associated with the 5-year incidence of hearing loss.

The authors concluded that "dietary vitamin A and vitamin E intake was significantly associated with the prevalence of hearing loss. However, dietary antioxidant intake did not increase the risk of incident hearing loss."

The study, "Dietary antioxidant intake is associated with the prevalence but not incidence of age-related hearing loss," was published in the July edition of The Journal of Nutrition, Health & Aging.

Oticon NZ study: Only 2 in 10 people with hearing loss seek help. Oticon New Zealand has announced research that reveals that only 2 out of 10 people with hearing loss actually get help from a hearing care professional. The research looked at 1,500 people with hearing difficulties, and showed that 7 out of 10 are concerned about their hearing loss. However, the study also found that:n Only 2 out of 10 are getting help from a hearing care professional;n 4 out of 10 are doing nothing; andn 4 out of 10 are either looking on the Internet, talking to family or friends, or getting some other information.

This figure roughly parallels US MarkeTrak VIII statistics that show 24.6% of people with significant self-identified hearing loss purchase a hearing aid (October 2009 HR). Oticon NZ is releasing the research to the New Zealand hearing health community along with expert local and international advice about how to get people with hearing loss feeling more comfortable about seeking help.

The initiative will also incorporate Oticon introducing a new hearing aid, the Oticon Intiga, to the New Zealand market, which is designed for first time hearing aid users (currently, Intiga is not listed as an available product in some countries, including the United States).

In the press announcement, Karen Pullar, audiologist and general manager of Oticon New Zealand, commented, "We know from past experience and research that it takes people around 10 years to do anything about their hearing loss. That's 10 years of a loss of quality of life."

Oticon intends to use the new research to work with hearing care professionals on what they can do to break down barriers to seeking help and accepting the benefits of hearing aids.

Cochlear adopts GN's 2.4 GHz wireless technology for Baha. GN ReSound announced that it has entered into a technology development and license agreement to supply 2.4 GHz wireless technology for Cochlear America's implantable bone anchored hearing devices. The 2.4 GHz wireless spectrum is a globally accepted frequency band that is widely used by most cordless phones, video game consoles, home wireless networks, garage door openers, and many other common wireless items.

"One of the benefits of 2.4 GHz technology is that it enables the end user to receive streamed sound directly without wearing an intermediary device around the neck," said Jennifer Groth, MA, GN ReSound. "We know that eliminating body worn streamers is a priority for hearing aid users. Coupled with superior sound quality, 2.4 GHz addresses core user needs."

According to GN ReSound, it is currently the only hearing aid manufacturer using 2.4 GHz wireless technology. For more information, see the article by Tammara Stender, AuD, in the September 2011 HR issue or HR Archives at www.hearingreview.com.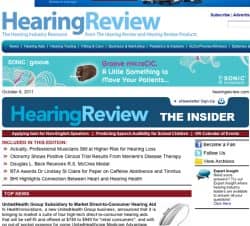 Sign Up to Receive the weekly HR Insider
Every Thursday The Hearing Review sends out THE INSIDER, a weekly FREE e-newsletter devoted to the top hearing-related news, research, product introductions, fitting topics, and marketing research stories that are influencing your business or practice, as well as the industry at large. [register]Sign up for your free subscription[/register].