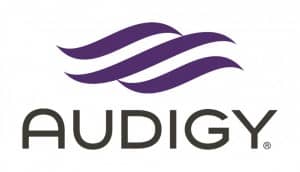 Audigy Group, based in Vancouver, Wash, has announced a name change for its flagship company and a fresh visual identity for all Audigy-affiliated businesses as the company celebrates 12 years in business. As of January 1, 2017, Audigy Group will be known simply as Audigy.
Audigy reports that the goal of the brand refresh was to create a new brand package for the company that reflects the growth and innovation it has experienced since its last brand evolution in 2007.
"When we stepped back and really looked at the landscape of our brand, we knew that it was the perfect time for a refresh — to create a stronger brand presence across our enterprise of companies," stated Nathan Miller, Audigy creative director. "Our mission has remained the same, but the way we do it has evolved dramatically. This new look pays respect to our past while looking to the future."
Graphic designers Jess Lund and Arian Durst collaborated to create the new identity, going so far as to create a custom typeface for the logo.
Audigy's new look makes its formal debut on the cover of The Hearing Journal's October issue, and the company will transition its branding throughout the remainder of 2016, before officially launching the new brand identity on January 1, 2017.
"We're incredibly proud of this new brand direction," said Audigy President Mason Walker. "The success of our organization is driven by people — our teams, our members, and their patients. We're celebrating twelve years as an organization this month, and the evolution we've experienced in that time has been nothing short of remarkable. This new branding is a direct reflection of that, and we can't wait to officially launch this new iteration of the Audigy brand."
Audigy is a management company whose members consist of independently owned audiology practices proud to bring better hearing to those in need across North America. Throughout the US and Canada, AudigyCertified™ hearing care practices have helped thousands of patients with their hearing, tinnitus, and balance disorders and offer diagnostic testing and expert fitting of hearing technology.
Audigy Medical is a data-driven otolaryngology, otology, neurotology, and academic and residency medical-management company. The focus is on creating the processes and efficiencies that increase desired outcomes and drive growth. Audigy Medical blueprints best practices of the top-performing clinics and shares this knowledge with the business owners, practitioners, and academic and residency programs it works with.
Source: Audigy