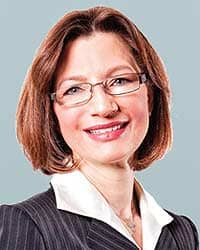 For Barbara Jenkins, AuD, BCABA, awards are merely a by-product of excellent patient care. Outstanding service leads to satisfied patients, and accolades flow from there. When all is said and done, her tireless effort to bring the joy of hearing to as many people as possible is her real reward.
Patients who walk in the door of her practice, Advanced Audiology, may not know they are seeing Colorado's first board-certified doctor of audiology, nor may they know that she has more than 25 years of both hospital and clinical experience. However, they quickly find out that Dr Jenkins is no ordinary health care provider. "My passion is patient care," says Jenkins, "Everything I do is for my patients."
Well known in her home state of Colorado, she is not content to simply help those within driving distance of her South Denver practice. Beyond the confines of the Rocky Mountain State, Dr Jenkins founded and still funds Mexico's first independent school for deaf children.
Here in the United States, she started the hearing division of Colorado's Healthfair for Homeless Children, which has tested thousands of children over the years. Accomplishments like these earned her the Academy of Doctors of Audiology 2010 Leo Doerfler Award for excellence in clinical care and lifetime dedication to others.
Dr Jenkins is co-founder of Casa del Niño Sordo, Mexico's first independent school for deaf children.
HEAR TO WORK
With hearing such an integral part of a productive work life, Dr Jenkins founded the Hear to Work program under the auspices of the service organization Sertoma. With many programs available for children and seniors, Jenkins sought to forge a fresh option for working adults.
Supported in part by Siemens, Hear to Work is a helping hand, but it is not a freebie. Individuals receive new, quality hearing aids, and agree to pay back the program when they can. "Many are struggling at their jobs, and some have even lost their jobs because of their inability to hear," explains Jenkins. "In some charity programs, recipients get used hearing aids for free. In this program, recipients not only receive quality hearing aids, they also get the satisfaction of knowing that they are paying it forward for someone else. The money they give back to the program then goes to help the next recipient."
Awards and Accomplishments
Leo Doerfler Award for Clinical Audiologist of the Year, 2010 ADA
American Academy of Audiology Scholar 2010
Oticon "Focus on People" Humanitarian award for audiology
Co-founder of "Casa del Niño Sordo," Mexico's School for Deaf Children
Founding organizer of Colorado's Healthfair for Homeless Children (20+ years)
Appointed by the governor of Colorado to serve as commissioner for the "Colorado Commission for the Deaf and Hard of Hearing," 2009-2012
Implemented one of the nation's first infant hearing screening programs at P/SL Medical Center in Denver to identify hearing loss in children, 1989
Her dedication to those in need has earned her multiple humanitarian awards, however, she is just as dedicated to the patients in her office. "The horizon is here," enthuses Dr Jenkins.
With so many improvements and advancements in hearing technology, Jenkins is confident she can help almost anyone of any age to hear their best. Using technology from many manufacturers is one way to expand options, and Dr Jenkins backs up this notion with a philosophy based on independence. "Many offices have contracted with just one manufacturer, so they must purchase primarily from that manufacturer," she says. "Advanced Audiology is privately owned, with no contractual agreements that limit us. We give patients the hearing aids that are truly best for them. This makes me a better clinician, and generates more trust from patients."
Ultimately, trust stems from honesty and competency that can't befaked. As a leader in her field, Dr Jenkins has worked tirelessly to earn referrals from physicians and patients. In fact, more than 85% of her referrals come from physicians.
She believes audiologists around the country can use their unique skills to earn respect from all sectors of the health care world. "As audiologists, we are capable of diagnosing and treating most hearing losses," says Jenkins. "It is our responsibility to let patients and physicians know what we can do, and then do it to the best of our ability. In the end, we all benefit."
Read more about Dr. Jenkins and Advanced Audiology