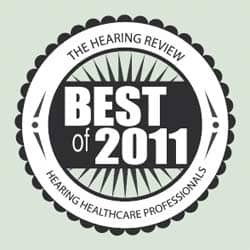 As a hearing care professional, you've heard the question at least a thousand times: "What is the best hearing aid?" And, conceited as it might sound, you know what the only honest answer is: the hearing aid recommended and provided by an exceptionally skilled and dedicated hearing care professional. It's usually not the answer the person is looking for. But it is the truth. People with hearing impairment need a skilled and caring professional who will go the extra mile to provide them with a solution that is custom-tailored to their own unique hearing loss profile and lifestyle needs.
The Hearing Review dedicates the vast majority of its pages each year to updating our 21,000 readers on the latest in hearing aid and testing technology, research advancements, and new products. And we're proud of our record and our place in the hearing literature. However, we're also very cognizant of the fact that—as critical as the technological aspects are to hearing care and our field's ongoing success—it is ultimately the professional who is the decisive factor in guiding patients to satisfaction and benefit with a hearing device.
Early this year, the publishers of The Hearing Review initiated a Best of 2011 Hearing Healthcare Professionals program to recognize those audiologists, hearing instrument specialists, ENTs, and others affiliated to the field who exemplify quality hearing care. This special supplement is our first attempt in an evolving program designed to highlight and recognize outstanding individuals, practices, facilities, and companies that "go above and beyond" the call of duty to serve the needs of people with hearing impairment. This year's special supplement includes two commissioned profiles written by senior health care writer Greg Thompson, and a list of over 165 professionals and industry experts who were nominated during the program.
We hope to continue and expand Best of Hearing Healthcare Professionals in 2012, supplementing the noble efforts of other recognition programs, such as the Oticon Focus on People Awards, Rayovac Hearing Professional of the Year, Phonak Cheryl DeConde Johnson Award, the Beltone Larry Mauldin Award, and numerous other industry and professional awards that are regularly featured in HR.
What is the best hearing aid? In these pages is the answer.