A very special hearing healthcare project in Bali was established through the efforts of engineer Nick Liem, who in his retirement, returned to his native country to "give back to the land of his childhood." Nick was actively involved in Rotary International projects in Africa to assist children with hearing loss, and while there, he met many dedicated audiologists and otolaryngologists from Canada and around the world. He decided that he wanted to start a program to help bring that same kind of hearing care assistance to children in Bali.
Nick developed the plan for his project with fellow Rotarians and co-workers at Canada-based AIM Instrumentation, Vikki MacKay, a hearing instrument specialist, and Jim Renshaw, an audiometric electronics technician. With a solid plan in mind, Liem then connected with Lumina, a Balinese-owned company, and began work to develop a philanthropy hearing care project in Bali.
Together, they guided the creation of the Lumina Hearing Centre in Denpasar, Bali, where local staff were recruited and trained. The center was soon completed, and new hearing care services were introduced to local communities via the Rotary Clubs in 2004. The Lumina Hearing Centre helps fulfill a long-time need in Bali for pediatric hearing aid services and audiology support. Although Bali has a few state-run schools for deaf and hard-of-hearing children, enrollment in those is delayed until a child reaches age 7. Additionally, until the Lumina Hearing Centre was established, there hadn't been sufficient audiology support services for children with hearing loss and their families. Sadly, some children with hearing loss had been abandoned by their parents once they had entered the state-run schools.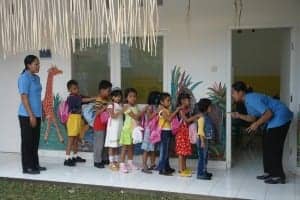 In 2007, Lumina opened the Sushrusa Preschool for children with hearing loss, with support from a non-profit organization in Bali called YKIP (known as the Annika Linden Foundation). The aim of the preschool is to provide early diagnosis, education, and treatment of children with hearing loss.
By 2009, the Lumina Hearing Centre and its Sushrusa Preschool had helped bring hearing care to more than 200 Balinese children, who received hearing aids donated from Canada, Australia, and many other countries. In 2015, it was estimated that over 1,400 children had benefitted from participation in the many hearing health programs that have been initiated through Lumina.
Today, Lumina Hearing Centre continues to be guided by Nick Liem with help from his local staff, as well as volunteer help from MacKay and Renshaw during their extended annual visits to Bali. They have been joined by audiologist Verna Pyplacz of Langley, who oversees the training of Lumina audiometric staff.
Over the years, the hearing center has continued to grow and, in addition to its preschool for young children with hearing loss, now offers several hearing care programs and various hearing services. Lumina's services currently include universal newborn hearing screening, diagnostic testing for children, hearing aids for school children, testing equipment in schools, professional audiology support, hospital sound booths and equipment, and rural outreach.
Lumina and its programs continue to receive support form Rotary Clubs, the Australian Charity, Bikabele, and private donors, but more help is needed.
The Hearing Review recently spoke with Jim Renshaw, who told us that the Lumina Hearing Centre and Sushrusa Preschool are doing well, but will soon need to relocate. There is great need for hearing care volunteers and additional funding to sustain both Sushrusa and also a new school that has been established to provide technical and vocational training to deaf youth. The goal is to enable them to find employment and support themselves and their families.
People wishing to learn more about volunteering or otherwise supporting Lumina's programs in Bali, can contact Vikki MacKay at: [email protected]
Source: Lumina Hearing Centre, Jim Renshaw, Vikki MacKay