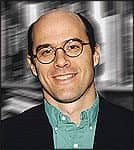 The International Hearing Society (IHS) and the Academy of Doctors of Audiology (ADA) will hold their annual conventions in the next two months. Both events provide an excellent opportunity for dispensing professionals to learn about new fitting and diagnostic techniques, understand new technologies, network, and gain new insights into running their businesses. While still going strong, these two conventions have, for various reasons, seen some attrition in attendance over the past several years. In my opinion, that means many dispensing professionals are simply missing out on a fantastic opportunity. These are two organizations where the independent entrepreneurial spirit is alive and well, and where it is not hard to find a person willing to relate what's working and what's not working in their own dispensing business/practice.
Granted, many people cannot afford the time and money to belong to every organization or attend every state and national convention each year. Additionally, the advent of online CEUs has greatly diminished the practical necessity of attending conventions in order to fulfill one's certification requirements. However, advocacy on behalf of your profession can be as important as updating your clinical skills should one day you awake to find that you do not have the appropriate professional representation for your particular profession. If this occurs, you run the risk of being powerless with few practical options, leading to situations that can greatly impact the quality of care for your clients—or your ability to make a living helping your patients.
Whatever your perspective and opinion may be on them, one can point to numerous serious professional issues that have surfaced in the past 15 years: the FDA's proposed revisions to the Hearing Aid Rule, reimbursement issues, Internet and direct-mail hearing aid sales, ethical practice guidelines, evidence based protocols and dispensing guidelines, the Hearing Aid Tax Credit, direct access for audiologists, etc. It's possible that you may even think some issues adamantly endorsed or opposed by your own professional organization(s) are patently ridiculous. All the more reason to tell your organization's leaders and fellow members what you think.
On the national level, organizations like IHS, ADA, the American Academy of Audiology (AAA), and the American Speech Language Hearing Association (ASHA) need your voice and vote of confidence/disagreement from their general membership to propel them in the right direction. The truth is that the core of every organization is not defined by its "movers and shakers" that grace the stages of these events; the core is actually represented by the mass of people who support and underwrite the organization's basic goals. The leadership of national organizations truly require grassroots support, financial assistance, and direction from their members. In fact, as with national and state politics, if this type of interaction does not occur—and if the organization does not get enough support and feedback from its rank-and-file members—things can go seriously adrift. Yes, the organization's leaders need encouragement and deserve praise, but they also need the proverbial "deafening silence" or outright "You gotta be kidding!" type of feedback, as well. As with national politics, there are relatively small fringe groups that can hijack the policy of larger bodies, rendering them inconsequential or anathema to their general membership.
On the state level, your support becomes even more critical, because state legislation and policies change much faster—and sometimes with little notice. Make no mistake about it: state hearing care organizations can have a major impact on how you practice and what you do for a living.
In short, dispensing professionals need to support their national and state professional organizations with their mouths, their emails, their checkbooks, and—importantly—their bodies at annual conventions whenever possible!
Karl Strom
Editor-In-Chief