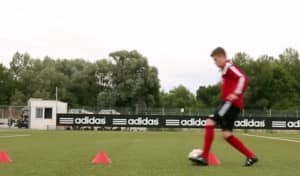 Phonak, a manufacturer of hearing instruments and wireless communications solutions, has joined Bundesliga youth team player Simon Ollert in inviting children with hearing loss from six countries to a 3-day soccer training camp in Germany. Their goal is to help children with hearing loss make progress in their personal development.
Simon Ollert is the only player with profound hearing loss playing professional soccer in any of the German-speaking countries. The 19-year-old athlete, who was recently featured in an award-winning film produced by Phonak, will be training some 30 children between the ages of 12 and 14 at a camp to be held in Ettal, Bavaria, August 19 – 21, 2016. Ollert's idea for this first international soccer camp for children with hearing loss represents the next step in his partnership with Phonak.
"My story shows just what you can achieve despite hearing loss," said Ollert. "Ever since I can remember, I have dreamt of being a professional soccer player. My Phonak hearing aids spurred my ambitions and have helped me live a life without limits. It's wonderful that Phonak is now also helping me make my first soccer camp a reality – it means we can give children a leg up so they too can follow their dream in life with the same determination."
The soccer camp will be held in the picturesque setting of Ettal Abbey, with the young people's participation being organized in close cooperation with leading pediatric hearing care professionals. Youngsters from Austria and the German-speaking regions of France, Italy (South Tyrol), Switzerland and Belgium are also expected to take part. The kids will experience a varied training program, which will offer help with ball control and many other soccer skills. They can learn how to test themselves against others and develop self-confidence and courage in a sports context. An exciting schedule of supplementary activities will give the children an opportunity to speak with Simon Ollert on his life as a professional soccer player. The weekend of sport will culminate in a match involving all camp participants.
Soccer Campers with Hearing Loss Will Learn Tips on Hearing Aids
An expert from Phonak's pediatric audiology department will be on hand to advise parents and children for the duration of the soccer camp, answering questions and giving valuable "life hacks" for hearing aid handling in the context of school, sports, and leisure. Phonak has more than 40 years' experience of providing children with hearing aids; the company supplies hearing and wireless solutions of sizes, colors, shapes and technologies that are ideally suited to the day-to-day needs of children and young people.
"Creating hearing solutions that are right for children is one of our core competencies," said Martin Grieder, group vice president at Phonak. "So the Simon Ollert soccer camp is a perfect fit for Phonak and our mission to use hearing solutions to effect positive changes in people's lives. The camp helps children make great strides in their emotional and social development. We are extremely proud of Simon and we are delighted to be supporting him in bringing this fantastic idea to fruition."
Source: Phonak
Image credits: Photography, production company & film maker, Ehrin Macksey Productions