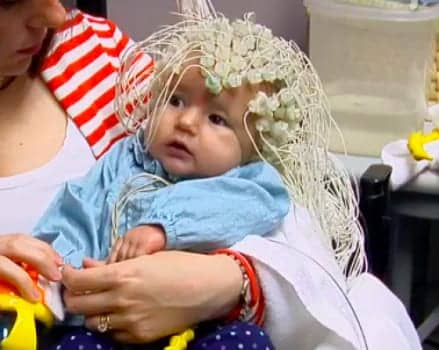 An infant's brain activity is measured while tactile stimulation, in the form of air puffs, is administered to the child's hand. The goal of this research technique is to identify and develop treatments for mental disabilities commonly associated with premature birth. Photo: JoVE, The Journal of Visualized Experiments

On January 29, JoVE, the Journal of Visualized Experiments, published a procedure that uses tactile stimuli and event-related potentials (ERPs) to identify newborns and children at-risk for developmental problems, especially those born prematurely. The technique is designed to be an infant-friendly way of measuring brain activity using non-traditional methods, and reportedly will aid in the invention of treatment strategies leveraging neural plasticity present in the first 3 years of life.
"This new methodology has recently been used to investigate cortical processing of touch and speech sounds in a large group of full-term and preterm neonates," said Dr Nathalie Maitre, one of the two researchers behind the experiment, "It has also been used to characterize the effect of neuro-rehabilitation in the brains of young children with cerebral palsy." Dr Maitre also said that its application could lead to wider adaptations in treating infants and adolescents with brain injuries, for example, or in addressing abnormal sensory experiences in the neonatal period during intensive care hospitalization.
Click here for the full story at ScienceDaily.
Source: ScienceDaily