Research | April 2018 Hearing Review
A look at post-fitting follow-ups in a hearing care practice and their importance to patients
With the over-the-counter (OTC) hearing aid controversy, one issue seldom addressed in detail is the importance of post-fitting follow-ups in the success of hearing aid users. Indeed, post-fitting follow-up visits and the activities they entail are not always well-defined or delineated even in our best practice protocols. This article offers a brief review of select audiological literature related to follow-up visits and their importance, common activities, and best practices, and also presents a field study that examines, in detail, one practice's follow-ups and outcomes.
This is a challenging time to be a professional working in a hearing aid dispensing practice. Consumer satisfaction with hearing aids is at an all-time high and there is strong evidence for successful outcomes.1 Demand for hearing aids is also at an all-time high.2 Yet, because consumers have an expanding number of options for obtaining hearing aids, the independent provider may feel increasing competition. Still, a relatively small percentage of the hearing-impaired population wears hearing aids.1 This disconnect has been attributed to the relatively high cost of the product and the limited number of professionals to provide services.3
There is a movement to provide an alternative to professionally fit hearing aids via an over-the-counter (OTC) delivery model.3 This implies that, for at least some potential hearing aid wearers, the hearing aid is a commodity; it is ready to use out of the box and the services of the professional are superfluous. There is limited research to support or refute this contention. Regardless, Congress recently passed the Over-the-Counter Hearing Aid Act which, sometime before the end of 2020, will require the US Food and Drug Administration (FDA) to create an OTC class of hearing aids intended for purchase by those with mild-to-moderate hearing loss without even needing a hearing evaluation.4
Do audiologists and other dispensing professionals make enough difference in outcomes with hearing aids to justify the cost of their professional services? Recently, there has been renewed emphasis on the importance of audiologists adhering to best practices in the provision of adult hearing aid services.3,5 These studies suggest that differences in outcomes compared to an over-the-counter model will be much greater when professionals incorporate more elements of best practice into their services.6
The impetus for the present article was the Indiana University (IU) hearing aid outcome study,7 which compared three groups: those fit with hearing aids using audiologist best practices (AB); those self-fit with a pseudo over-the-counter (OTC) hearing aid process; and those fit with placebo hearing aids. The IU study was meticulous in its prefitting and fitting best practices. However, it did not include planned follow-up visits as part of its best practices model. Humes et al7 acknowledged that,"True best practices would include follow-up visits…" (p 25), but argued that published best-practice guidelines do not include fine-tuning visits. Tecca8 responded that follow-up visits are for much more than simply fine-tuning devices, and speculated that this was likely a primary reason there were not larger differences between the outcomes of the best practices and OTC groups.
In his rebuttal, Humes9 stated that the IU study was "not endorsing follow-up visits as part of best practices" because they are not included in AAA or ASHA best-practice guidelines10,11 and they are known not to be "common practices."
This prompted me to research the use of follow-up visits in the practice of adult hearing aid care through a search of available literature, communication with other professionals, and an analysis of what happens post-fitting in my own practice.
Best Practices' Statements
The American Academy of Audiology (AAA)10 and the American Speech-Language-Hearing Association (ASHA)11 have both issued best practices' statements regarding hearing aid fitting for the adult patient. Each statement includes a rather detailed section about hearing aid orientation. This portion of the hearing aid fitting process is considered critical to ensure the patient can operate and care for their devices and that they have appropriate expectations for likely benefit. Although neither specifically prescribes a certain number or frequency of visits, both statements recognize that additional visits beyond the hearing aid fitting session may be required. Valente10 stated, "Hearing aid orientation is complete only when all appropriate information has been provided and the patient (or family member/caregiver) is competent to handle the instruments or declines further post-fitting care" (p 7). The AAA guideline includes a section describing counseling and follow- up audiologic rehabilitation—services that require visits beyond the hearing aid fitting appointment. Furthermore, Valente stated, "Successful management requires comprehensive counseling to help the patient adjust to his/her hearing aids as well as instruction of the patient and his/her primary communication partners concerning the development of appropriate communication strategies to maximize and augment the assistance he/she receives from the hearing aids."10 Neither of these best-practice statements has been revised in the 10-20 years since they were written and there are no known updates in preparation.5
I asked Michael Valente, PhD, committee chair and principal author of the AAA best-practices' statement, to clarify the role of follow-up visits as best practices. He felt that follow-up visits were part of the guideline. Dr Valente said, "A guideline would be too cumbersome if it included every step involved in the process…Common sense needs to prevail…I don't understand how you can have a dispensing practice and not have follow-up visits" (Valente, personal communication, 2017).
Where's the Evidence?
The roots of audiology are in rehabilitation. For historical perspective, it is informative (and fun) to read about the hearing aid selection and training that was used for the military in the 1940s.12,13 They actually used a residential aural rehabilitation program. Can you imagine that happening today? Jumping forward in time to 1983, Scherr et al14 surveyed a group of 374 mostly retired military patients who had a 2-hour post-fitting hearing aid orientation. Despite most wearing monaural analog hearing aids (remember, it was 1983), 91% rated their devices as satisfactory and reported wearing them an average of 11.9 hours per day. Yet, 32.6% of their group required assistance beyond the initial hearing aid orientation.
Dillon15 stated that many patients will require follow-up appointments because of special problems or because they do not absorb all the information at the time of the hearing aid orientation. He provided an extensive list of things that should occur during the follow-up visits, making it clear that the burden of arranging these follow-up visits is on the hearing care professional, because most people will not ask for help—and dissatisfied hearing aid wearers are likely to dissuade others from seeking help.
I was unable to identify any prospective study designed to compare outcomes for groups with and without post-fitting follow-up care using the same model hearing aids. However, relevant information can be extracted from other types of reports that pertain to the contribution of follow-up care provided by the professional during the hearing aid fitting process.
Kochkin16 compared outcomes with professionally fit and direct-mail purchased hearing aids. Of the usable surveys, nearly all the 1,721 traditionally fit hearing aids used digital processing while nearly all the 2,322 direct-mail purchasers used analog devices. The direct-mail customers received an instruction manual and had access to licensed hearing aid dispensers to answer their questions. In comparing outcomes, the two groups were very similar regarding daily hours of use, benefit, satisfaction, and improvement in quality of life. However, when results were analyzed regarding 10 levels of best practices, the professionally fit hearing aids became more successful than the mail-order devices as more elements of best practice, including after-fitting care, were provided. These results were consistent with a previous study6 that showed better performance with increasing elements of best practice. Interestingly, that study found patients required an average of 2.5 visits for their hearing aid fitting process.
Ramachandran et al17 reviewed the records of all 503 patients who were fit with hearing aids at their medical center during 2009. They tallied the number of encounters each patient had post-fitting during the following 12-month period. There was an average of 3.12 encounters per patient. Patients who purchased two hearing aids rather than one hearing aid and those who purchased higher level technology had more follow-up visits. This study did not report patient outcomes.
Abrams and Kihm1 summarized the MarkeTrak IX survey data from over 1,000 hearing aid users. They reported overall satisfaction with hearing aids to be 81% and for devices purchased in the last year to be 91%. Only 3% of those hearing aid purchasers reported putting them in the drawer. Abrams3 reported that the factor most influencing satisfaction is quality of services received during and after hearing aid purchase. Obviously, this element of satisfaction is absent in an OTC model.
Personal sound amplification products (PSAPs) offer consumers another option. While intended to enhance listening for those with normal hearing, many of these devices are clearly hearing aids by another name. Tedeschi and Kihm18 conducted a pilot study comparing outcomes from fitting PSAPs using an OTC process with professionally fit hearing aids. A total of 29 people selected PSAPs from 15 options without professional assistance. By the end of a 6-week trial period, 50% rated the devices "much worse" or "somewhat worse" than expected; 34% were consistently dissatisfied; and 25% had stopped using the devices. Everyone in this group was then given the opportunity to be professionally evaluated and fit with hearing aids, including follow-up visits. A total of 26 of the 29 were found to have hearing loss, and 18 of these people were subsequently fit with hearing aids. After 6 weeks, two-thirds felt their expectations were exceeded, 83% were satisfied, and only one person stopped using the hearing aids. While details of the hearing aids and the fitting and follow-up care were not provided, it appears that the involvement of the professional was an important factor in the outcomes.
The IU outcome study7 was the first double-blind, placebo-controlled investigation of the OTC method. The results showed similar outcomes for groups fit with hearing aids using audiologist best practices' (AB) and consumer self-fit (CD) models with both outperforming a placebo (P) group on the primary outcome measures, the Profile of Hearing Aid Benefit (PHAB), and the Connected Speech Test (CST). The secondary outcome measures, which considered satisfaction from audiology care, were significantly better for group AB.
As a double-blinded study, the IU outcome study did not provide follow-up visits to any of its groups during the initial 6-week trial period. At the end of the 6-week period, 88% of subjects across groups were found to have problems, such as twisted or kinked tubing. Humes? et al acknowledged that these maintenance problems "were not inconsequential; rather, they resulted in significantly decreased amplification of speech (SII) and significantly poorer aided speech-understanding performance (CST)." These maintenance problems would most likely have been identified and corrected early in the six-week period had follow-up visits been included in the best-practices' model creating greater benefit for group AB than for group CD.8
After the initial 6-week trial, 19% of Group AB, 45% of Group CD, and 64% of Group P intended to return their hearing aids. Subsequently, the subjects were offered hearing aid programming, orientation, and counseling along with an additional four-week trial. A small number of subjects from Group AB and 95% of those in Groups CD and P accepted the offer. After audiological intervention, the number who actually returned their hearing aids was 11% for AB, 16% for CD, and 12% for P groups. It would appear that, in general, participants wanted and benefitted from professional help.
Solheim et al19 followed a group of older patients (average age 79 years; 54% female, 46% male) fit with new hearing aids over the first six months of use. There were 181 patients (73% of the initial group) who participated in a 6-month follow-up interview. The group included first-time (46%) and experienced (54%) hearing aid users. Most hearing aids were behind-the-ear (86%), with the remainder using a variety of other styles. All patients participated in a hearing aid fitting appointment and commenced a one-month trial of their hearing aids. The patients were able to visit the clinic during the trial for any needed assistance including trying other models of hearing aids. At the 6-month interview it was found that about 85% were wearing their hearing aids and 15% had discontinued use. The average daily wear time of those still using their aids was 7.2 hours, and there was an average of 1.4 issues reported. There was a relationship between number of issues reported and amount of hearing aid use, with the most frequently reported issues related to the earmold (26.5%), sound quality (26%), and handling (25.5%). They concluded that hearing aid fitting should be considered the beginning of an ongoing rehabilitation process if the patient is to receive optimal results.
What is Common Practice?
There has been a great deal of attention to the pre-fitting and verification process. While there is consensus that these are important to the quality of outcomes, they are not in widespread use among audiologists.20,21 Hawkins and Cook,22 Aarts and Caffee,23 and Sanders et al24 showed the importance of probe-microphone measures as the real-ear aided response (REAR) predicted from fitting software generally does not match actual measures. Abrams et al25 found that, in a group of experienced hearing aid wearers, 68% preferred devices programmed to a verified prescription of NAL-NL1 targets compared to 32% who preferred a manufacturer's first-fit method (ie, without verification). Although the first-fit method was not target-matched, it did incorporate each subject's hearing loss so it would be more individualized than an OTC device. Valente et al26 reported subjects preferred and performed better with hearing aids that were fit using real-ear verification to NAL-NL2 targets compared to unverified manufacturers' first-fit methods.
Little has been said about the post-fitting process. If there were such a thing as "the best hearing aid in the world" and it were perfectly fit according to all best practice guidelines, it would be of no benefit if the user could not get it in the ear. The hearing aid would not be worn if it were not comfortable or if it caused loudness and/or discomfort. There are many unknowns at the time the patient leaves the office with the hearing aid. Part of the joy and challenge of audiology is the uniqueness of each patient.
Bennett et al27 gathered perspectives of hearing aid wearers and clinicians about problems that occur post-fitting. They identified four main problem areas: 1) Hearing aid management; 2) Hearing aid sound quality and performance; 3) Feelings, thoughts, and behaviors, and 4) Information and training. They concluded that problems related to hearing aid management had the greatest impact on hearing aid success and were the most preventable/solvable. Similarly, Abrams3 reported that quality of service during and after the hearing aid purchase was the most important factor influencing satisfaction. He included post-fitting care in his list of 10 best practices.
How are follow-up visits being used in audiology practices? An extensive survey was beyond the scope of this project. I contacted six experienced audiologists from different work settings (not-for-profit clinic, private practice, university, ENT practice, hospital) by email and asked them to describe their procedures for continuing care after hearing aids are fit. The responses were surprisingly similar. Every audiologist said that they routinely schedule one or more follow-up visits, and they continued to see the patient until both patient and audiologist were satisfied. Most (5 of 6) scheduled the first follow-up visit 1-2 weeks post-fitting, while the other usually saw the patient near the end of the trial period. Some scheduled additional visits 3-6 months later for progress checks. While "fine-tuning" was included in the services provided at those visits, the audiologists talked more about retraining, counseling, dealing with comfort of fit, adding features to the devices, and informing the patient about other assistive devices.
Follow-up Visits in Practice
The typical hearing aid wearer is not a technically savvy young adult. The extensive amount of information that needs to be provided about hearing aid use and care is often more than a patient can absorb in one visit. Information is often repeated in subsequent visits. Techniques for inserting hearing aids or caring for them are often reviewed or revised. Even if a patient has no difficulty managing the hearing aids, it takes time to be exposed to the variety of situations encountered in daily life. It may be weeks or months before a patient experiences all the situations where improved hearing is important to them.
Many patients require short-term adjustments to their devices for gain/output or to activate features, such as telephone options, additional programs, or volume controls. Sometimes additional technology is needed to achieve optimal benefit.5 Patients are often counseled on limitations (eg, you will not hear conversation well at the wedding reception sitting next to the DJ's loudspeaker) that they were not ready to hear previously. It is unrealistic to think that such things may be fully accomplished in a single hearing aid fitting visit.
In our office (HSS), the audiologist personally walks with the patient to the scheduling desk after the hearing aid fitting appointment. Follow-up visits are scheduled for all patients 1-2 weeks post-fitting unless they refuse. Subsequent visits are scheduled based on the observations of the audiologist and the needs of the patient that become known at the first follow-up visit. In many cases, patients are discharged after the first follow-up visit. However, there are a substantial number of patients who are seen several times. All patients are mailed an outcome survey 2-3 months post-fitting. The responses on the outcome survey may prompt additional visits for programming, training, or counseling.
Follow-Up Visits in Detail: An Analysis of Field Data
The suggestion that routine follow-up visits are not best practice prompted a more detailed look at what happens at HSS in the weeks and months following a new hearing aid fitting. To be included in the review, patients had to have completed an outcome survey, the Hearing Aid Follow-Up Survey (HAFUS), which was mailed to them 2-3 months post-fitting. The HAFUS28,29 is an 18-item survey that samples the patient perspective in domains of use, benefit, and quality of life (see Appendix A below). About 80% of our patients complete the HAFUS. Their responses provide another opportunity to evaluate the patient's success with their hearing aids. A completed HAFUS serves as a "virtual" office visit that will lead to an actual office visit for those patients who appear to be receiving substandard outcomes.
Three groups of patients were identified from a review of HSS records. A group of first-time hearing aid wearers fit with RIC-style hearing aids (Group 1) was previously described8 in comparison to the best practices' Group AB from the IU outcome study.7 All patients in Group 1 had completed the pre-fitting Hearing Aid Follow-Up Survey (Pre-HAFUS, see Appendix B below) and the post-fitting HAFUS. Two groups of experienced hearing aid users were also considered. It might seem that those with several years of experience wearing hearing aids would not require much attention post-fitting. Although experienced hearing aid wearers, by definition, have preexisting knowledge of hearing aids, this does not ensure that they will not have issues that require visits beyond the fitting session.
The two groups were defined by their history in our office. Group 2 was made up of patients who were hearing aid wearers before they established care at HSS and had completed the Pre-HAFUS as part of their case history. Only 35 patients met these requirements. To obtain a larger sample of experienced hearing aid wearers, patients who began coming to our office before we implemented the Pre-HAFUS were identified (Group 3). Working backward chronologically, consecutive patients who had completed the HAFUS were identified until the sample size was similar to Group 1. In total, the records of 144 patients with new hearing aid fittings occurring during the three-year period of spring 2014 to spring 2017 were reviewed.
Characteristics of these three groups are shown in Table 1. The inexperienced patients averaged about 71 years old with four-frequency pure-tone average (PTA4 = .5, 1, 2, and 4 kHz) hearing loss of about 37 dB. The experienced patients were about five years older, averaging 76-77 years old, with about 15 dB greater hearing loss (PTA4 of 50-57 dB). Nearly all patients had symmetrical sensorineural hearing loss with a few conductive or mixed hearing loss cases. For reference purposes, the characteristics of our normative group of 303 patients28 is also shown and is quite comparable to the two experienced groups.
As mentioned above, the inexperienced group all wore RIC-style hearing aids, with nearly all having non-occluding eartips. The experienced groups were fit with all styles of hearing aids with occlusiveness of fit and custom molding of the ear appropriate to the degree of hearing loss (Tables 2 and 3). About three-quarters of Group 1 and two-thirds of Groups 2 and 3 wore hearing aids on both ears. The remainder wore only one hearing aid, with slightly more on the right ear than the left ear. All fittings were verified to NAL-NL2 targets, with allowances for patient loudness and sound-quality preferences. Parenthetically, to approximate NL2 targets, manufacturers' defaults had to be modified in about 90% of cases for all three groups.
Data was gathered for the number of follow-up visits that occurred during the first six weeks and six months post-fitting. As noted above, the first follow-up visit is "required." There were 90-100% of patients in the three groups returning for at least one follow-up visit. Additional visits were scheduled as needed for both the patient and audiologist to feel confident that all issues were resolved to the extent possible.
While the numbers vary among groups, the tendency was for more than one post-fitting visit, gradually decreasing over time (Figure 1). The average number of visits in the first six weeks post fitting was 1.44, 1.71, and 1.35 for Groups 1, 2, and 3, respectively. However, the need for follow-up visits continued beyond the initial six-week period. The average number of visits in the first sixmonths post-fitting was 2.18, 2.83, and 2.40 for the respective groups. Considering all three groups, 2 or more follow-up visits were needed for 54-71% of patients, 3 or more visits were needed by 25-42% of patients, and 4 or more visits were needed by 12-34% of patients. The differences did not reach statistical significance when the three groups were compared for number of visits at either six weeks or six months using ANOVA (p >.05).
If follow-up visits were unnecessary, we would expect most patients to return for only the initial follow-up visit for their "pat on the back" and not need assistance or changes. Figure 2 shows the percentage of patients having some type of service or change made during each visit relative to the total size of each group (not just the number returning for that session). More than 50% of each group had some change made during each of the first two follow-up sessions. In Session 3, 25-37% had a change. In Session 4, 12-22% had a change made. There were many cases when a patient who did not have a change in a visit returned later with a request for some type of assistance. One cannot assume that because a patient does not need our help at one session, they will not need help later. Also, if we consider only those patients who returned for more than one follow-up visit, more than 90% of them had some service or adjustment provided after the first follow-up visit.
The types of changes or services that were provided could be sorted into the following categories:
1) Change affects prescription (eg, gain, output, compression ratio);
2) Feature activated or deleted (eg, volume control enabled, memory added, phone program added);
3) Fit-related adjustment (eg, earmold modification, tube length adjusted, dome size changed);
4) Service (eg, clogged tubing cleared, defective RIC changed, repair of malfunctioning hearing aid), or
5) Training/counseling (eg, trained to insert earmold, instructed on phone use, counseled on strategies for communication in noisy situations, etc).
Figure 3a-d shows the changes that were made for each group during each follow-up visit. The changes are shown as a percent of the total changes that occurred during a given session, such that for each group the five bars in the graph total 100%. In some cases, there were multiple changes for a given patient during the same session (eg, change gain and retrain on using the volume control), so the total changes exceed the total number of patients returning for each session. More than 50% of the changes that were made for each experienced group in Session 1 and for the inexperienced group in Session 2 were those that affected the prescription. Those changes were diverse—not simply increasing or decreasing gain. Otherwise, the types of changes were widely distributed among the five categories.
What Were the Outcomes?
Results of the HAFUS and Pre-HAFUS are shown in Figures 4 and 5. Most patients would be considered "full-time" hearing aid wearers at the time of their last follow-up visit or when their HAFUS was completed 2-3 months post-fitting. The data logs showed mean wear time of 10.86, 10.62, and 9.87 hours per day for Groups 1, 2, and 3, respectively. The HAFUS Q1, which queries wear time, was consistent with the data logs, showing that 95.92%, 100%, and 91.23% of Groups 1, 2, and 3, respectively, wore their hearing aids most of the day or whenever needed.
HAFUS items 2-8 consider issues related to use, comfort, sound quality, and loudness. Recall, smaller numbers on the HAFUS indicate more positive outcomes. The average scores for all three groups are nearly all between 1-2 with none exceeding 3. The results from our normative group of 303 patients is shown for comparison. They are all grouped reasonably closely.
Items 9-17 are the communication items of the HAFUS. The Quiet Subscale (items 9 and 11) and the Noise Subscale (items 10, 12, 15, 16) are also shown in Figure 4. Nearly all patients reported positive outcomes regarding hearing conversation clearly in quiet situations and in noisy situations; however, Group 1, the younger and less hearing-impaired group, had better scores than Groups 2 and 3. Not surprisingly, better hearing was reported in quiet situations than in noisy situations for all groups. However, it is very noteworthy that the average difference between the quiet and noise subscales is only about 1 scale unit. People do report positive results hearing in noisy situations.
HAFUS item 18 addresses quality of life with hearing aids. For all groups the mean scores were <2, indicating a very positive view of the influence of hearing aids on their quality of life.
For the two groups that completed the Pre-HAFUS, the difference between unaided and aided communication in quiet and noise and change in quality of life were determined (Figure 5). The changes were on the order of 2-3 scale units and quite similar for the two groups. The 95% critical difference from our normative group is less than 1 scale unit. Paired t-test results were significantly (p < .001) better post-fitting for both groups for all three HAFUS item comparisons. It is worthwhile to note the reported change was greater for hearing in noise than in quiet for both groups.
So, Are Post-fitting Follow-up Visits Best Practice?
Hearing aids have changed dramatically over time. People have not. If hearing aids were VCRs, the clock would be flashing 12:00 for most wearers. Most patients require assistance with their new hearing aids beyond the fitting appointment. This is true for both new hearing aid users and those with prior hearing aid experience. With adequate support, encouragement, counseling, and motivation, most patients are successful with current technology. The evidence argues that post-fitting follow-up visits with the hearing care professional are best practice and that they contribute to positive outcomes.
The OTC hearing aid and its variants are probably here to stay. There is evidence that they are beneficial to some consumers.7 The standards for this class of product are still being developed. Hopefully, they will have rigid quality control requirements that will make their performance predictable and safe for users. Promotional materials should provide realistic expectations­—nearly half of those who try OTC devices may decide not to keep them.7 They should also include a statement that failure to achieve satisfactory benefit with OTC devices is not an indication of potential for success with professionally fit hearing aids.
Acknowledgments
The wording for the title was inspired by McArdle et al's 2012 JAAA article "Are Two Ears Not Better Than One?" Michael Valente, PhD, was very gracious in sharing his thoughts on the AAA best practice statement and the role of post-fitting follow-up visits. I would also like to thank the following audiologists for sharing their own post-fitting follow-up practices with me in the preparation of this article: Amyn Amlani, PhD; James Cole, AuD; Kim Kragt, AuD; Michael Stewart, PhD; Michael Valente, PhD; and Adam Wong, AuD. Thanks to Kristy Deiters, AuD, for providing helpful suggestions for revising this article.
Correspondence can be addressed to Dr Tecca at: [email protected]
Original citation for this article: Tecca JE. Are post-fitting follow-up visits not hearing aid best practices? Hearing Review. 2018;25(4):12-22.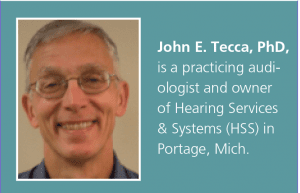 References
Abrams HB, Kihm J. An introduction to MarkeTrak IX: A new baseline for the hearing aid market. Hearing Review. 2015;22(6);16.

Strom KE. Hearing aid unit sales grow by 3.4% in 2017. January 17, 2018. Available at: www.hearingreview.com/2018/01/hearing aid-unit-sales-grow-3-4-2017/

Abrams H. Audiologists: Respond to disruption with best practices. May 2017. Available at: https://www.asha.org/Articles/Audiologists-Respond-to-Disruption-With-Best-Practices/

President Trump signs OTC hearing Aid legislation into law. August 19, 2017. Available at: https://hearingreview.com/2017/08/president-trump-signs-otc-hearing aid-legislation-law/

Beck DL. Best practices in hearing aid dispensing: An interview with Michael Valente, PhD. Hearing Review. 2017;24(12);39-41.

Kochkin S, Beck DL, Christensen LA, et al. MarkeTrak VIII: The impact of the hearing healthcare professional on hearing aid user success. Hearing Review. 2010;17(4):12-34.

Humes LE, Rogers SE, Quigley TM, Main AK, Kinney DL, Herring C. The effects of service-delivery model and purchase price on hearing aid outcomes in older adults: A randomized double-blind placebo-controlled clinical trial. Am J Audiol. 2017;26;53-79.

Tecca JE. A perspective on the Indiana University OTC outcome study. Hearing Review. 2017;24(7):18-24.

Humes L. Letters: Larry Humes responds to "A perspective on the Indiana University OTC outcome study." Available at: https://hearingreview.com/2017/07/letters-larry-humes-responds-perspective-indiana-university-otc-outcome-study/

Valente M. Guideline for audiologic management of the adult patient. October 30, 2006. Available at: https://www.audiologyonline.com/articles/guideline-for-audiologic-management-adult-966

American Speech-Language-Hearing Association. Guidelines for hearing aid fitting for adults. 1998. Available at: https://www.asha.org/policy/GL1998-00012/

Carhart R. Selection of hearing aids. Arch Otolaryngol. 1946;44(1):1-18.

Ross M. Aural rehabilitation: Some personal and professional reflections. Available at: https://hearingreview.com/2001/09/aural-rehabilitation-some-personal-amp-professional-reflections

Scherr CK, Schwartz DM, Montgomery AA. Follow-up survey of new hearing aid users. J Acad Rehab Audiol. 1983;16:202-209.

Dillon H. Hearing Aids. 2nd ed. New York, NY: Thieme Medical Publishers; 2012.

Kochkin S. A comparison of consumer satisfaction, subjective benefit, and quality of life changes associated with traditional and direct-mail hearing aid use. Hearing Review. 2014;21(1):16-26.

Ramachandran V, Stach BA, and Schuette A. Factors influencing patient utilization of audiologic treatment following hearing aid purchase. Hearing Review. 2012;19(2):18-29.

Tedeschi T, Kihm J. Implications of an over-the-counter approach to hearing health care: A consumer study. Hearing Review. 2017;24(3):14-22.

Solheim J, Gay C, Hickson L. Older adults' experiences and issues with hearing aids in the first six months after hearing aid fitting. Int J Audiol. 2018;57(1):31-39.

Gail Brook/American Speech-Language-Hearing Association (ASHA). Audiology survey report: Clinical focus patterns 2006-2012. https://www.asha.org/uploadedFiles/2012-Audiology-Survey-Clinical-Focus-Patterns-Trends.pdf.  Published May 10, 2013.

Lindley G. Current hearing aid fitting protocols: Results from an online survey. Audiology Today. 2006;18(3):19-22.

Hawkins DB, Cook JA. Hearing aid software predictive gain values: How accurate are they? Hear Jour. 2003;56(7):26-34.

Aarts NL, Caffee CS. The accuracy and clinical usefulness of manufacturer-predicted REAR values in adult hearing aid fittings. Hearing Review. 2005;12(12):16-22.

Sanders J, Stoody TM, Weber JE, Mueller HG. Manufacturers' NAL-NL2 fittings fail real-ear verification. Hearing Review. 2015;21(3):24-32.

Abrams HB, Chisholm TH, McManus M, McArdle R. Initial-fit approach versus verified prescription: Comparing self-perceived hearing aid benefit. J Am Acad Audiol. 2012;23(10):768-778.

Valente M, Oeding K, Brockmeyer A, Smith S, Kallogjeri D. Differences in word and phoneme recognition in quiet, sentence recognition in noise, and subjective outcomes between manufacturer first-fit and hearing aids programmed to NAL-NL2 using real-ear measures. J Am Acad  Audiol. In press.

Bennett RJ, Laplante-Lévesque A, Meyer CJ, Eikelboom RH. Exploring hearing aid problems; Perspectives of hearing aid owners and clinicians. Ear Hear. 2018;39(1):172-187.

Tecca, JE, Deiters KK. The use of outcome measures in clinical practice: Part 1. Audiology Today. 2017;29(3): 50-59.

Tecca, JE, Deiters KK. The use of outcome measures in clinical practice: Part 2. Audiology Today. 2017;29(4):28-37.
Appendix  A.  The Hearing Aid Follow Up Survey (HAFUS)
To download a printable copy of the HAFUS, please click on the link here: Tecca Hearing Aid Follow-up Survey_pdf
Please take a moment to respond to each item with the answer that best reflects your circumstances.  Your answers let us know how your hearing aids help and situations where you are having difficulty.  (You will not hurt our feelings if there are problems.)
Hearing Aid Follow-Up Survey
Q1. Please select the item that best describes how you use your hearing aids:
____  I wear my hearing aids most of the day.
____  I wear my hearing aids whenever needed.
____  I wear my hearing aids occasionally.
____  I rarely wear my hearing aids.
Please circle the answers that come closest to your  everyday experience. For example, if you strongly agree
with a statement, circle "A" for that item.                      
Q2. My hearing aids are comfortable.                                                                       A  B  C  D  E  F  G   N/A
Q3. My hearing aids are easy for me to handle.                                                       A  B  C  D  E  F  G   N/A
Q4. My hearing aids are loud enough for most conversation.                              A  B  C  D  E  F  G   N/A
Q5. My hearing aids keep sound that is already loud
(door slam; dog bark) from becoming uncomfortable.                                             A  B  C  D  E  F  G   N/A
Q6. My hearing aids do not squeal/whistle after they are seated in my ears.        A  B  C  D  E  F  G   N/A
Q7. My hearing aids have a natural sound quality for other people's voices.         A  B  C  D  E  F  G   N/A
Q8. My hearing aids have a natural sound quality for my own voice.                     A  B  C  D  E  F  G   N/A
My hearing aids allow me to hear clearly when:
Q9.      – talking to 1 other person in a quiet room.
A  B  C  D  E  F  G   N/A
Q10.    – talking to 1 other person in a noisy room.
A  B  C  D  E  F  G   N/A
Q11.    – talking to a small group in a quiet room.
A  B  C  D  E  F  G   N/A
Q12.    – talking to a small group in a noisy room.
A  B  C  D  E  F  G   N/A
Q13.    – talking to 1 other person in a car.
A  B  C  D  E  F  G   N/A
Q14.    – talking on the telephone.
A  B  C  D  E  F  G   N/A
Q15.    – at a meeting or in church.
A  B  C  D  E  F  G   N/A
Q16.    – in a busy restaurant.
A  B  C  D  E  F  G   N/A
Q17.    – watching TV.
A  B  C  D  E  F  G   N/A
Q18. My hearing aids have improved my quality of life.
A  B  C  D  E  F  G   N/A
Please add any comments:
Appendix B.  The Hearing Aid Follow Up Survey (HAFUS) communication and quality of life items modified for use as an unaided prefitting measure.  Numbers Q9-Q18 correspond to similar items in the post-fitting HAFUS.  Item numbers are not used on the actual clinical form.
To download a printable copy of the HAFUS Case Study, please click on the link here: Tecca Case History HAFUS pdf
Please circle the answers that come closest to your.  everyday experience.  If you wear hearing aids, please answer the way you hear without them.  For example, if you strongly agree with a statement, circle "A" for that item.
I can hear clearly when:
Q9.   – talking to 1 other person in a quiet room.
A  B  C  D  E  F  G      N/A
Q10. – talking to 1 other person in a noisy room.
A  B  C  D  E  F  G      N/A
Q11. – talking to a small group in a quiet room.
A  B  C  D  E  F  G      N/A
Q12. – talking to a small group in a noisy room.
A  B  C  D  E  F  G      N/A
Q13. – talking to 1 other person in a car.
A  B  C  D  E  F  G      N/A
Q14. – talking on the telephone.
A  B  C  D  E  F  G      N/A
Q15. – at a meeting or in church.
A  B  C  D  E  F  G      N/A
Q16. – in a busy restaurant.
A  B  C  D  E  F  G      N/A
Q17. – watching TV.
A  B  C  D  E  F  G      N/A
Q18. My hearing difficulty reduces my quality of life.
A  B  C  D  E  F  G      N/A