There is now a standard, cross-manufacturer protocol developed through HIMSA, referred to as IMC 2 (Inter Module Communication – Protocol 2). Oticon has revisited the existing REM AutoFit to provide an improved, intuitive tool integrated in its fitting software utilizing this new IMC 2 protocol.
Tech Topic | April 2017 Hearing Review
Admittedly, conventional real ear measures (REM) are—and have always been—a hard sell. Although REM is undoubtedly important, objective, facilitative, and worthwhile, very few clinicians employ these measures in their daily hearing aid dispensing routine. Mueller1 estimated that 20-30% of all fittings involve REM; the first author (DLB) estimates the actual number may be closer to 10-15%.
There are wide-ranging reasons cited for the low usage of conventional REM. Chief among them: lack of time, lack of equipment, a seemingly cumbersome process, and expensive equipment. Of course, there is also the assertion that the patient's feedback and preferences take priority over objective measurements of sound—although that isn't actually a cogent argument, as the use of REM does not preclude or argue against the patient's subjective response.
Specifically, REM and patient preferences are not mutually exclusive; indeed, it's quite the opposite. A REM-verified first fitting is an evidence-based and well-informed starting point for accommodating the patient's subjective feedback. An unverified first fitting is really an unknown starting point.2
Some clinicians occasionally use REM, perhaps for more challenging fittings and troubleshooting. For those who do incorporate conventional REM routinely into their hearing aid fitting protocol, the 10 to 15 minutes spent acquiring REM, documenting, and using the information is time well spent.
Just as one cannot accurately guess the type and degree of hearing loss, one cannot guess the ear canal size or ear canal resonance characteristics. Given the introduction of any fixed sound (speech, background noise, pure tones) into any ear canal, the acoustic result at the eardrum may be significantly different for each individual ear canal, even within the same patient.
Of course, some clinicians argue that simply acquiring and hitting the target does not guarantee a successful fitting—and we agree. Indeed, the issue is as much about documenting the fitting the patient receives as it is about matching target, and using this as a starting point from which the final fitting evolves. That is, if a patient loves the amplified sound they perceive, the sound should be measured so it can be documented and replicated at a later date, if and when needed.
Of note, the conventional REM process involves multiple steps, such as launching the REM software, making sure REM parameters in the software and hearing aids are all set correctly, placing the probe microphone near the eardrum, calibrating for open fittings, comparing between fitting software and REM software, adjustment of gain, and re-measurement. Each clinician works at their own speed, and, admittedly, conventional REM may require 8 to 15 minutes.
The evidence base supporting conventional REM in terms of quality of fit and hearing aid benefit is clear, compelling, and well established.3-6 Recently, the effect of REM on patients' attitudes and opinions has been examined. Amlani, Pumford, and Gessling7 reported REM can enhance the patient's "self-perceived benefit of their amplification devices," as well as "satisfaction with the practitioner," and REM helps facilitate patient loyalty. They report REM can also "positively impact the user's confidence with, and perception of, their hearing aid."
Further, the use of REM is known to help significantly reduce return visits when compared to fittings without REM.6 Amlani, Pumford, and Gessling7 report REM promotes "an evidence-based assessment," thus assuring that the fitting is specifically and individually fit to the acoustics of the patients' ears. The use of REM is also proven to give the patient the best chance to accept and benefit from their hearing aids.
Clinically, it seems fair to say REM is significantly underused, yet represents an important and beneficial component of the hearing aid fitting process.
REM Autofit as a Solution
REM has been integrated into fitting software previously. In fact, the concept has existed for years. However, it previously required proprietary protocols, such that only one (or two, if you're lucky) model/manufacturer of REM systems was likely to communicate with each fitting software.
Now (2017) there is a standard, cross-manufacturer protocol developed through HIMSA, referred to as IMC 2 (Inter Module Communication–Protocol 2). Inter module communication has been implemented in many NOAH modules for several years (known as IMC). However, a significant development was recently driven by multiple manufacturers through HIMSA to create a more comprehensive and applicable protocol. Oticon Genie and Genie 2 are the first certified IMC 2-compliant NOAH modules. The advantage of involving multiple manufacturers is that, eventually, fitting software will be able to communicate with any manufacturer's IMC 2-compliant REM module (Figure 1).
Harnessing the potential of IMC 2—and appreciating the barriers and pressures on clinicians with respect to what is an important part of the fitting process—an integrated REM solution, REM AutoFit, has been introduced that is designed to simplify and streamline fittings.
Oticon has revisited the existing REM AutoFit to provide an improved, intuitive tool integrated in Oticon's Genie and Genie 2 fitting software, which now utilizes the new IMC 2 protocol. Because there is no need to run REM software in parallel, the clinician completes the real ear measurement process rapidly. While REM AutoFit makes the process of matching targets automatic, quick, and simple, the clinician maintains control with the added "manual" functionality. That is, the "match to target" can be treated as a starting point, as discussed above, from which the clinician can perform manual fine-tuning based on patient preferences and can run subsequent manual measurements within REM AutoFit (Figure 2). Other new functionalities in this system include simultaneous binaural measurements, International Speech Test Signal (ISTS), automatic calibration for open fittings, guided workflow, and live display of measurements.
REM AutoFit streamlines the REM process by offering a clear, guided workflow and removing the need to run REM software in parallel. There is no need to set up the hearing aids and REM software for each REM procedure; the whole process is handled within Oticon Genie or Genie 2, while everything is already set up to program the hearing aid. In addition, along with all standard fitting rationales, REM AutoFit provides the opportunity to verify with Oticon's proprietary fitting rationales, VAC/VAC+ and DSE.
As noted above, REM AutoFit is IMC 2-compliant. A list of certified IMC 2-compliant modules is available at the HIMSA website. Eventually, REM AutoFit will work with any IMC 2-compliant REM module. At the time of writing, the REM modules with IMC 2 functionality known to be compatible with REM AutoFit are MedRx, AvantREM 3.2 and later, Interacoustics Affinity/Equinox Suite 2.9 and later, and Interacoustics Callisto Suite 1.7 and later (Figure 3).
The IMC 2 functionality in these modules was developed in conjunction with REM AutoFit. Other NOAH REM modules are expected to adopt IMC 2 in the near future. It is recommended to update to the latest version of NOAH to support this functionality—different modules may have different NOAH requirements to use IMC 2. It is worth noting that for MedRx and Interacoustics modules, REM AutoFit can also function without NOAH (i.e. with standalone modules). REM AutoFit is available for use with any hearing aid style on Oticon's Velox, Inium Sense, and Inium hearing aid platforms in Genie 16.2 and Genie 2|16.2 (Opn, Alta 2, Nera 2, Ria 2, Alta, Nera, Ria, Dynamo, Sensei, and Sensei SP; note some Oticon Opn hearing aids may require a firmware update via the Firmware Updater to ensure compatibility with REM AutoFit).
Conclusion
REM AutoFit is a quick, accurate, and streamlined tool in Genie and Genie 2 that reduces complexity while allowing the clinician to maintain control of the REM verification procedure and to complete it faster than conventional REM. It ensures that the hearing aids are operating properly and are fitted in accordance with the selected fitting rationale, without adding substantial time to the fitting protocol. For those who routinely include REM in their fittings, the new IMC2 and REM AutoFit represent an easy, fast, accurate way to save time. For those who do not routinely include REM in their fittings, they represent an easy, fast, and accurate way of increasing the likelihood of hearing aid acceptance and benefit, as well as helping to reduce return visits.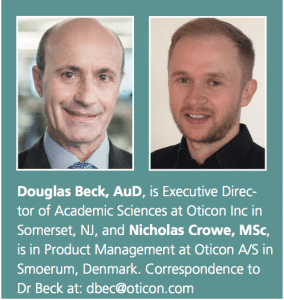 References
Original citation for this article: Beck DL, Crowe N. Easy, fast, and accurate: Hearing aid fittings via an automated REM system using IMC 2. Hearing Review. 2017;24(4):30-31.