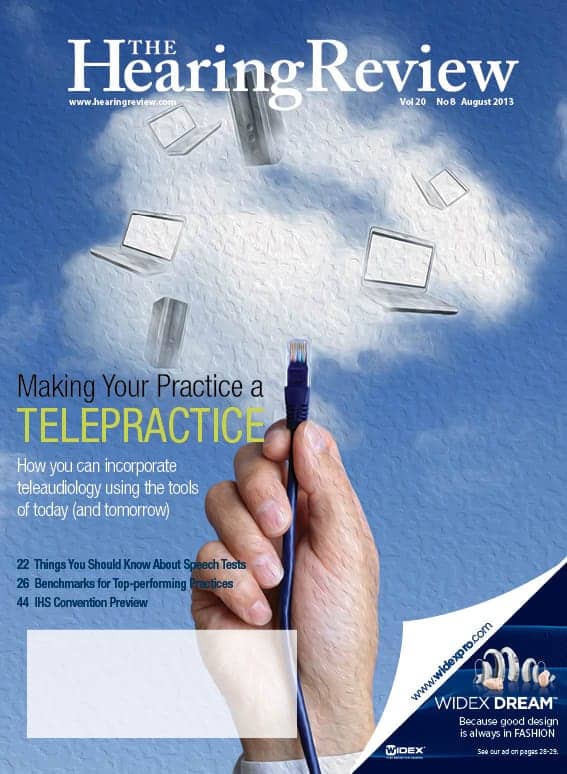 The August 2013
Hearing Review Table of Contents
COVER STORY
Teleaudiology for Enhanced Hearing Care: Merging Traditional Face-to-Face with FaceTime
By Mona Dworsack-Dodge, AuD
Teleaudiology continues to advance. Making your services more accessible increases the visibility of your practice and our industry to those who need you. Here are some examples and ideas to get started.
Observations on Speech, Speech in Noise, and Embedded Tests
By Douglas L. Beck, AuD, and Jennifer L. Repovsch, AuD
WRS testing in quiet provides only a snapshot of the best possible or ideal listening scenario for the
patient—and is usually not reflective of real-life situations. This article looks at speech testing, as well as speech-in-noise testing, and why the latter is an essential element in the protocol for dispensing hearing instruments.
Examination of the AOR Benchmark Practice Management Study
By Ronald Gleitman, PhD
What differentiates a $1-million-plus dispensing practice from an "average" practice? This article reviews what top performers appear to be doing differently and business measures that might account for their success.
Evaluation of a Binaural Speech in Wind Feature, Part 1
By Matthias Latzel, PhD, and Jennifer Appleton, MSc
A new speech in wind algorithm has been designed to enhance hearing intelligibilty in wind. Part 1 looks at wind noise and verification of the new algorithm in the lab using KEMAR.
Thinking Outside the Casing: Ultra-cosmetic Hearing Aids
By Astrid Haastrup, MA, and Jill Mecklenburger, AuD
Not all hearing aid users—particularly first-time candidates—are drawn to or will accept a BTE, no matter how small it is. Continued innovations in the design of IICs will contribute to improved hearing aid adoption rates.
2013 IHS Convention Preview
A sneak-peek at this year's International Hearing Society Convention and Expo exhibits.
DEPARTMENTS
Staff Standpoint
Second-quarter Hearing Aid Sales Rise by 5.2%
by Karl Strom
Blog Page: ASHA, AAA, and ADA Clash Over Legislative Strategy
by David Kirkwood
The Final Word: Client-Patient Communication: From the Other Side
by Dennis Van Vliet, AuD