The Alexander Graham Bell Association for the Deaf and Hard of Hearing (AG Bell) has announced its release of a new professional practice protocol, Recommended Protocol for Audiological Assessment, Hearing Aid and Cochlear Implant Evaluation, and Follow-up. According to the announcement, the recommended protocol is intended to support programs for early detection and management of hearing loss in infants and children. It also is a guide to appropriate and ongoing audiology services recommended for children pursuing a listening and spoken language outcome.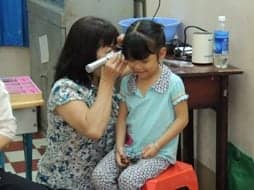 The protocol provides an overview of audiological management and includes amplification assessment procedures, audiological management for children with cochlear implants, and audiological management regarding FM systems. The document provides for family-centered practice and encourages parent participation in all assessments.
"Appropriately fitted auditory technology is arguably the foundation for access to listening and spoken language for children who are deaf and hard of hearing," said Donald M. Goldberg, PhD, CCC-SLP/A, FAAA, LSLS Certified AVT, and an author of the document. "This protocol is an invaluable resource to the field in recommending a test battery approach for assessment."
AG Bell CEO Emilio Alonso-Mendoza noted that the protocol is one of the first documents of its kind to be released by the association, and considers it invaluable for both professionals and parents.
The protocol is available on the AG Bell website, and it also can be downloaded and saved as a PDF document.
According to the AG Bell announcement, the protocol is not prescriptive for professionals who hold the Listening and Spoken Language Specialist (LSLS®) certification, and is not required by AG Bell or the Alexander Graham Bell Academy for Listening and Spoken Language. It contains guidelines and recommendations for use at the professional's discretion.
Source: AG Bell / AG Bell Listening and Spoken Language Knowledge Center