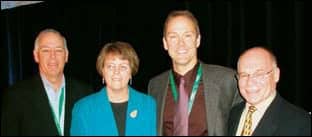 Conference steering committee members include (from left) David Hawkins, Catherine Palmer (chair), David Fabry, and Richard Seewald (not shown: Robyn Cox and Ora Buerkli).
Warrenville, Ill—About 400 delegates—almost 200 of whom were from 27 countries outside the United States—attended the conference, "Hearing Care for Adults," hosted by Phonak Hearing Systems during mid-November. The goal of the conference was to provide hearing care providers with education and professional development about hearing aid fitting in the adult population. Presenters covered a wide range of information on the special needs of the adult population, including patient characteristics, demographics, assessment, high frequency hearing losses, technology, assistive technology, outcomes, post-fitting follow-up considerations, and practice guidelines. The conference brought together many different providers from all walks of audiology. In her opening comments, Phonak USA President Cathy Jones emphasized Phonak's commitment to quality health care through diagnostics, evaluation, and amplification. An audiologist herself, she provided a diverse perspective into the domain of hearing aids.
The keynote session, "Personality of Hearing Aid Patients: Before, During and After the Fitting," was delivered (via Webcast) by Robyn Cox of the University of Memphis and set the stage for a comprehensive array of talks addressing research studies and clinical implications for hearing aid assessment, fitting, and aural rehabilitation.
Following lunch on the first day of the conference, Ruth Bentler of the University of Iowa presented her talk on "Audiometric Considerations for Hearing Aid Fitting." Bentler reminded attendees that, although technology has advanced significantly, we must be realistic when explaining the benefits of hearing aid fittings. She stipulates that it is important to go back to the basics—the audiometric test procedures—in order to choose appropriate amplification. Even with the best technology available, there will be some patients who cannot achieve the kinds of benefit scores that might be hoped, and this is where patient counseling and education become crucial for optimizing the patient experience.
Although it is important to keep realistic expectations regarding appropriate fittings, hearing care providers have more options for their patients now more than ever before. Mead Killion of Etymotic Research demonstrated the benefits of this technological rise in his talk "Research and Clinical Implications for High-Fidelity Hearing Aids." Killion discussed how hearing care providers should be closely analyzing the products they sell to patients. This should include an in-depth listening check that incorporates not only the Ling 6 sounds but a wide range of music, as well. He contends that a simple real-world listening check can bring evidence-based practice from the laboratory into the clinical setting.
As the final presenter of the conference, Catherine Palmer of the University of Pittsburgh took attendees on an in-depth look at evidence-based practice in the clinical setting. Palmer not only discussed the importance of these measures, but she provided methods to obtain and analyze the data.
Included in the topic section, "Characteristics and Demographics of the Adult Hearing-impaired Population," were presenters McCarthy and Pamela Souza from the USA, Lorienne Jenstad and Kathy Pichora-Fuller from Canada, as well as Adrian Davis from the United Kingdom. Stuart Gatehouse of Scotland teamed up with Bentler to present "Assessment Considerations." Hearing aid fitting issues were covered by Richard Seewald and Susan Scollie of the National Centre of Audiology in Canada; Gitte Keidser and Harvey Dillon of the National Acoustics Laboratories (NAL) in Australia; Michael Boretzki and Stefan Launer of Phonak in Switzerland; and H. Gustav Mueller of the United States. Additionally, Scollie and Killion presented the seminar "High-frequency Forum."
An overview of current technology included presentations by Todd Ricketts of Vanderbilt University and David Fabry of Phonak, and Juergen Kiessling of Germany. Presenting other points-of-view on the topic were Arthur Boothroyd, Theresa Hnath Chisolm, Rachel McArdle, Helena Solodar, and Linda Thibodeau. The end of the second day featured sessions by Larry Humes, Harvey Abrams, and Rachel McArdle of the United States, and Monique Boymans and Wouter Dreschler of the Netherlands who presented on outcomes measurements. The day was rounded out with an evening event sponsored by Phonak.
Download the Conference
Webcast presentations of "The Hearing Care for Adults Conference" are available online until March 1. The presentations can be downloaded from services.choruscall.com/links.
Welcoming attendees to the last morning of the conference, David Hawkins, Kelly Tremblay, Robert Sweetow, Theresa Walden, Brian Walden, and Michael Valente of the United States presented information on "Post-Fitting Follow-up Considerations and Practice Guidelines." In addition to platform presentations, a poster session provided attendees with an update on a variety of amplification-related topics. A live Webcast allowed viewers from around the world with the opportunity to view the first day of the conference.
The impressive roster of speakers and subjects was assembled by an independent steering committee chaired by Catherine Palmer, with members Robyn Cox, David Hawkins, and Richard Seewald, David Fabry, and Ora Buerkli. The dispensing professionals and clinicians in attendance were provided with a wide variety of evidence-based information that will benefit them in future patient fittings.
This conference report was submitted to HR by BethAnn Jacques, an AuD student at University of Massachusetts at Amherst. For more information, contact [email protected].