As the nation prepares to celebrate Independence Day this week, the American Speech-Language-Hearing Association (ASHA) is encouraging the public to make hearing protection a priority by taking some basic precautionary measures at fireworks, festivals, parades, and other events, according to an announcement on their website.
Many traditional Fourth of July festivities can reach potentially dangerous noise levels. Fireworks and firecrackers can be as loud as 150 decibels—louder than a jackhammer or jet plane takeoff. Safe listening levels are generally 75–80 decibels. The louder the noise, the less time it takes to damage a person's hearing.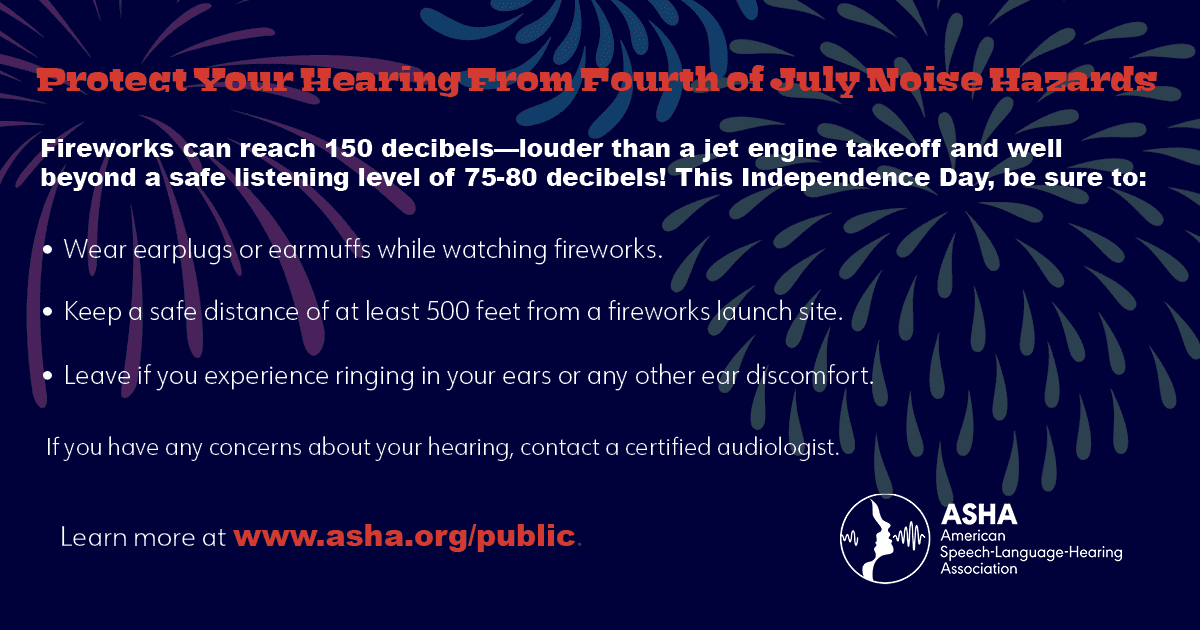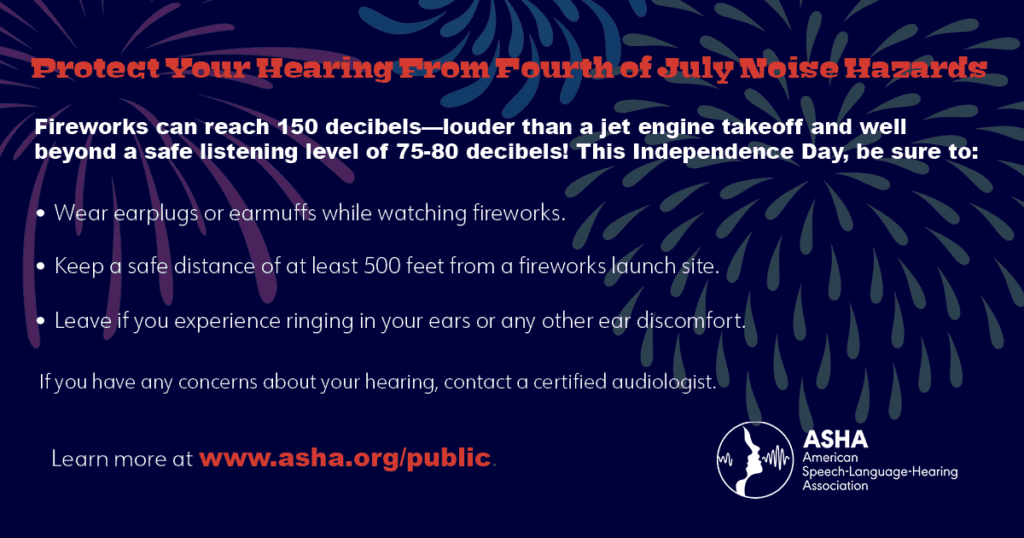 "This year, people who choose to celebrate at home with fireworks and noisemakers may be exposed to sound levels well beyond what they would experience at a larger event, which already can be very loud. This could increase their risk of hearing damage if they don't take steps to protect themselves," said ASHA 2020 President Theresa H. Rodgers, MA, CCC-SLP, in a separate press release. Due to the coronavirus pandemic, large, public July 4th events may be canceled this year, and, therefore, people may choose to celebrate privately. Fireworks companies have reported increased sales of fireworks in 2020.
Noise-induced hearing loss (NIHL) is completely preventable. However, once it occurs, it is irreversible. The louder the noise, the less time it takes to damage one's hearing. Although NIHL can result from consistent exposure to loud noise, such as listening to earbuds or headphones regularly at high volumes, it also can occur from just one exposure to a very loud "impulse" sound like an explosion.
Here are some tips to celebrate safely:
Use hearing protection. Basic earplugs, which can be picked up at most drugstores, offer surprisingly good hearing protection for most teens and adults. Children are generally better off using well-fitting earmuffs over earplugs.
Keep your distance. Stand at least 500 feet away from noise sources, such as speakers, a stage, or a fireworks launch site. The closer you are, the more likely you are to hurt your ears.
Know your limits. If you (or anyone in your party) are experiencing ringing in your ears or any other ear discomfort, leave. Listen to your body!
Help children appreciate their hearing. Talk with your children beforehand about the risk involved and the importance of protecting their ears. Model those good behaviors.
ASHA also encourages some neighborly consideration. "People may be sensitive to fireworks and other loud noises for a variety of reasons. Giving those who live near you some advanced warning of your plans could be very helpful," Rodgers noted.
Anyone who continues to experience pain or ringing in the ears, or who is having difficulty hearing, should visit a certified audiologist for a hearing evaluation. Learn more at: www.asha.org/public.
Source: ASHA
Image: @ Hezanyang | Dreamstime.com, ASHA