Tech Topic | July 2019 Hearing Review
A recent field trial shows that the pairing time for the Marvel hearing aids averaged 33 seconds for clinicians and
49 seconds for non-clinicians, and the vast majority of users gave the device high scores on ease of use, hearing on the phone, and streamed sound quality.

Research has shown that hearing aid satisfaction and adoption is higher when they provide multiple environmental listening utility (MELU).1,2 One particularly challenging situation is using hearing aids with the phone.

Landline phones are increasingly being replaced by smartphones, with fewer than 40% of households in 2018 having a landline (down from 90% in 2004).3 It's estimated that the number of smartphone users worldwide will reach around 2.5 billion by the end of 2019.4 However these devices are more than just a phone; they have cameras, enable access to the Internet and apps, and are used for streaming both music and audiovisual materials from a range of different platforms. So it's no wonder that hearing aid connectivity to smartphones has become such a hot topic over the last few years. And, with more tech-savvy Baby Boomers starting to require hearing help, it's reasonable to expect that connectivity will be an increasingly important need.

Made-for-iPhone (MFi) hearing aids that directly connect to Apple iOS devices have been around for many years. However, research suggests MFi provides direct connectivity for a small percentage of clients: worldwide data indicates a 15% iOS market share versus 85% for Android smartphones.5

Recognizing this unmet need, Phonak recently released Marvel, which uses Bluetooth Classic to directly connect to iOS and Android phones and stream phone calls and audio/music to both hearing aids. Phonak Marvel also has enhanced own-voice pick up, which uses the hearing aid microphones to pick up the wearer's voice, enabling true hands-free functionality. The device also employs AutoSense OS™ 3.0,6 which can now classify different streamed signals (eg, speech vs music) and apply different vent loss compensation for each compared with acoustic inputs to help deliver top-rated, streamed sound quality.6-8

But just how easy is it to pair Phonak Marvel with iOS and Android smartphones? And what is the patient experience when making phone calls, as well as for their conversation partner at the far end? And what do non-trained listeners think about the sound quality for streamed music? These are the questions addressed in a recent field trial reported below.

Methods

During various Marvel launch activities in New Zealand, 56 people took the opportunity to gain some hands-on experience with Phonak Audéo M90-R hearing aids. To better reflect the general public, clinicians as well as others in the hearing healthcare industry (eg, technicians, customer service staff, etc), were invited to experience Marvel. The Audéo M90-R hearing aids were fitted to a flat 25 dB HL hearing loss, set at the new pre-calculation for 80% acclimatization level, and were coupled to the ear with the new M Receiver and vented domes. The Audéo M90-R devices were set to a manual switch-on mode. Instructions were provided on how to pair Marvel with their smartphones, as well as on how to answer the phone call by pressing the user control on either hearing aid.

The hands-on experience involved pairing the hearing aid to their own smartphones, accepting and having a phone conversation with someone, then listening to their favorite music streamed directly from their personal smartphones. The time taken to pair the Audéo M90 hearing aid to their smartphones was recorded (not just the scan time, rather the time taken for the entire pairing procedure), and they were asked to rate various aspects of their phone calls and the experience of listening to binaurally streamed music, as outlined by the questionnaire in Appendix 1 (found in the online version of this article at hearingreview.com).

Results and Discussion

An equal number of people with iOS and Android phones participated in the exercise: 28 in each group, or a total of 56 participants, with 24 participants (43%) being clinicians.

The median time taken to pair the Audéo M90-R device to the smartphone was 41 seconds (Upper Quartile [UQ] = 62 s, Lower Quartile [LQ] = 28 s). Three-quarters (75%) of the phones paired to Audéo Marvel in less than 1 minute. When we considered iOS vs Android, the median pairing time was 36 secs (UQ=57 s, LQ=23 s) and 46 s (QU=75 s, LQ=36 s), respectively (Figure 1a). It was noted that Android phones tended to find substantially more devices in their environment, which may explain this finding.

Kolmogorov-Smirnov testing showed the pairing time data are not normally distributed, therefore, the non-parametric two-tailed Mann-Whitney test was employed. The time taken to pair Marvel to iOS and Android phones was not significantly different (p=.097), nor was the rated ease of pairing to either (p=0.215). The median time taken for clinicians to pair Marvel to their phones was 33 seconds (UQ=44 Secs, LQ=16 secs), compared with 49 secs (UQ=99 secs, LQ=38 secs) for non-clinicians. This difference was significant (P=.0016) and makes sense because clinicians regularly pair hearing aids to Bluetooth devices. Android and iOS were rated equivalently easy to pair.

Consolidated, 92% rated the pairing as either very easy or easy (Figure 1b). In order to determine if pairing time had any impact on rated ease of pairing, we consolidated pairing time into 5 time bins and compared this to ease ratings. A Kruskal-Wallis test followed by Dunn's test for multiple comparisons indicated that participants with the shortest pairing times rated it easier than those with the longest pairing times (P <.01); however there was no difference in the middle times. For a subset of 30 people, we also asked them to pair their smartphones to a set of Bluetooth headphones with headset functionality (Plantronics PLT Pro). The median time taken for pairing was 36 seconds (UQ=44 s, LQ=29 s). Intuitively, those with the fastest pairing times rated it easier than those with the slowest pairing times; however there was no difference for times in between. The median pairing time for Audéo M was 5 seconds slower than a set of Bluetooth headphones.

Participants answered a phone call by pressing the button on the hearing aid. Results are shown in Figure 2, and indicate that 89% rated answering the phone call by pressing the button on the hearing aid as either very easy or easy.

Participants were also asked to rate how easy it was for them to hear the person at the other end of the phone, as well as how well the other person could hear them via the own-voice pick up feature. Results are shown in Figure 3. Nearly all (95%) wearing the hearing aids rated the call as either "very easy" or "easy" to hear (Figure 3a). This is most likely due to the already established benefits a binaural phone signal has on speech intelligibility in both quiet and noise when on the phone.9,10 In terms of the sound quality of the call for the wearer, 86% rated this as either "excellent" or "good." For the person at the far end of the line, 80% rated it as either "very easy" or "easy" to hear the Marvel wearer on the phone (Figure 3b). Lower ratings tended to occur when there was appreciable background noise present around the Audéo M wearer, so we would still recommend counseling clients to either move to a quieter environment or, if that is impossible, to orient themselves so that the noise is behind them, optimizing the impact of Audéo M's beamformer and noise-reduction strategies.

Participants then rated the sound quality for music streamed through Audéo M. Figure 4a shows that 93% rated the sound quality for music as either "excellent" or "good." Just under half (46%) of participants had prior experience listening to music through hearing aids, so they were asked to compare the sound quality of music through the Audéo M to what they have heard before with other hearing aids. A total of 90% rated the streamed music quality for Audéo M as either "much better" or "better" than what they have heard before through other hearing aids (Figure 4b), which was consistent with a previous study indicating the top-rated sound quality for music with Marvel technology.8 This is most likely due to the ability of Phonak Marvel to classify different streamed signals and respond accordingly, including applying different vent loss compensation to deliver more low frequencies, and, therefore, a richer sound quality, for streamed music.7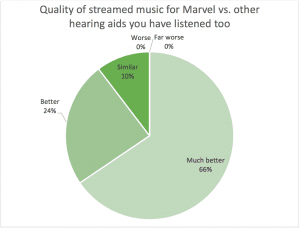 Limitations of this study included: 1) Streamed music quality comparisons to other hearing aids relied on memory, rather than a direct listening comparison, and 2) It would have been good to have all participants pair to the Plantronics PLT Pro Bluetooth headphones.
Conclusions
Phonak Audéo M is quick and easy to pair, similar to other Bluetooth audio devices. The binaural phone signal for both iOS and Android users makes phone calls easy to hear, and the enhanced own-voice pick up made the wearer's voice easy to hear by the other caller for the majority of calls; exceptions tended to be when there was background noise around the hearing aid wearer, so we would still recommend Audéo M wearers move to a quiet situation wherever possible. The quality of streamed music through the Audéo M is rated very highly, and for those who have previously listened to music through hearing aids, was rated better compared to other devices in the vast majority of cases.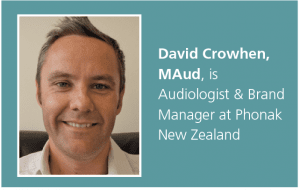 Correspondence can be addressed to: [email protected]
Citation for this article: Crowhen D. Ease of hearing aid pairing and sound-quality ratings for binaurally streamed phone and music. Hearing Review. 2019;26(7):28-30.
References