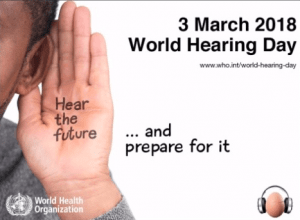 World Hearing Day takes place Saturday, March 3!
Co-Chairs of the Congressional Hearing Health Caucus, Congressmen David B. McKinley (R-WV) and Mike Thompson (D-CA), introduced HR 740 recognizing March 3 as World Hearing Day 2018. The theme for World Hearing Day 2018 is hearing and the future, which focuses on hearing loss prevention awareness and promoting access to rehabilitation services and communication tools for individuals with hearing loss.
World Hearing Day is held on March 3 each year to raise awareness on how to prevent deafness and hearing loss and promote ear and hearing care across the world. Each year, the World Health Organization (WHO) decides the theme and develops a brochure on the topic based on the best available evidence as well as advocacy materials such as posters, banners, infographics and presentations, among others. These materials are shared with partners in government and civil society around the world as well as WHO colleagues across the Organization.
"While several Members of Congress use hearing aids, I'm the only one with a cochlear implant," said Rep McKinley in a press statement. "As Co-Chair of the Hearing Health Caucus, I have worked to expand access to treatment and services for people with hearing loss. World Hearing Day is a great tool to raise awareness of the challenges these people face daily, and I'm proud to support this effort."
"I'm proud to join my Hearing Health Caucus Co-Chair Rep McKinley in supporting the World Health Organization's (WHO) recognition of March 3rd as World Hearing Day," said Rep Thompson. "This year, WHO will focus its energies on preventing the rise in hearing loss, and highlighting ways for health systems across the globe to provide access to rehabilitation services and communication tools for those with hearing loss. I'm honored to join that effort, and reaffirm our commitment to expanding access to affordable hearing health services here at home."
"More than 40 million Americans are living with hearing loss, with millions more at risk," stated ADA president, Alicia Spoor, AuD. "This resolution will help raise awareness among members of Congress and the public about the importance of optimizing hearing health and improving access to audiologic care for those who need it."
"ASHA appreciates Representatives McKinley and Thompson for championing the resolution to designate March 3rd as World Hearing Day," said Elise Davis-McFarland, PhD, president of the American Speech-Language-Hearing Association (ASHA). "One of the most common, chronic health issues affecting Americans, hearing loss is under-recognized and under-treated as a serious health condition impacting all aspects of one's life. We welcome this opportunity to improve public awareness about measures that can help protect hearing, the benefits of treatment, and the life-changing care that is provided by audiologists."
"World Hearing Day is an important reminder that hearing loss transcends borders. With a projected increase in the prevalence of hearing loss, we need a global call to action to address the need for preventive action and access to professional and rehabilitative services," said Jackie Clark, PhD, president of the American Academy of Audiology. "The American Academy of Audiology applauds the efforts of Representatives McKinley and Thompson to recognize World Hearing Day through the resolution, and we thank them for their continued leadership of the Congressional Hearing Health Caucus."
"Hearing loss has a profound effect on the lives of millions of individuals and is one of the most common issues faced by individuals as they age," said James C. Denneny III, MD, EVP/CEO for the American Academy of Otolaryngology-Head and Neck Surgery (AAO-HNS). "Unfortunately, many adults fail to seek appropriate intervention when symptoms of hearing loss first appear. Raising awareness and prevention of hearing loss is critical on a global scale. We commend US Representatives Mike Thompson and David McKinley and the entire Congressional Hearing Health Caucus for their continued leadership on these issues."
To read more about World Hearing Day, click here. To mark the event, WHO prepared information materials which can be downloaded by sending an email to [email protected]