Colorado-based hearing protection provider EAR Inc has released the EAR MiniCanal™ Combo, a multi-functional alternative to traditional custom-fit electronic hearing protection.
EAR Inc is a company that is known for providing quality products and services that enhance and protect the hearing experience with its custom-fit, universal-fit, and music/audio line of products designed for industrial, law enforcement, shooting/hunting and other leisure activities.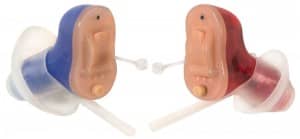 According to EAR Inc, its MiniCanal Combo can be used effectively right out of the box. These units utilize digital technology to effectively suppress loud sounds, such as gunfire, while still providing situational awareness for important ambient ???sounds, including conversation. MiniCanal Combos come with reusable, non-vented silicone tips for noise protection, and vented tips for conversation or normal listening situations. EAR's push button volume control is designed to permit easy adjustments.
Universal-fit MiniCanal units can be inserted into a custom-fit sleeve, says the company. What makes this a Combo? For those who prefer a custom fit, the universal-fit MiniCanals are designed to fit flush into a custom-fit silicone sleeve. For additional attenuation, non-electronic silicone slugs can be inserted into the sleeve. Custom-fit sleeves can be ordered in addition to the MiniCanal Combo, or sold separately, and require ??ear impressions which can be obtained from any of EAR Inc's authorized providers or through a local audiologist.
The line of custom-fit (custom molded) earplugs from EAR Inc are said to provide comfortable and optimal hearing protection performance. EAR Inc custom-fit electronic, acoustic filtered and passive hearing protection are used by motor sports enthusiasts, shooting and hunting enthusiasts, the United States Military, and law enforcement agencies throughout the country. EAR Inc custom-fit products have proven to provide comfort, functionality, hygienic value, and reasonable cost. Most importantly, the company reports that custom-fit hearing protection can help reduce hearing loss injuries.
Source: EAR Inc