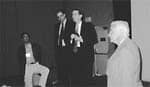 Audioscan
The Audioscan® RM500 series real ear/hearing aid analyzers are designed for hearing instrument testing and fitting software. Each unit offers time-varying test signals to predict output levels and range for real speech processed by analog and digital hearing instruments and FM systems. The units also offer automated procedures for measuring acoustic transforms such as the real-ear-to-coupler difference (RECD), speech spectra for soft, average and loud vocal efforts, FM microphone positions and automatic conversion of test box measures to real-ear output.
Audioscan, Dorchester, ON, Canada, 800-265-2093.
---

Colorado Hearing Systems, Inc.
The Visual Reinforcement Audiometry (VRA) System is designed to identify infants and toddlers with hearing loss outside the audiology sound suite. The instrument consists of a modified audio cassette player and hand-held control paddle to present frequency-specific auditory signals at measured intensities through loud-speakers in any quiet room. It determines hearing levels in developmentally delayed children, impaired but trainable children and older tactile children who refuse to wear earphones. The product can be used for follow-up field testing of at-risk children and children with Universal Hearing Screening concerns.
Colorado Hearing Systems, Inc., Denver, Colorado, 303-333-6681.
---

D2I Medical Inc.
D2I Medical Inc., offers and distributes products in Texas from Siemens, Maico, Eye Dynamics Inc., Senso-Motoric Instruments, Atmos Air Irrigators, Grason Assoc., Aero EAR, EndoImage portable endoscope, IAC sound rooms, Beltone, Danplex and Winco. On-staff audiologists support the company's clients with clinical in-service, on-line clinical support, and data interpretation. D2I Medical Inc. consults with ENT physicians, audiologists and other healthcare professionals, and offers audiology calibration services.
D2I Medical Inc., Fort Worth, TX, 888-498-7874.
---

Eckstein Bros., Inc.
Eckstein Bros., Inc. offers the TetraTone II microprocessor screening audiometer, a compact portable hearing screening instrument designed to be useful for general testing in doctors' offices, clinics, schools, hospitals and where rapid hearing screening is desired. Hearing can be tested at the four most important tones and at levels referring to normal, mild, serious and severe hearing losses. Other features include push-button operation, LCD display, memory input and recall, auto power shut-off, low battery indicator, pulse and continuous tone and regulated power supply. Eckstein Bros. also offers the Model 60 series, portable audiometers with a seven-frequency range (250, 500, 1000, 2000, 3000, 4000 and 6000 Hz), a total weight of 8 lbs. and dimensions of 12"x9"x6". The EB-390 series offers a full range of pure tone frequencies (125, 250, 500, 750, 1000, 1500, 2000, 3000, 4000, 6000 and 8000 Hz) in a compact portable size (6"x13"x10") and weight (8 lbs.).
Eckstein Bros., Inc. Hawthorne, CA, 800-432-4913.
---

Frye Electronics, Inc.
The FONIX 6500-CX Hearing Aid Test System may be purchased with the Quick Probe Option for real ear measurements. The Quick Probe module for the FONIX 6500-CX allows the user to run the instrument conveniently next to the client. The FONIX FP40 Portable Hearing Aid Analyzer includes extensive programming with DSL[i/o] and Audibility Index. The desk model version of the instrument is the FP40-D. Measurement is standard on the "D" and an option on the FP40. The FP35 is small and lightweight, and is available with a soft or a hard case. The ANSI '96 test sequence is now available.
FONIX FA-10 and FA-12 Digital Hearing Evaluators are digital audiometers featuring a master hearing aid and built-in microphones for speech testing. White noise, narrow band and speech noise are standard as is the Stenger test. The units may be purchased with dual calibration, headset and insert earphones. The FA-10 differs from the FA-12. The FA-10 has an Output Reverse button while the FA-12 has a +10 dB button. Both instruments are available in 110 or 220 volt operation.
Frye Electronics, Inc., Tigard, OR, 800-547-8209.
---

Grason-Stadler, Inc.
The GSI 17 pure tone manual audiometer is designed to be used for hearing screening situations in schools, hearing health care practices and physicians' offices. It features a full frequency and intensity range with steady, pulsed and frequency modulated (FM) tone presentations. It is compact in size and is designed for easy portability.
Grason-Stadler, Inc., Milford, NH, 800-700-2282.
---

Hal-Hen Company
New products from Welch Allyn and Eckstein Brother's products are offered through Hal-Hen Company. Audioscope 3, Micro Tymp 2, Manual Audiometer, Auto Tymp and Audiometer Combination are the products from Welch Allyn. Eckstein's products are Full Range Audiometer and NoiseStik Pediatric Screeners.
The NoiseStik is a neonatal hearing screener producing two selectable levels of white noise at 60 and 90 db, and offers rapid detection via visual cues. NoiseStik II provides testing for infants, toddlers, elderly and those who are not able to respond manually to an auditory stimulus. Both products are portable. Adjustable: 30-90 dB in 10 steps, Outputs: 500Hz-70dB, 1KHz-80dB; 2K&4K-90dB.
Hal-Hen Company, Garden City Park, NY, 800-242-5436.
---

Intelligent Hearing Systems
New hearing screening and assessment systems have been developed. SmartOAE is a full-featured Distortion Product Otoacoustic Emission (DPOAE) screening and testing system. SmartScreener is an ABR-based automatic infant hearing screening instrument and SmartEP is a diagnostic auditory evoked potential system.
IVRA is a computerized Intelligent Visual Reinforcement Audiometry (IVRA) tool for automated hearing screening and testing of infants, children and the developmentally impaired. It is designed to provide three automated test routines.
Intelligent Hearing Systems, Miami, FL, 800-447-9783.
---
Interacoustics USA
The newly released Interacoustics Pediatric Audiometer PA5 is a portable free-field audiometer intended for the hearing testing of small children. The PA5 provides two stimuli, light and sound, which are presented by means of two silent switches. For the sound stimulus, the selections are warble tone, narrow band noise and white noise, which range from 20-80 dB and five different frequencies depending on which stimulus is chosen. The stimuli may be given simultaneously by letting one finger touch both switches. This gives full freedom in operating COR, VRA and APR tests. Three standard AA batteries power the Pediatric Audiometer PA5 with a power-saving feature that will switch off the PA5 after a period of inactivity. The unit automatically turns on again once the stimulation switches are touched.
Also available as an option is a single TDH-39 headphone to allow traditional audiometric pure tone threshold testing.
Interacoustics USA, Benicia, CA, 800-947-6334.
---
Madsen Electronics
Madsen Electronics offers screening, clinical and diagnostic audiometers in stand-alone and computer-based systems, computerized real ear measurement systems, and clinical/screening otoacoustic emissions systems.
AuricalTM, a modular system, provides computerized 2-channel audiometry and loudness scaling, and a real ear measurement system with the ON TOP mode. The ON TOP mode projects the real ear results and the programmable fitting module on the same screen. Aurical can be configured with a built-in Hearing Aid Test Box and a built-in HI-PRO Programmer. CapellaTM (TEOAE/ DPOAE) and Echo-ScreenTM (TEOAE) represent the clinical and screening OAE products. Both Capella and Aurical are NOAHTM compatible and Echo-Screen is OZTM and Hi-TRACKTM compatible.
Madsen Electronics, Minnetonka, MN, 800-362-3736.
---

Maico Diagnostics
The company introduces a new line of portable screening/diagnostic audiometers and impedance instruments. The ERO-SCAN OAE test system is a new product that combines screening OAEs with diagnostic flexibility. NOAH compatibility, a standard RS232 port and optional insert phones are also new features. Additionally, the company has made engineering changes to the MA 39, MA 40 and MA 41 series.
Maico Diagnostics, Eden Prairie, MN, 888-941-4201.
---
MedRx Inc.
The OtoWizard, a state-of-the-art fitting system integrates real ear measurements and video otoscopy, while featuring "real time" live speech mapping to verify hearing instrument fittings. The system includes audiometry, loudness scaling, a hearing loss simulator, master hearing aid, articulation index (AI), automatic occlusion effect, speech sounds overlay, fitting rules, hearing instrument selection protocol, hearing aid analyzer and patient database.
The OtoWizard is NOAH compatible and reportedly features user-friendly graphic interfaces and easy-to-use software. The system is designed to fit high-tech hearing instruments.
MedRx Inc., Seminole, FL, 888-392-1234.
---

Micro Audiometrics
Earscan®, MicroLab® and DSP Pure Tone AudiometersTM are the new products the company is offering. Earscan® and MicroLab® audiometers are microprocessor-based automatic audiometers that can test frequencies from 250-8000 Hz and levels from 0-90 dB. The Earscan® can be set up as a screening audiometer or a threshold audiometer and can be upgraded with acoustic impedance functions. DSP Pure Tone AudiometersTM tests from 250 Hz through 8000 Hz and levels from -10 to 80 dB. It is portable and weighs 10 oz. The product includes a carrying case, test results pad and batteries.
Micro Audiometrics Corp., Murphy, NC, 800-729-9509.
---

Occupational Hearing Services
The Dial A Hearing Screening Test system provides a preliminary hearing screening test via telephone. The system presents a series of test tones across the speech range to help consumers identify a hearing loss and establish the need for a professional test. Clients can choose to have the system on-site, which requires a dedicated telephone line, or can network with the national system eliminating the need for hardware and a telephone line in their office. The national system is interactive and allows consumers to request a copy of their test results and provides an audiological referral in their area.
Occupational Hearing Services, Media, PA, 800-622-3277.
---

Qualitone
The Qualitone Acoustic Appraiser line consists of five models. Depending on the model chosen, standard features include compact disc player, cassette player, narrow band, warble tone (FM), independent twin- channel speech, master hearing aid with compression, talk-over, talk-back and true two-channel mixing.
The Wide Range series features electronic frequency switching, narrow band masking, warble tone (FM) and independent attenuation of binaural speech in a 10.5 lb portable audiometer.
The Auditory Screener series consists of two models featuring electronic frequency switching, pulsed or continuous tone, warble tone (FM), and patient signal for accurate pure tone screening.
All Qualitone audiometers conform to the following directives: ETL (9800303), ETL(C); IEC 601.1-1, 2ND EDITION 1988 NOS 1&2; ISO 9001; ANSI/UL-2601-1; CAN/CSA C22.2 No. 601.1-M90; CE (0086).
Qualitone, Minneapolis, MN, 800-328-3897.
---

Siemens Hearing Instruments, Inc.
Siemens UNITYTM audio diagnostic system uses an integrated database platform to enable integration of testing and fitting data.
The UNITY PC Audiometer is a two-channel diagnostic audiometer with features for tone and speech audiometry. The systems' Probe Microphone provides the option to use nine ICRA (temporally modulated) signals to measure parameters of digital instruments. The device allows the user to perform probe microphone measurements in real time from within any manufacturer's programmable fitting system. The entire UNITY system is NOAHTM compatible.
Siemens Hearing Instruments, Inc., Piscataway, New Jersey, 732-562-6600.