Over 130 hearing care professionals traveled to Baltimore for the 2013 Oticon Advanced Marketing Boot Camp, learning about marketing discipline, know-how, and having an action plan.
The intensive 2-day boot camp immersed participants in a series of drills, exercises, and workshops that focused on developing the mindset and the skills needed to launch a distinctive practice brand.
"Our goal is to equip Oticon Advanced Marketing Boot Camp recruits to become a singular marketing force in bringing the benefits of quality hearing care and hearing solutions to people in their communities," said Sheena Oliver, AuD, MBA, Oticon's vice president of marketing. "By helping practitioners to create their own unique practice persona and take full advantage of the strengths of both traditional and new media, we empower them to expertly target the people who are most vital to the success of their practice."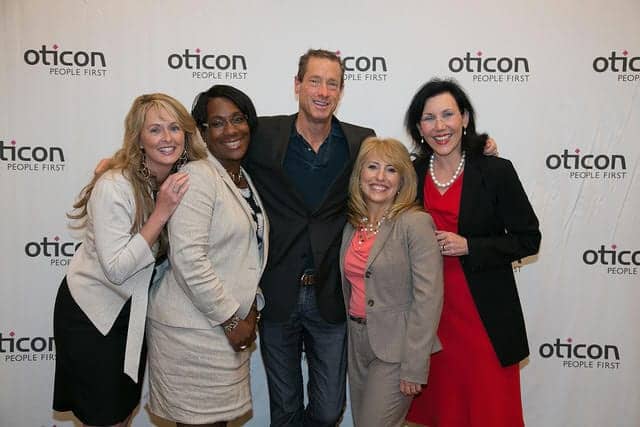 From left to right: Oticon marketing manager Patty Greene, Sheena Oliver, David Meerman Scott, senior marketing manager Nancy Palmere, and Karen Post
The boot camp experience featured a number of nationally recognized marketing experts who shared their insights on shaping a modern hearing care practice to successfully navigate the challenges of a continually evolving marketing environment.
Karen Post, president of Brain Tattoo Branding and an internationally recognized consultant and business authority, shared insights on building a memorable practice "brand" that creates loyalty and adds value to the client experience. She recommended that hearing care professionals infuse their marketing with emotion that motivates action, an experience that is relevant and personalized, and engagement that rewards and appreciates. In a special workshop session, Post worked one-on-one with conference participants to advise them on new practice branding strategies, personalized to their practice and market needs.
David Meerman Scott, thought leader, viral marketing strategist, and author of the best-selling The New Rules of Marketing & PR, brought his singular perspective on how hearing care practices can implement new strategies to more effectively reach today's consumers. Emphasizing that the web has profoundly changed the rules of marketing, Scott explored ways for practitioners to use content-rich websites, blogs, YouTube videos, twitter, and other online media to connect with existing and potential clients.
Terri Langhans, COE (Chief of Everything) at Blah, Blah, Blah, etc., Inc. and author of The 7 Mistakes Every Business Makes (And How to Fix Them), presented her award-winning strategies for a well-branded practice that takes practitioners out of the shadows and into the spotlight, whatever the competition in their local market.
In a series of interactive workshops, the Oticon marketing team introduced participants to the new marketing tools developed to launch Oticon Alta, the company's newest premium technology hearing solution. The comprehensive consumer marketing campaign featured three different creative approaches—traditional, direct, and contemporary—that enable practitioners to "customize" the marketing campaign to their distinct practice persona and reach out to consumers through conventional and non-traditional channels.
"Our comprehensive marketing packages are thoroughly tested and proven to succeed with consumers and take full advantage of the newest tools for enhanced practice branding," explained Oliver. "The investment we make in developing our consumer marketing campaigns sets Oticon apart from other manufacturers and gives our hearing care partners the best chance of success in their local markets."
SOURCE: Oticon