Tech Topic | November 2014 Hearing Review
By Jim Alvord, MBA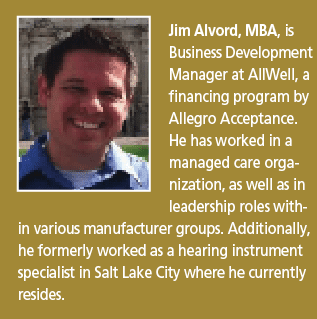 Patient finance is often overlooked in the hearing instrument industry. We sometimes forget about it. We can think it is too expensive for us and our patient base. We are not educated on how it works. We don't fully explore our best options. Is a solid financing option consistently being presented? This article is dedicated to resolving these concerns and offering a "Top-10 Best Practices List" related to the topic of hearing instrument financing.
#10) Not all hearing aid finance companies are created equal. Know the difference, the strengths and weaknesses of each lending institution. Some questions to consider are: How quickly will the company fund your bank account? Can you or your patient connect with someone if you need to talk through a given situation? Are systems and processes easy for you and for the patient? What are the rates? Educate yourself. Know the facts and make your decision based on what is best for you and your patient.
#9) Know how to get an approval…and fast. Consider this scenario: Your appointment is going well, and the patient has a loss that you know you can help with. The ear canals are clean and straight, and the only problem is you have two more patients in your waiting room. What do you do? Are you entrusting your office manager or patient care coordinator to process these applications? Consider allowing your paid staff to help in approvals. Typically, the application process can be done quickly online. Both you and your staff should know how this is done (you can also submit the application by phone or fax).
#8) Consumers want a finance option. Think about any retail organization in your town. It is common for retailers outside our industry to offer finance to get more product sold.1 Clothing stores offer discounts for opening a credit card; furniture stores offer Same-As-Cash (SAC) plans; auto dealerships advertise financing more often than the price of the car. Granted, we don't want to resemble car dealerships, but we should understand the value of finance on purchasing decisions. When concluding a purchase, you could say something like, "The hearing aids appropriate for your loss will cost $3,700. You can pay by check, credit card, or with financing your payment as low as $XX/month."
#7) Know the different finance offerings and diversify your offerings. As a generalization, there are two types of borrowers. The first type is the financial savvy person who understands the time-value of money. Same-As-Cash plans or 0% interest plans appeal to this person. The other type is more interested in a low monthly payment. It is not uncommon for a hearing care provider to become habitual and only present one type of offering. If you find that you are consistently presenting a SAC plan, you may be paying more fees than necessary and you may be ignoring those who are interested in a low monthly payment. Present all the options and let the consumer decide.
#6) It's all about customer service. There are many reasons you will need to contact your financial institution. Rates may change, questions arise, systems improve, you need reports, etc. In these cases, you need timely responses that will satisfy your patients. The companies your clinic associates with are a reflection of you and your practice.1
#5) Be aware of the APRs and penalty rates. A hearing care professional should always look out for their patients. What happens if you offer a no interest/SAC plan to your patient, and the patient defaults on his/her obligation to repay within the allotted time period? Typically, the borrower (patient) pays hefty fees back to the lender. Avoid plans that have high retroactive fees. These fees can reflect poorly on you and your practice, so it is important to seek a lending institution where these retroactive fees are within reason.
#4) Be aware of the Provider Fees. The banker's term for a Provider Fee is called a "Discount." This is the fee a financial institution charges your clinic to use their services. Credit cards charge your business a fee every time a card is swiped. A hearing aid lending institution also may charge your clinic per transaction just like a credit card would. Being under no obligation to offer a particular plan, you shouldn't pay a higher Provider Fee than you are comfortable with.
#3) Approval rate. This is among the top complaints of hearing care providers. Perhaps you have experienced a scenario where you find an aidable loss, yet there is no way for the patient to purchase the required help. In this event, try using a co-signer as well as an honest report of as much income as possible. Additionally, you will want to seek a lender that will provide a high percentage of approvals. Don't be afraid to ask for reports from time to time to verify performance.
#2) Ease of use. Technology is important in our world. Using tablets, online applications, as well as low-tech phones and faxes can be important factors, as are training, onboarding patients, and ease of making payments. Seek a company that is responsive to you and your patient's needs.
#1) Offer financing on every transaction. Is finance being offered on every transaction, or is it being used only when affordability is an issue? One of our greatest faults is to not present finance as an option on every transaction. We should mention "100% financing" and "Same-As-Cash" language in our print marketing. The use of a Monthly Payment Chart can help in closing a sale by providing a low monthly payment option.
References 
1. Alvord J. Patient finance as an option to increase sales in your practice. Hearing Review. 2014;21(6):30-31. 
CORRESPONDENCE can be addressed to Jim Alvord at: [email protected]