Maico Diagnostics, MPLS, MN, an Eden Prairie, Minn-based global manufacturer of hearing instruments since 1937, announced the launch of  easyScreen with BERAphone®.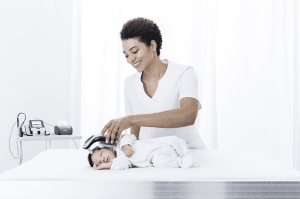 The easyScreen is said to unite AABR, OAE, plus the patented technology of BERAphone, a no-cost, disposable newborn hearing screening device.
Introducing the new easyScreen BERAphone®
Built on the legacy of the MAICO MB 11 BERAphone®, the easyScreen BERAphone is said to allow hearing care practitioners to perform ABR screening without the expense and waste of disposables. The reusable electrodes and ear cushion are built right into the instrument. The technology helps achieve fast test times with the patented CE Chirp® stimulus and response detection algorithm, according to the company's announcement.
easyScreen BERAphone incorporates features requested by our customers
Button on the BERAphone handle allows you to start, pause, and stop the test right where you are, at the baby's side.
Red and blue LEDs indicate the selected test ear to assure test accuracy.
LEDs provide feedback about measurement quality during the impedance test and ABR data collection.
Oval, semitransparent ear cushion helps you see the placement around the ear and provides superior fit on small heads.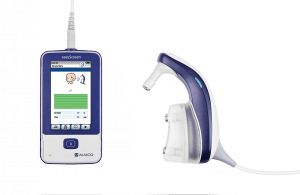 Contact MAICO for more information on the easyScreen BERAphone by phone at 888-941-4201 or by visiting: www.maico-diagnostics.com/us
Source: Maico Diagnostics
Images: Maico Diagnostics