Audiology & Neuroscience | July 2018 Hearing Review
Listening can be thought of as applying meaning to sound, allowing the brain to organize, establish vocabulary, develop receptive and expressive language, learn, and internalize—indeed, listening is where hearing meets brain. Thus, it stands to reason that we, as hearing care professionals, need to become more knowledgeable about the neuroscience of audition.
I am honored to once again participate as a guest editor for The Hearing Review. The July 2018 Audiology & Neuroscience edition has taken approximately a year to assemble and edit, and it's been an amazing and rewarding experience. We intentionally avoided offering articles specifically about hearing aids (for this one edition!) while focusing on new and emerging information at the crossroads of audiology and neuroscience.
A few thank-yous and acknowledgements are in order. First, Karl Strom, editor-in-chief of Hearing Review, and I have worked together for a couple of decades to acquire and publish articles and interviews with scientific rigor, integrity, and with clinical applicability. Karl is always the first person to see the benefit and to encourage me to expand the borders and push the envelope. He is an advocate for our industry, the professionals, and most importantly, the patients who we're honored to serve. 
As to the specifics of this special edition, clearly our profession is full of incredible and amazingly insightful, brilliant, and creative people: 
When it comes to Jim Jerger, I cannot say anything which has not been said a gazillion times. Dr Jerger's kindness and supreme intellect have forever positively impacted and improved audiology. I am honored to say we've been friends for more than 34 years. The writing and editing assignments Jim sent me in the 1980s vastly improved my knowledge, clinical skills, research, thinking, and writing. As he wrote in his article, "It is time to update our approach to speech audiometry by approximately 50 years. The additional information provided by implementing AERP evaluation will both widen and deepen speech audiometry evaluation, especially by telling us more about the total listening effort inherent in the actual processing of words."
Anu Sharma and Hannah Glick have demonstrated a provocative understanding of how the brain changes in the presence of hearing loss and how we might be able to detect and sometimes manage (slow down or reverse) early neural changes. Brain plasticity is not completely understood, but we do know that almost every time someone says "We've figured it out!" that opens the door for a more in-depth review and analysis, with greater learnings still to come. Stay tuned. As Drs Sharma and Glick intimate, through a better understanding of plasticity, we will obtain a better understanding of how hearing loss is linked to neural function, and therefore cognition, speech perception, depression, and more. Their seminal work may help professionals better serve those who perform well with hearing aids, and perhaps identify those who are better candidates for cochlear implants, aural rehabilitation, and more.
Sridhar Krishnamurti and Larry Wise report on first-time hearing aid users and demonstrate that latencies, amplitudes, and morphology for distinct speech sounds can be observed through CAEP via amplification technology. The pragmatic use of these technologies in day-to-day clinical life is just emerging, yet hearing care professionals may soon record CAEPs to verify, demonstrate, and confirm physiological changes associated with hearing aid amplification, particularly in patients unable or unwilling to participate in traditional behavioral measures.
Ed Overstreet and Michel Hoen  address the relationship between cognitive load management and outcomes, as witnessed in cochlear implant users. As such, the parallels to hearing aid fittings associated with shortcomings based on speech perception measures in quiet are revealed. That is, traditional measures (ie, word recognition in quiet) are not sensitive enough to evaluate the latest advances in CI technology with regard to noise suppression, adaptive directionality, and dynamic range management. The authors suggest there is more to speech perception than hearing sounds and, indeed, speech understanding should be envisaged with respect to interactions with other cognitive functions.
Finally, I thank my dear friends and co-authors Barbara Weinstein and Michael Harvey. Your friendship, knowledge, editing, and re-editing abilities, ideas, phone calls, text messages, and more have encouraged and nurtured our work together, for which I am eternally grateful. Although administering a screening test for dementia is relatively simple, the process and the results may trigger significant emotions and anxiety within the patient. Therefore, managing and minimizing negative thoughts and feelings associated with dementia screenings is of vast importance to audiologists who may venture down this path. Thanks for sharing your expertise.
On behalf of Karl Strom and myself, thanks very much for your interest in this special edition. We hope you'll find it inspiring, informative, educational, and entertaining!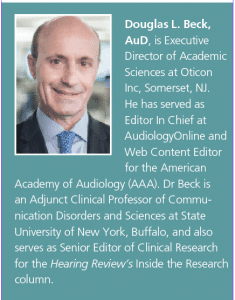 Citation for this article: Beck DL. Introduction to special edition on audiology & neuroscience. Hearing Review. 2018;25(7):12.
INDEX TO "AUDIOLOGY & NEUROSCIENCE" special July 2018 edition of The Hearing Review:
Clinical Speech Audiometry in the Age of the AERP, by James Jerger, PhD.
Cortical Neuroplasticity in Hearing Loss: Why It Matters in Clinical Decision-Making for Children and Adults, by Anu Sharma, PhD, and Hannah Glick, AuD.
Effects of Amplification on Cortical Electrophysiological Function, by Sridhar Krishnamurti, PhD, and Larry Wise, AuD.
Cochlear implants: Considerations Regarding the Relationship between Cognitive Load Management and Outcome, by Edward Overstreet, PhD, and Michel Hoen, PhD.
Dementia Screening: A Role for Audiologists, by Douglas L. Beck, AuD, Barbara R. Weinstein, PhD, and Michael Harvey, PhD, ABPP.