Interacoustics Academy, the internal knowledge center within Interacoustics that specializes in audiological and vestibular training, has announced a series of online AAA-approved courses. The courses cover clinical information that hearing healthcare professionals can apply in their clinics.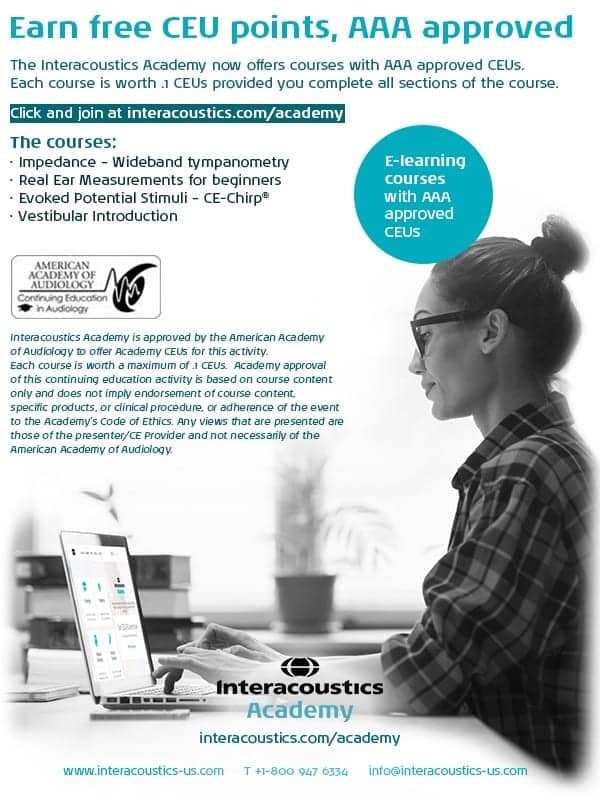 A visit to the Interacoustics Academy website shows that E-Learning courses are available in several categories, including Evoked Potentials, Balance, Fitting, and Impedance/WBT, among others. Currently available course topics include Impedance – Wideband tympanometry; Real Ear Measurements for beginners; Evoked Potential Stimuli – CE-Chirp®; and Vestibular Introduction.
Each course is worth .1 CEUs, provided that the audiologist completes all sections of the course. Register Here.
According to Interacoustics, the same courses are also CPD-accredited by the Australian HAASA, Audiology Australia, and AcCud.
The Interacoustics Academy is working to obtain accreditation by other bodies, such as BAA, and support those who contact their accreditation bodies themselves.
Interested professionals can find more information and sign up for the courses on the Interacoustics Academy website. For further information contact: [email protected]
Source: Interacoustics