Trends | January 2017 Hearing Review
Part 3: There are new opportunities for clinical advantage now–and many more on the way
Patient-generated health data is not technology for technology's sake. It is technology with a purpose, and it holds massive clinical and competitive opportunities.
In Part 1 and Part 2 of this series,1,2 we explored how digital health is transforming healthcare, and how real-time patient data can improve individualized care. In this third and final installment, we examine what patient-generated health data can do for your patients and your practice right now, and the amazing opportunities it holds for the future.
Let's start with this reality. The new healthcare consumer isn't some down-the-road phenomenon. These switched-on technologically savvy consumers are already in your clinic seeking greater control over their healthcare decisions. They want the total experience, not just the product. They like an emotional connection and they want to keep things simple.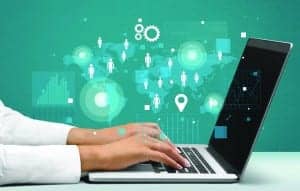 We're seeing the influence of this new breed of patient in other healthcare industries, and ours is no exception. Don't view this shift with fear and trepidation. The combination of new consumer demands with new capabilities in patient-generated health data presents an incredible opportunity to do things on a clinical and business level that you couldn't before. It's an opportunity to boost credibility, productivity, and competitiveness, improve patient outcomes, and generate referrals—the greatest source of practice growth.3
When you're liberated from the task of extracting relevant information from patient memory (which we know can often be unreliable), you gain time for the most valuable in-clinic activity of all: engaging with patients to deeply personalize their experience and the solutions you provide. In addition, when you have access to irrefutable patient data, it minimizes the likelihood of bringing preconceived biases—however well intentioned—to patient assessments based on their age, gender, and vocation.
Everyone Stands to Benefit
Manufacturers, clinicians, and patients stand to benefit from this digital health revolution. Through advanced patient data capabilities, clinicians gain access to critical information that dramatically improves patient outcomes, while boosting practice success.
Research shows that offering an exceptional end-to-end experience (one that goes far beyond the hearing aid purchase) is increasingly responsible for practice success. An exceptional experience shares these three qualities:
Evidence-based. Accesses meaningful, accurate, real-time data that makes it easy for you to pinpoint and personalize the appropriate technology;
Inclusive and engaging. Technology that is so smoothly integrated into counseling and fitting, it becomes "invisible" even while it's enabling more natural, collaborative, patient-clinician conversations;
Adaptive and learning. As you gather more data about your patient, this data is seamlessly incorporated to personalize the solution and improve patient outcomes.
Enhanced Insight from Trial Technology
New capabilities in patient-generated data position you to meet these expectations. When a patient first arrives at your clinic, they're often anxious, questioning, and doubtful. Many are leery of making a sizeable investment and do not feel confident about the outcome.
That's where a sophisticated, but simple-to-use, trial program adds value. The best ones allow patients to experience the benefits of different technology levels firsthand, in a very non-threatening way, while capturing their experiences during the trial. When the patient returns post-trial, objective usage data captured during the trial is coupled with their in-the-moment perceptions of their experience. This gives you detailed insight to make the right evidence-based recommendation of technology level, and to fine-tune the device and the treatment plan to the patient's real-world preferences.
The next logical extension of this technology will provide even greater insights and give healthcare consumers more of the control we know they want. Instead of waiting until they return from their trial to see what happened and how it can be addressed, patients will eventually be equipped to make their own adjustments during the trial within certain parameters that you—the professional—have established. When they encounter a difficult listening situation and don't like what they're hearing, they'll be able to make simple adjustments and save the changes. In this way, you'll know exactly what they did and when they did it, and they'll have the satisfaction of collaborating on their ideal hearing solution. By fully engaging patients at the outset of their journey, their outcomes are improved while adding immense value to your overall practice.
Further, as this data is collected from many thousands of wearers, it becomes a gold mine of valuable information. This can be used to help you achieve an even better first fit, and to provide you with guided recommendations for fine tuning to address certain problems for certain patient profiles. This aggregated intelligence gives you much deeper insight throughout the patient journey, along with smart tools to continually adapt and improve the patient experience.
The Next Frontier: Constantly Learning and Automatically Adapting Systems
Just as we are seeing with cardiology and diabetes, expect remote monitoring and intervention to eventually become the norm in our industry. When a patient is having issues, you could receive a notification that allows you to pro-actively intervene. Just imagine if a patient who lives several hours from your clinic could—instead of driving to an appointment—make a quick phone call and you could remotely adjust settings and tune parameters to instantly address their concern. That's a win-win scenario for patient and clinician.
Hearing aids of the not-too-distant future will continually learn and automatically adapt to your patient's lifestyle and needs.  As those needs change over time, this same remote adjustment technology will permit you to upgrade your patient's technology level from afar. Patients get to try out a more suitable technology level for their needs and if they like it, the upgrade (and payment) can be made remotely, effortlessly.
This "frictionless" anytime, anywhere care will be a huge clinical, customer service and competitive advantage, and it isn't far off. You'll remain deeply involved in the care and nurturing of your patients, while improving the productivity, accuracy and service levels of your practice.
Future Vision: Personal Hearing Assistant
Looking a bit further down the road, expect to see an integrated hearing system that acts as a patient's personal virtual assistant. This could include voice command hearing instrument adjustments, health alerts, appointment reminders, home safety, and security alerts and more.
That's not a far-fetched concept. Hearing is central to many of life's experiences, and the ear can very feasibly become the hub of a connected life in a connected world. Regular feedback loops—both virtual and in-person— between clinicians and patients, will remain vital to providing the best patient care.
Transforming Technology into Opportunity
Sometimes the concept of future technology can sound, well, really technical. However, when we consider the end purpose that these advances can achieve—enhancing and strengthening the clinician's role with patients by providing the tools to spend time and add value where it really makes a difference—it becomes very human. And it's a huge opportunity.
"Anytime, anywhere care will be a huge clinical, customer service and competitive advantage, and it isn't far off."
This is an exciting time in our industry. We may not know precisely how certain technological advancements will integrate into our lives. We do know, however, that the expectations of healthcare consumers in an increasingly connected world will drive these advances and create new opportunities. Manufacturers and hearing healthcare professionals can work together to embrace and integrate patient-generated health data to improve patient outcomes and practice success.
References
McIntyre C. Clinical benefits of patient-generated health data, Part 1: How digital health is revolutionizing healthcare. Hearing Review. 2016;23(8)[Aug]:18-19. Available at: https://hearingreview.com/2016/07/clinical-benefits-patient-generated-health-data

McIntyre C, Hayes D. Clinical Benefits of Patient-generated Health Data, Part 2: Better patient data improves and individualizes hearing healthcare. Hearing Review. 2016;23(11)[Nov]: 24-25. Available at: https://hearingreview.com/2016/10/clinical-benefits-patient-generated-health-data-2/

Brown B. Successful practices use marketing that evolves with the changing healthcare landscape. Hearing Review. 2016;23(7):14-16. Available at: https://hearingreview.com/2016/06/successful-practices-use-marketing-evolves-changing-healthcare-landscape/
Chris McIntyre is Senior Product Manager of Software and Apps.
André de Goeij, is Director of Product Management and Product Marketing at Unitron, Kitchener, Ontario, Canada.
Their teams work closely together, along with the R&D team, to deliver software solutions for hearing care professionals and their patients.
Correspondence can be addressed to HR or Chris McIntyre at: [email protected]
Original citation for this article: McIntyre C, de Goeij, A. Clinical Benefits of Patient-generated Health Data. Hearing Review. 2017;24(1):18.?