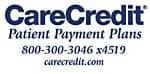 CareCreditSM, Costa Mesa, Calif, a leading healthcare credit card for more than 27 years, and HearingFUSION, announced yesterday the launch of newly integrated features that provide hearing practices with instant desktop access to program information and payment options that help patients get recommended hearing aids. The HearingFUSION office management system, with the CareCredit upgrade, is now available.
By integrating CareCredit features in HearingFUSION, the enhancement enables practices to manage more tasks without leaving their patient encounter screen. Users can process CareCredit applications, transactions, and perform reporting functions directly from HearingFUSION, eliminating the need to re-enter patient details and toggle between programs.
"We understand the needs of hearing professionals for easy-to-use tools that perform multiple functions and integrate seamlessly. Together, CareCredit and the HearingFUSION office management software saves time and helps more patients get the hearing aids they need to live life more fully," says Dave Fasoli, president, CareCredit. "This is an example of how technology can automate and simplify systems within the practice, ultimately benefiting the team and patients."
The newly integrated CareCredit features were launched at the American Academy of Audiology annual convention, March 26-29, with live demonstrations. Practices that currently accept CareCredit can immediately begin processing applications through their software. Practices that have yet to add CareCredit can call 800-300-3046, ext. 4519 to get started.