AUDserv and Unitron USA have entered into an exclusive agreement to provide the industry with a unique and powerful practice management system.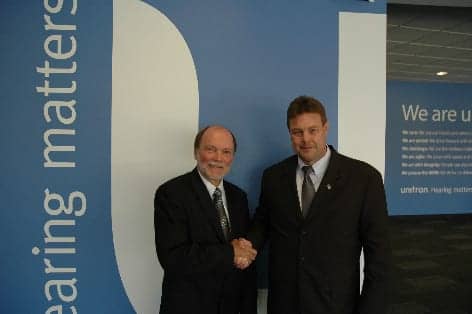 Throughout 2012, Unitron has reportedly been engaged in the development of a best-in-class practice management system called U-Link. The U-Link system has proprietary tools designed to help manage critical staff from a corporate level, provide powerful business key performance indicators, provide quantifiable quality metrics to ensure patient satisfaction, and provide a full audiology system capable of integrating with existing EMR systems.
Available to Unite members and Unitron partner offices, the system will give owners all the tools necessary to manage and grow their practice and to create satisfied and loyal patients, reports the company.
Pictured are AUDserv CEO Larry Hagen (left) and Unitron USA President Rodney Schutt. Both companies are located in Plymouth, Minn. AUDserve is committed to delivering high-value business service solutions to clinics by utilizing the best technology and skills available. Its software, U-Link, is designed to offer powerful web-based management tools specially designed for multi-clinic support and is built by audiologists for audiologists. Unitron is a global company and a member of the Sonova Group that works closely with hearing healthcare professionals to improve the lives of people with hearing loss.
SOURCE: AUDserv