Bluetooth has made a strong impact in the hearing care industry—freeing patients and practitioners from the constraint of cables has the potential for a new generation of applications in diagnostics, fitting, and telecommunications.
Bluetooth® is a short-range, wireless networking technology that allows devices to communicate with each other. One advantage of Bluetooth over WiFi is that Bluetooth is "device-resident" and therefore does not require a computer operating system. Bluetooth modules are also small and can therefore be placed inside devices such as mice, remote controls or even attached to BTE hearing aids.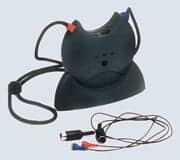 FIGURE 1. The HIMSA NoahLink system.
Over the past year, Bluetooth technology has continued to expand its reach into the consumer and professional arenas. According to www.blueradios.com, as of January 1, 2005, there were over 1000 Bluetooth-certified devices in the market. These include computers, printers, PDAs, headsets, mobile phones and a large variety of diagnostic devices in the medical and automotive industries.
Hearing health care has also seen a growing number of Bluetooth devices, which will be reviewed in this article. Since this author's last article on Bluetooth technology (HR January, 2005),1 new and innovative applications for audiology and hearing instrument science have emerged using this technology.
Bluetooth Leads the Way
Bluetooth is well suited for hearing health care for several reasons. The speed of transmission is significantly greater than the serial and parallel port connections of the past. In addition, the elimination of wires between the patient and the computer recording the data allows for procedures to occur in a wider variety of locations and with patients who may have difficulty getting into or remaining in fixed positions connected to equipment.
NOAHlink. Released in 2003, NOAHlink™ was designed to replace the HI-PRO interface. Bluetooth technology allows NOAHlink to communicate wirelessly with the computer running NOAH 3 as far as 16 feet away. This frees the patient to move around the office and makes out of the office hearing instrument fitting and adjustment much easier. NOAHlink is rechargeable, portable and manufacturers using it report that hearing instruments can be programmed between three and four times faster than with the HI-PRO.
Table 1 lists the 19 manufacturers that offer NOAH-compatible fitting modules certified for use with NOAHlink. In addition, Otologics, Panasonic, Rion, and Sonic Innovations are currently developing NOAHlink-compatible modules. This information is available at www.noahlink.biz and is updated periodically.
| | | |
| --- | --- | --- |
| Amplifon | Hansaton | Phonak |
| Audio Service | Interton | Qualitone |
| Beltone | Micro-Tech | Oticon |
| Bernafon | Nu-Ear | Rexton |
| Electone | Micro-Tech | Siemens |
| Electone | Nu-Ear | Starkey |
| GN ReSound | Omni | Unitron |
| | | Widex |
Table 1. Nineteen manufacturers use NOAHlink-compatible fitting modules for NOAH as of mid-December 2005.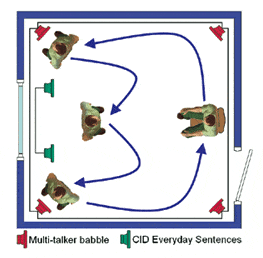 FIGURE 2. Audiologist Paul Milner's patients can move freely around the calibrated sound environment—a room in which he has carefully marked different areas that represent various SNRs and challenging listening environments. The test chamber facilitates the patient's hearing aid fine-tuning while also demonstrates the value of directional microphones, advanced hearing aid features, accessories, etc. (Image copyrighted by Brad Ingrao, 2005.)
The response to NOAHlink has been very good with 5000 units sold in the US. While many audiologists and hearing instrument specialists are reaping the benefits NOAHlink offers, one "early adopter" particularly stands out. Paul Milner, PhD, founder and owner of the Hearing Care Center in Sharon, Mass, has taken the use of NOAHlink to the next level. He and colleague Carol Hudner perform their hearing instrument fittings in a room that resembles a cross between an up-scale movie theatre and a television production studio. The heart of this room is a notebook computer with a Bluetooth interface running Windows XP Professional and NOAH 3. Connected to this computer are a HI-PRO and a NOAHlink.
"The NOAHlink is especially helpful when demonstrating and evaluating the new advanced technology digital hearing aids," Milner says. "Using the wireless NOAHlink, the client can move around the room allowing the advanced technology noise suppression systems to work to their fullest."
After connecting the NOAHlink to the client's hearing aids, the NOAH 3-compatible fitting software makes a wireless connection to NOAHlink. The client's ability to understand recorded sentences in quiet and in background noise is tested. As the client moves around the room, Milner and Hudner make adjustments to the hearing aids based on the client's verbal feedback in different areas of the surround sound environment.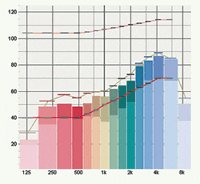 FIGURE 3. The Widex Sound Tracker is capable of visually representing on-screen the instantaneous input to and the estimated output from the hearing aid relative to real-world sounds.
Making the voice "visible" through hearing instrument software functions. A number of hearing instrument manufacturers are tapping into the opportunities afforded by the new fitting system. For example, Sound Tracker is a feature of the Compass software from Widex. When a patient wears either a Senso Diva or Senso Vita hearing instrument connected to NOAHlink, the instantaneous input to and the estimated output from the hearing aid to real-world sounds is presented visually on the computer screen. This provides an excellent method for counseling patients and their family members about the benefits of the hearing instrument fitting, as well as offering cues for fine-tuning hearing aid settings. Additional information on SoundTracker can be found at www.widex.com.
Telecom Solutions
Apart from NOAHlink, several companies have introduced Bluetooth solutions in the last year. Although the previous article supplies information and photos on hearing-related telecom devices, not to mention these important devices in this article would provide for an incomplete picture of Bluetooth technology.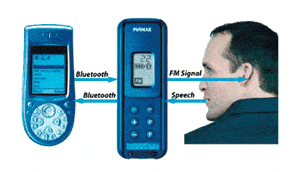 FIGURE 4. The Phonak SmartLink SX.
Phonak SmartLink SX multi-microphone device. The Phonak SmartLink SX is a multi-function device for use with Phonak hearing instruments. In addition to being a remote control for the hearing instruments, the device is also a multi-microphone digitally-synthesized FM transmitter that also supports external audio inputs. The SmartLink SX is a true "gateway to communication" as it also connects the hearing aid user to Bluetooth-enabled mobile phones. Figure 4 illustrates how the system accepts the Bluetooth phone signal and re-broadcasts it to the FM receivers on the hearing instruments. Readers are directed to www.phonak.com for more information.

FIGURE 5. The Sound ID PSS1 mobile phone Bluetooth-enabled headset.
Sound ID PSS 1 mobile phone. The Sound ID Personalized Sound System (PSS) Bluetooth-enabled device is designed to deliver sound that is customized to the listener's individual hearing preferences (Figure 5). According to Kelly Delany, vice president of marketing for Sound ID, "[The device] is revolutionizing the listening experience for the growing number of individuals who are frequently exposed to damaging levels of sound, whether it is environmental or produced by an increasing number of audio devices." The mobile phone Bluetooth-enabled headset is designed to achieve superior background noise compensation without forcing users to increase volume levels, thereby compensating for loud environments or listeners' own hearing loss. In addition, the PSS 1 provides quality sound and performance by delivering customized, personalized sound, and Delany maintains that it is one of the best-designed Bluetooth headsets in terms of style, comfort, and performance.
Starkey ELI and SoundPort. The Starkey Group has teamed up to produce the ELI (Ear Level Instrument) which connects hearing aid users to Bluetooth-compatible cell phones and other devices. The ELI module uses a standard Euro plug to connect to the DAI boot of a BTE or to any telecoil-equipped aid via an Adapted Neck Loop. A 270° rotating base allows it to be used on either right or left BTE hearing aids. The unit picks up the wearer's voice and transmits it to the cell phone for true hands-free communication. The ELI recharges in 1.5 hours and delivers 140 hours of standby power and 2.5 hours of talk time.
For those without hearing loss looking for a superior custom-fit wireless solution, Starkey offers the SoundPort Bluetooth Earset. The custom earmold provides a more comfortable, secure, fit and clearer sound quality than the stock ear inserts of other Bluetooth earphones. More information about both devices can be found at http://www.hearwireless.com.
Gennum HearPhone. The HearPhone from Gennum links wirelessly to Bluetooth-enabled devices (computers, cell phones, televisions, etc), and offers hands-free cell phone functionality (if cell phone model permits hands-free use). The device also reduces background noise in both the incoming signal and the outgoing signal (for more information see David Jones).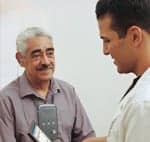 FIGURE 6. The Vivosonic VivoLink Bluetooth wireless interface module.
Diagnostic Solutions
Vivosonic VivoLink. Vivosonic has incorporated Bluetooth into auditory electrophysiologic testing with their VivoLink Wireless Interface Module (Figure 6). This small, light-weight device removes many of the barriers typically involved in this type of testing. It is operated by a microprocessor, controlled from a remote computer through Bluetooth, and powered by batteries.
The VivoLink can be placed on the adult's chest and secured with a lanyard, or placed next to a baby or be held by the baby's mother. Additional information on the VivoLink can be found at www.vivosonic.com.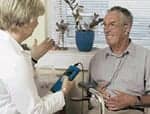 GN Otometrics OtoFlex Diagnostic Suite. The OtoFlex 100 offers hearing care professionals a small, lightweight fully featured diagnostic middle ear analyzer (Figure 7). The unit can perform all diagnostic impedance tests including multi-frequency Tympanometry. The only thing missing from this device is the wires. The system transmits all test data to the computer via Bluetooth. Paired with the OTOdiagnostics Suite software for NOAH 3, the Otoflex 100 offers hearing care professionals a robust set of diagnostic tools that are flexible portable and wireless. More information on the device can be found at www.gnotometrics.com.
Conclusion
The wide array of products reviewed in this article clearly shows that Bluetooth has made a strong impact in the hearing care industry. Freeing patients and practitioners from the constraint of cables has the potential for a new generation of applications in diagnostics, fitting, and telecommunications. As this author clicks the "save" icon on his computer (with a Bluetooth mouse, of course), he is optimistic that 2006 will continue the trend of unplugging hearing health care.
Acknowledgements
The author thanks all the manufacturers who assisted with images and text for this article.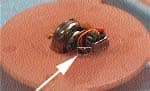 Brad Ingrao, AuD, is the coordinator of audiology information services at HIMSA, the Hearing Instrument Manufacturers' Software Association, St. Paul, Minn.
Reference
1. Ingrao B. Bluetooth technology: Toward more wireless hearing care solutions. The Hearing Review. 2005;12(1):26-27,88-89. Correspondence can be addressed to HR or Brad Ingrao, HIMSA, 2550 University Ave West, 241N, St. Paul, MN 55114; email: [email protected].