Audigy Group, Vancouver, Wash, has been named among the first-ever companies in the United States to win Inc.'s "Hire Power Award" for being "hiring heroes putting Americans to work."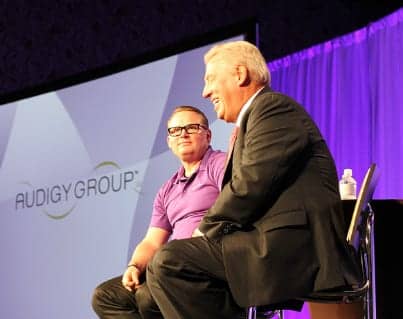 Audigy CEO Brandon Dawson (left) chats with best-selling
author and leadership guru John Maxwell at the Audigy
Group's 2012 Team Summit in Las Vegas, which brought
together over 850 hearing care professionals.
Audigy was ranked 4th in overall job creation in Washington state with 267% 3-year growth, 105 jobs added in 3 years, and a $16.5 million increase in revenue from 2008 to 2011. Inc. has called Audigy Group and its peers on the "Hire Power" list "the real heroes of the American economy" for their consistent creation of jobs in their communities and sustainable growth for their companies, despite the adverse economic climate.
"Audigy Group was created in 2004 because we saw hearing aid manufacturers, big-box stores, and corporate franchises reducing the nation's best private audiology practice owners to employees of the businesses they spent their lives building," said Audigy CEO and founder Brandon Dawson in a press release. "The economic downturn made all of us at Audigy Group dig that much deeper so we could do our part in helping our Members continue to achieve their personal, professional, and financial goals as independent business owners in a field that they are passionate about. We're proud of the work we're doing, and we are grateful not only for everyone who has contributed to our success and the growth we've created for Audigy Group, but also for the amazing transformational success many of our Members and their teams are realizing today directly in their businesses because they shared in our vision. We feel like we're just getting started."
The company has reportedly earned spots on the "Inc. 5000" list for 4 consecutive years—landing 10th in the Portland, Ore, metro area, 29th among Washington companies, and 86th among top health companies. Audigy ranked 223rd in 2009, 863rd in 2010, and 1,206th in 2011 on the "Inc. 500/5000" list.
Source: Audigy