At this year's AAA conference in Anaheim, Calif, attendees expect to see the biggest names in the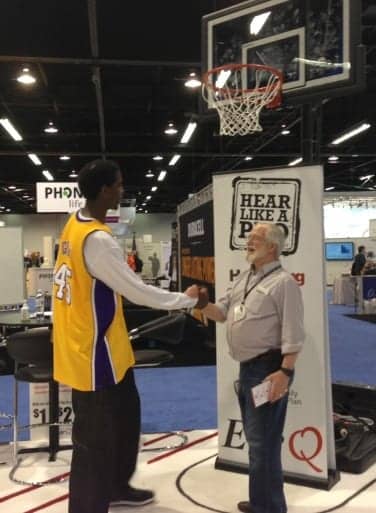 hearing care industry, not the biggest names in sports. But EarQ changed that with three-time NBA champion AC Green.
Green appeared with the EarQ team on Friday, April 5, from 2 to 4 PM. Under a basketball hoop, Green met with visitors, signed autographs, took photos, and supported the organization's efforts to further hearing health awareness and education. Having fun with Green's visit, the EarQ team dressed in referee shirts and shot baskets with the former NBA star. Booth visitors also had opportunity to shoot hoops with the star.
Green is known as "Iron Man" for having played in 1,192 straight games during his 16-year professional career. In that time, he played for the Los Angeles Lakers, the Phoenix Suns, the Dallas Mavericks, and the Miami Heat.
At the EarQ booth, the EarQ team also discussed its Internet strategies for private practices and its new patient development plans, designed to better connect hearing care practices to those with untreated hearing loss.
SOURCE: EarQ