Michael Hartberger is president of Chattanooga, Tenn-based Walker Ameriphone.
A look of surprise and delight, a tear in the eye, that is the measure of success for the employees of Walker Ameriphone, Chattanooga, Tenn. "Our products help change people's lives," says Matt Hutchinson, director of marketing for Walker Ameriphone. "This isn't a problem that is going away, it is a problem that is increasing. It's all about impacting somebody's life." The manufacturer of amplified telephones has been in business since 1969.
It is a total commitment to the customer that is the hallmark of Walker Ameriphone. And this commitment has developed a customer cadre that is just as devoted to the company and its products. This is because, says Hutchinson, the product is durable and high quality; subject to few defects. "We believe customer intimacy is the key," says Hutchinson. "But you can't be customer intimate, if you do not provide solutions or service that helps them and help them understand that it's okay to have a problem. It's okay to have hearing loss."
Constantly Improving Their Product
The Walker Ameriphone amplified telephones do more than just amplify sound, says David Lashley, director of engineering for Walker Ameriphone. "For years in telephones all people were really doing was taking a standard telephone, amplifying the voice, providing volume control in a convenient place, and selling that phone to the public," he says. "Walker Ameriphone engineers have years of audio engineering experience and constantly improve the performance of their circuits, but the division really excels at getting the big picture right. We make sure that all the little features are there to satisfy someone that needs our type of product. From ringers that operate at low frequency and at over a 30 dB range to buttons that are easy to find and actuate, we are constantly striving to make the product more complex and powerful while making sure that the operation is intuitive and that the customer can use it right out of the box."
Walker Ameriphone
12082 Western Ave
Garden Grove, CA 92841
Phone (800) 874-3005
Fax (714) 897-4703
www.ameriphone.com
But for all its commitment to its customers, Hutchinson admits that there is not one Walker Ameriphone amplified phone for everyone. "Not all sizes fit all," he says. "What is the problem you're solving? Grandpa can't hear his granddaughter say, 'I love you' on his birthday. He can't do that on the telephone. He might be able to do that live, but he doesn't have the high frequency hearing he used to have. He's got high frequency hearing loss. That person can walk into Radio Shack and buy a phone. Folks that have more hearing loss we have a different profile for. They usually understand their problem. They might have half their hearing or 20% of their hearing. They're willing to spend more money on a solution because they need to hear. Then we go to the person who is deaf and they're going to end up buying a TTY. It's just what kind of TTY do they want and what is their price sensitivity." This variety of profiles allows the company to reach its end users in several different ways.
Being the Best
Walker was founded in 1969 by Wesley Walker, a former engineer for Southern Bell. The company's first amplified phone was developed in 1975. In 1986, the company was acquired by Plantronics Inc, a provider of handsets to telephone companies and the business community. Walker competitor Ameriphone was acquired by Plantronics and merged with Walker in 2002.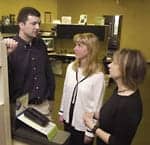 Jonathan Brock (left), Karen Rogers (center), and Karen Windham make up Walker Ameriphone's marketing team.
Walker Ameriphone has locations Chattanooga, Tenn, and Garden Grove, Calif, and employs about 64 people. As a member of the 2,500 person strong Plantronics Inc, the company also has access to the resources of its parent, leveraging those where and when needed.
It is this combination of a reliable product, customer support, and a good work force that makes the company stand out in the market. "When it comes to technology and comes to serving the market, we are constantly staying ahead of the game," says Hutchinson.
In the end, Walker Ameriphone offers a product that is much more than just an amplified telephone. "That product becomes a lot more than a telephone for [our customers]," says Hutchinson. "Our products can improve the overall quality of life for someone who may have withdrawn from their family and friends as a result of hearing loss. We are making it comfortable and easy for people to communicate on the phone again. We are reuniting grandparents with grandchildren and parents with their children. It allows people to maintain their independence. When you have a product that can make that kind of difference in a person's life, you know you can have something special. It is a great feeling knowing that the work we do can profoundly impact the lives of the people who use it."