Unitron has released Moxi™ Kiss. Based on its Era™ platform, Moxi Kiss is the company's latest 312 RIC hearing instrument with a new design that is aimed at improving patient acceptance.
Moxi Kiss emphasizes putting the comfort of the patient at the forefront. Slim, smooth, and push button free, Moxi Kiss is made to be more comfortable to wear and easy to operate. The hearing instrument's patent pending outer shell was meticulously designed with precision tooling to the micron level and G2 curvature to ensure a luxurious finish. Unitron describes Kiss as being "organic in form, with a refined and luxurious finish that is available in a rich color palette."
In addition to its new look, Moxi Kiss' mechanical design was also taken to a new level. An RIC slider pin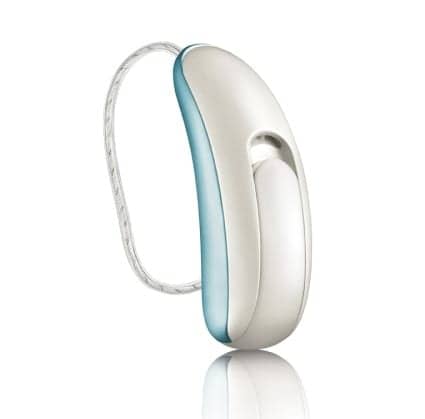 allows patients to easily change receivers, and the programming jack is angled for easy cable plug-in for fitting. Codification markers are easy to install and visible, and the battery door won't over open or allow the battery to fall out. These seemingly little refinements come together to make the fit and use of the Moxi Kiss easier for both the hearing care professional and the patient.

"One of the barriers a hearing healthcare practitioner must overcome is the patient's psychological resistance to the product, as new patients often express anxiety around the look and feel of a hearing instrument," explains Bruce Brown, vice president, Global Marketing, Unitron. "A well designed hearing instrument that is pleasing to the eye, nearly invisible on the ear, and comfortable to wear can go far in overcoming a patient's pre-conceived notions about what hearing aids look and feel like. Moxi Kiss delivers on every count."
A natural sound experience free of acoustical artifacts is also essential for a patient's comfort. Within Moxi Kiss is Unitron's Automatic Program incorporating its SmartFocus™ and SpeechZone™ technologies, which provide natural sound quality, outstanding speech intelligibility in noise, and undetectable transitions to changing sound environments.
Moxi Kiss is also available through Unitron's new Flex:trial™ program, which allows hearing health professionals to offer a risk-free opportunity to demonstrate the benefits of hearing instruments. Patients wear a personalized Moxi Kiss Flex:trial device home after the first appointment for a trial period, allowing them to experience the benefits in real, everyday situations. Experiencing the benefits of wearing Moxi Kiss without risk or obligation helps to reduce uncertainty while immediately improving the quality of life for those patients.
Moxi Kiss will be on display at the AAA 2013 conference in Anaheim, Calif.
SOURCE: Unitron