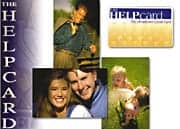 The HELPcard offers medical financing services.
From the 1980s to the present, the health care industry has been undergoing major changes. Health care costs are increasing, while payment from insurance carriers is being overhauled with less than favorable results to consumers. Health care providers are caught in the crunch. For the first time, many health care professionals must stand back and assess the business part of their professions. Most health care professionals have few or no options for providing payment plans to patients, other than agreeing to accept payments drawn out over months or years.
Since 1983, Dent-A-Med Inc has offered America's first exclusive health care credit card. This credit card, aptly named The HELPcard, offers help to both patients and health care professionals by making health care affordable. Thousands of health care providers have enrolled in The HELPcard programs and are building healthy businesses with the help of our financing plan.
The HELPcard is unique in that it is privately owned and houses all divisions of the credit lending process. None of the day-to-day operations involved in lending are farmed out to a third-party organization. Providers and cardholders are served by one organization, which includes sales, marketing, provider care, cardholder care, billing, collections, administration, and state-of-the-art PC-based processing systems.
The HELPcard
PO Box 829
Springdale, AK 72765-0829
Phone (800) 945-4357, ext 316
(479) 750-6700
Fax (800) 245-7491
www.helpcard.com
Many The HELPcard employees are also shareholders of the company. Company ownership is evident in the friendly service that has become a hallmark of The HELPcard organization. The HELPcard staff is motivated, efficient, and very customer oriented. The executive management team proudly encompasses a group of individuals with more than 75 years of health care financing experience.
The HELPcard is a health care credit card specifically designed for the financing of the private-pay portion of health care expenses. The application process is simple. Virtually everyone who has the ability and willingness to pay for services on a monthly basis will be approved for The HELPcard.
Goals
The goals of The HELPcard are simple:
Provide programs that solve the affordability hurdle for your patients and give them the buying power to purchase the highest-quality hearing aids you find appropriate for their particular hearing loss.
Make it easy for providers by processing applications almost instantly via telephone, fax, or Internet.
Programs
The HELPcard revolving credit program offers:
An industry low 4.9% Provider Discount on all approved charges
Optional 6 & 12 month, No Interest Promotional Plans
Introductory consumer interest rates as low as 9.9% APR
Five minute credit approvals via telephone
No setup Fee
Funds deposited in 48 to 72 hours
In addition, The HELPcard has recently announced the New Access Hearing Aid Leasing program through its Lend-An-Ear division. The new 36-month Access Lease program will provide maximum profitability to dispensers by bringing consumers back into the purchasing pool every 3 years instead of the current industry average of 5.7 years.
Access Lease Highlights
3-year lease term with incentives to release new products
Creates patient loyalty through returning customers at the end of the lease term
Increases incremental sales
Extended loss, damage, and repair coverage add-ons available
Lower monthly payments than traditional financing
Benefits
Consumers benefit through low monthly payments allowing them to purchase the quality hearing aids they want and deserve. Putting The HELPcard in your patient's wallet will not only help them finance their initial purchase, but with additional credit available it will also provide access for future hearing health care expenses.
Dispensers benefit through the flexibility of financing by allowing them to serve more consumers with complete hearing health care solutions. The HELPcard's programs are preferred because of the unparalleled service provided to your practice. Health care providers can now offer a financing plan that allows patient's access to the highest-quality care available at low monthly payments.
Service
Nobody serves you better than The HELPcard. Every application gets personal attention no matter how large or small the credit request. We deliver fast, reliable, and consistent credit approvals to the practitioner and The HELPcard absorbs all bad debt losses
The HELPcard is the total solution for the purchase and payment of hearing services. Call (800) 945-4357, ext 316, today for more information about how The HELPcard can make your profits grow.