In 1993, HIMSA was founded with the objective of developing, marketing, and supporting one standard for integrated hearing care software.

Scott Peterson
When the Hearing Instrument Manufacturers' Software Association (HIMSA), St Paul, Minn, was founded in 1993, the company's goal was to develop and support a standard system for integrated hearing care software. Twelve years later, that system, called NOAH™, continues to be the standard in the industry.
HIMSA is a for-profit company owned by GN ReSound, Oticon, Phonak, Siemens, Starkey, and Widex, but operates similarly to a consortium: All suppliers within the hearing care industry that are HIMSA members have a say in running the company—and in NOAH's continued advancements. "We are owned by the six largest hearing instrument manufacturers, so we don't have any competition," says Scott Peterson, HIMSA's director of operations, North and South America. "Our purpose of being a business essentially is to make software standards, which is beneficial to the industry."
HIMSA has 93 member companies worldwide, including hearing instrument manufacturers—which make up the largest portion of companies that interact with NOAH—audiological equipment manufacturers, office automation system suppliers, and hearing instrument dispensing chains. HIMSA gets about five to six new member companies each year. There is a fee to join, which is dependent on the category in which a potential member falls.
As HIMSA members, companies can create NOAH-compatible products, such as fitting modules, measurement modules, and office systems. "Most manufacturers belong to HIMSA. [Those that do not] quickly find out that they're not going to get too far in the market, if they don't have a NOAH-compatible module," Peterson says. "It's also a huge benefit to a new manufacturer as an easy entry into an audiologist's office to say they have a NOAH-compatible module. The audiologist is very familiar with how to use NOAH, and they also know that if [a module] is certified, they're not going to have any huge problems with it."
The Concept of Noah's Ark
NOAH got its name and was developed based on the concept of Noah's Ark: "That everybody's on board together," Peterson says.
NOAH was introduced to the hearing care industry 11 years ago, in response to the development of software by various manufacturers in the field, and a subsequent need for a common database.
"A lot of manufacturers began coming out with programmable digital instruments, and as a result of that, all the manufacturers started making their own software to help audiologists and dispensers program the hearing instruments. Since most audiologists don't do business with just one manufacturer—in fact, most do business with, on average, three to four manufacturers—there started to be conflicts," Peterson says. "If you look at a lot of the manufacturers' fitting software, they all do things slightly differently, but because of NOAH, they do follow a common workflow, and it helps end users not to get so confused about how everything gets done.
"The other part of the problem was that the most basic information that is needed to perform [fittings] is the audiogram, and while a lot of the manufacturers had their software, it would have its own database. While users could store basic patient information, they would then have to electronically enter the audiometric score," he says. "A lot of times, they could do a simulation of what the gain would be in that [particular] software, but if the audiologist would want to take a look at what another manufacturer had to offer, they would have to start all over again because it was using a separate database."
Top left and right charts. HIMSA's NOAH Questionnaire Module can collect, store, and retrieve data gathered from the Abbreviated Profile of Hearing Aid Benefit (APHAB), and Client Oriented Scale of Improvement (COSI) surveys.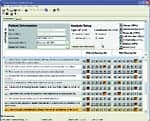 At left. The NOAH Questionnaire Module enables hearing care professionals to enter the results of the APHAB and COSI to prove the effectiveness of a hearing instrument, and follow a patient's hearing loss on a long-term basis.
Software System
The NOAH software system is designed to provide hearing care professionals with a unified system from one supplier for performing all of their client-related tasks, such as basic fitting, measurement, and office management functions. That information is then passed automatically to a common database, for use by NOAH-compatible fitting systems from other suppliers. Hearing care professionals can then use the fitting system of their choice to select and tune a hearing instrument.
"Right now, about 90% of dispensing locations use NOAH; 10% don't, and they don't because some locations just do business with one manufacturer," Peterson says. "If you're just doing business with one manufacturer, there's not a huge amount of gain by using NOAH; certainly there are some benefits, but it really becomes a lot more compelling for a dispensing location to use NOAH when they're doing business with lots of different manufacturers."
NOAH can also be used to record journal notes regarding the client sessions.
NOAH's other major feature is that it provides a common database that allows for the exchange of data between various manufacturers' applications and systems. When various manufacturers created their own software, they also created their own database, making it impossible to take a look at what another manufacturer had to offer, Peterson says. Through NOAH, audiologists need only to enter a patient's basic personal information and their audiometric data; once that information is in the system, the client's record is saved and available to all manufacturers that are NOAH-compatible to access.
"NOAH does a good job of basically storing all the data in one spot, so that they can conveniently find everything," Peterson says. "We do a lot of certification testing to make sure that the manufacturers' software can all co-exist on a system together, and not cause problems. [With] the certification testing that we do, there are a lot of end users out there who refuse to use a manufacturer's software unless they have a NOAH-certified compatible module because they've had problems in the past where they have this conflict between two different manufacturers."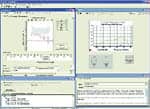 This image shows NOAH3's features, which include scheduling, billing, and recording journal notes.
Incorporating New Functions
While the basic version of NOAH has the ability to do simple data management functions, such as entering basic patient information and simple searching, it cannot perform such functions as accounting, scheduling, billing, or medical claims. That implementation is left up to the office system companies.
With the release of NOAH 3 about 3 years ago, however, those additional functions became available to users. Through NOAH 3, the software system provided more effective data processing and greater overall performance, increasing from a 16-bit program to a 32-bit program that works well with today's advanced PC operating systems.
Currently, in the United States, there are about 6,500 registered NOAH 3 users, representing more than half of the current hearing care market. Peterson says HIMSA expects that about 80% of the market will use NOAH 3 by the end of 2005. There are also about 6,000 registered users outside of the United States.
Through the release of NOAH 3, HIMSA also introduced the Electronic Transfer of NOAH Actions (eTONA) project, a combined effort between HIMSA and the Hearing Industries Association (HIA) to bring electronic commerce to end users.
eTONA enables users to send order, repair, and return requests electronically from within NOAH 3 to hearing instrument manufacturers. Each manufacturer will make its own NOAH-compatible order software wizard to help end users configure their orders correctly. Hearing care professionals can purchase different audiological equipment that is compatible with NOAH, and integrate the order into the NOAH database.
In keeping with the Health Insurance Portability and Accountability Act, or HIPAA, security regulations, HIMSA devised eTONA to securely transmit orders to the manufacturer's site using encrypted data. The manufacturer will then process the order and send status updates. Users can get an up-to-date list of the status of all orders, repairs, and returns in one place via the eTONA transaction browser. "What's nice about this is that if you're doing business with three or four different manufacturers, many of the manufacturers have Web sites to order from or will at some point, and those are great, but if you want to check on the status of an order, you don't want to have to go to four different Web sites," Peterson says.
eTONA was designed to replace paper order and repair forms that can often be confusing. The product order modules use information, such as the patient's personal information and audiogram results, that is stored in NOAH's database to automatically complete sections of the order form.
In response to the hearing care industry's introduction of scanned impressions, eTONA is also capable of attaching electronic scans to orders. eTONA provides benefits even for those hearing care professionals who use physical impressions, Peterson says. "There's still some benefit because the manufacturer will get the order electronically much faster, and can start to pre-assemble some things, and then once they get the impression, they can continue. It also just enables that the order has electronically been put together versus by hand, which reduces data entry mistakes," he says.
According to HIMSA, member companies are finalizing their software modules and deploying eTONA for testing in hearing care professionals' offices. NOAH System 3.5.2, which was released in June of this year, includes eTONA. A free upgrade is available for current NOAH System 3 users.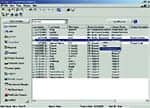 This image depicts how NOAH users can get an up-to-date status report through the transaction browser.
A Programming Interface
Through a joint effort with GN Otometrics, HIMSA developed NOAHLink™, a new hearing instrument programming interface used with NOAH 3 that has Bluetooth wireless technology to provide faster data communication, portability, and flexibility. NOAHLink is designed to replace the current industry standard interface, HI-PRO, which was also created by GN Otometrics.
NOAHLink is a lightweight device about the size of a hockey puck that hangs around a patient's neck and creates a wireless connection between the computer and the patient. Hearing aids are plugged into NOAHLink via short cables. The manufacturer's software that settles the different parameters on the hearing aid can run on the computer via the wireless connection to the NOAHLink device. By eliminating wires to the PC, NOAHLink also offers flexibility and mobility for clients.
NOAHLink, which was introduced a couple of years ago, is compatible with most major manufacturers' hearing instruments. As of August of this year, more than 10,000 NOAHLinks were sold worldwide, with more than half of those sales in the United States.
Questionnaire Module
In keeping with its quest to create a standard system in the hearing care industry and to address the push for evidence-based practices, HIMSA created the NOAH Questionnaire Module, which allows hearing care professionals to collect evidence proving the effectiveness of a hearing instrument fitting regardless of the manufacturer. "It's very difficult to prove what a patient is really gaining from an instrument," Peterson says.
The NOAH Questionnaire Module can collect, store, and retrieve data gathered from the two main questionnaires used in the United States to assess needs and benefit: the Abbreviated Profile of Hearing Aid Benefit (APHAB), and Client Oriented Scale of Improvement (COSI).
COSI is a self-assessment survey developed in Australia that identifies key hearing objectives and tracks improvement over time. In the survey's section on needs assessment, patients identify listening situations in which they want to improve their hearing or communication. In the survey's outcome assessment section, which is completed after the hearing aid is fit, the change in hearing function for the identified listening situation is evaluated.
The APHAB is a 24-item self-assessment inventory in which patients report the amount of trouble they are having with communication or noises in various everyday situations. Benefit is calculated by comparing the patient's reported difficulty in the unaided condition with their amount of difficulty when using amplification.
"As a request that we received from a lot of different end users and manufacturers, we have made it possible that the audiologists can enter results of these questionnaires into NOAH, [and] save the results within the NOAH database," Peterson says. In doing so, audiologists can keep track of a patient's hearing loss and satisfaction with a hearing instrument on a long-term and comparative basis.
The NOAH Questionnaire Module became available via downloading in January 2005, and is free to all currently registered NOAH 3 users. It will also be included on all future NOAH 3 installation CDs.
While Peterson remains quiet about HIMSA's future plans, he does say that the company is "always looking ahead."
Danielle Cohen is a staff writer for Hearing Products Report.