VARTA Names William Flanagan President and CEO

VARTA Microbattery GmbH, parent company of VARTA Microbattery Inc and the Power One battery brand, has appointed William Flanagan as the new president and CEO of VARTA. Flanagan had been retail national sales manager of the company since 2003.
Flanagan's new responsibilities will include long-term strategic and financial planning, new business development, and marketing initiatives for operations throughout the Americas. With his prior knowledge and experience in both domestic and international distribution, Flanagan will also provide overall guidance in retail, wholesale, OEM, direct sales, and government markets. He will now report directly to Herbert Schein, CEO of VARTA Microbattery GmbH.
Since joining the company in 2003, Flanagan reportedly helped VARTA to achieve triple-digit sales growth while attaining overhead reductions, increased profits, and improved brand awareness.
Flanagan is also a key contributor in building heightened familiarity for the Power One battery brand in the North and South American markets, says the company.
Resound's Hallenbeck Receives 2011 Achievement Award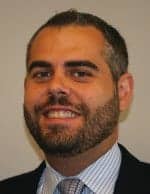 Stephen Hallenbeck
ReSound audiologist and Hearing Review contributor Stephen Hallenbeck, AuD, has been honored with the Rush University AuD Alumni Distinguished Achievement Award for 2011.
Members of Rush's audiology faculty recognized Hallenbeck for his professional service and accomplishments since completing his Doctor of Audiology degree at the university.
Since completing his degree, Hallenbeck's accomplishments include:
President of the Illinois Academy of Audiology;
Chair of the American Academy of Audiology (AAA) Public Relations Recruitment Sub-Committee;
Adjunct faculty appointments at Rush University Medical Center and Northern Illinois University;
Publication in trade journals (including his latest in Hearing Review), and
Invited speaker and panelist at American and international hearing industry conferences.
In addition to his professional and academic achievements, Hallenbeck has been a volunteer for various hearing loss outreach programs, performing hearing screenings at health and wellness events. He also promotes the profession of audiology through the National Youth Leadership Forum on Medicine and through career fairs in the Chicago area.
Hallenbeck has previously received the Rush University Outstanding Student Award in Audiology and the Dean of Health Sciences Outstanding Student Award in 2003 and 2005.
Nick Stephan Joins Unitron as Vice President of Finance and Controlling
Unitron US has named Nick Stephan as vice president of finance and controlling. In his new position, Stephan will oversee Unitron US's financial performance, including the budgeting and forecasting processes. In addition, he will manage the division's information technology department and participate in contract negotiations.
Stephan most recently served as senior director of finance at Siemens Hearing Instruments, and his previous positions included CFO at Rexton/MEMSI Inc and other executive and management positions at Siemens. His experience comprises a total of approximately 20 years in the hearing industry and 10 years in medical systems.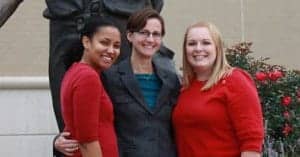 Verleyne Andrews (pictured left) and Kristie Meehan (right) and PhD candidate Annie Hogan, (middle)
"We are very fortunate to have Nick directing our financial operations, particularly with his wealth of industry experience and proven leadership," says Rodney Schutt, president and CEO, Unitron US, in the press statement. "He understands the language and nuances of the industry, which has allowed him to step in and become a leader and immediately contribute to our bottom-line success."
JMU's 2011 Roger Ruth Memorial Student Research Awards Announced
James Mason University (JMU) has awarded the 2011 Roger Ruth Memorial Fund Student Research Awards to three JMU graduate students. The fund is supported by individual donors, as well as an ongoing financial commitment from Oticon Inc.
Doctor of Audiology students Verleyne Andrews (pictured left) and Kristie Meehan (right) and PhD candidate Annie Hogan, (middle) were honored at a special ceremony at the Ruth Symposium in October.
The Roger Ruth Memorial Student Research Awards were created in memory of Roger Ruth, PhD, (1950–2009) for his tireless efforts to promote student research as an integral part of graduate education in audiology. The awards are designated for use in support of multiple annual audiology student research projects conducted at JMU.
hi Healthinnovations Hires Yanz as Vice President of Hearing Health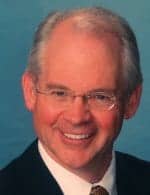 Jerry Yanz
hi HealthInnovations, a new division of UnitedHealth Group offering its own brand of hearing aids to consumers, has named Jerry L. Yanz, PhD, as vice president of hearing health. Yanz will lead the company's growing team of hearing care professionals.
Yanz has experience in hearing health academia, as well as in the audiology clinic and the hearing-aid industry. After obtaining a bachelor's degree from Stanford University, he earned a master's degree and PhD in hearing and speech sciences from the University of Iowa. He held a faculty position in the Department of Communication Disorders at the University of Minnesota and then directed a large audiology clinic in St Paul, Minn.
Since joining the hearing industry, Yanz has operated as an executive leader in both product research and development and ongoing education of hearing professionals for several major hearing instrument manufacturers, and has presented courses at conferences worldwide.
"Dr Yanz's extensive clinical, scientific, and industry experience will be instrumental in enabling hi HealthInnovations to further its mission of providing affordable access to high-quality hearing solutions to more Americans," said Lisa Tseng, MD, CEO of hi HealthInnovations.