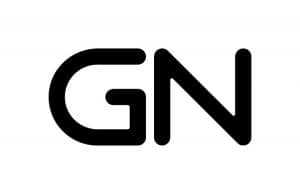 For end-of-year 2017, GN Store Nord—the parent company of ReSound and Beltone hearing aids and Jabra headsets—reported a revenue increase of 11% to DKK 9585 million (US$1.58 billion) and organic growth of 8%. The company's EBITA increased by 10%, based on strong execution in both GN Hearing and GN Audio and their 2017-2019 corporate strategy titled "Hear More, Do More, Be More."
In the fourth quarter of 2017, GN Hearing's revenue increased by 8%. Organic growth was 11%, driven by the successful spring launch of ReSound LiNX 3D, its 5th-generation 2.4 GHz hearing aids.  In Q4 2017, GN's EBITA margin reached 26.5%, compared to 26.0% in Q4 2016.
According to the company, GN's full hearing aid portfolio—which addresses all types of hearing loss, form factors, and price preferences—was a key driver of revenue and earnings growth in 2017. ReSound LiNX 3D, which became available in the United States during April, is said to offer unprecedented benefits to hearing aid users and to hearing care professionals across three key dimensions: sound quality, efficient and convenient fitting, and ground-breaking remote fine-tuning.
"In 2017, we launched our unique ReSound LiNX 3D product offering, which contributed strongly to accelerating growth rates in the second half of the year giving us a strong momentum as we enter 2018," said GN Hearing CEO Anders Hedegaard in a press statement.
According to GN, the company is entering the second year of the 2017-2019 strategy with the ambition to continue to deliver strong profitable growth, and GN Hearing and GN Audio are well-positioned to benefit from attractive market conditions. Its 2018 financial outlook is closely linked to the announced financial targets set out in its 2017- 2019 strategy: over 6% organic growth for GN Hearing with an EBITA margin of over 20%.
GN Audio also delivered strong growth in both revenue and EBITA margin in 2017. Throughout 2017, GN Audio achieved significant growth in the Call Center & Office (CC&O) business with double-digit organic growth in all regions. This was in particular driven by the Unified Communications (UC) segment. A key milestone in the consumer business was the broad success of Jabra Elite Sport, which positioned Jabra as the second-largest player in the global market for true wireless earbuds and helped to offset the continued negative impact of a declining Bluetooth mono market, according to the company.
GN also recently announced its first product for military headset and hearing conservation applications, under the name GN FalCom, which currently is part of GN Hearing.
The company reports DKK 1.4 billion (US$231 million) was returned to shareholders through dividends and share buybacks. GN's current 1-year DKK 1 billion (US$165 million) share buyback program will be concluded no later than March 12. It intends to buy back shares worth DKK 3 billion (US$495 million) during GN's 2017-2019 strategy period and will propose a new 1-year share buyback program of DKK 1 billion for the upcoming year.
GN has been on a roll, at least in part due to the company being the earliest adopter of 2.4 GHz technology in hearing aids. In 2016, the company also experienced a double-digit revenue increase of 12%, with 6% organic growth, purchasing Audigy Group in July 2016 and divesting its diagnostic equipment division, Otometrics, selling it to Natus Medical in September 2016. Although the company did very well in 2015 (14% revenue growth, 6% organic), it was a more challenging year, including a fraud case involving Beltone's CFO leading to the resignation of Beltone's CEO, a management change at GN Netcom involving the CEO and CFO, and highly public patent disputes that were eventually settled with William Demant Holding (WDH).