Audigy Group, Vancouver, Wash, announced that it has entered the world of podcasting. The medical management company has launched "Attainable.FM," an online portal of audio-based shows that speak on a range of topics of interest to the hearing care industry, where listeners can expect to hear from industry thought leaders on business, leadership, team building, and marketing.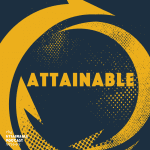 Audigy Group, which helps independent audiology practices maintain their autonomy in an increasingly competitive market by providing shared services and best practice-based systems reports that its podcasts are intended for busy audiologists and hearing care professionals who want to grow professionally but don't always have the capacity in their schedule to do so.
Hosted by Audigy Group CEO Brandon Dawson, "Attainable" is a daily podcast that is intended to bring actionable business insights to hearing care professionals from thought leaders. The business insights provided by the show run about two minutes long, and are designed to get the work day started off on the right foot.
Other podcasts in the series from Audigy include "Spotlight," a monthly podcast that interviews experts and top performers in the hearing care space. This long-form, interview-style show hosted by creative director Nathan Miller was created to shed light on the "why, how, and what" that drives the innovative spirit of the hearing care industry.
Hosted by digital specialist Daniel Parscale, "Reach" is a weekly show aimed at providing marketing help to small-business owners in the hearing care industry. It covers a wide variety of topics, but recent shows have focused on building expertise in website development and reaching online audiences through search marketing and online media buying.
These shows are designed to appeal to a wide audience in the hearing care industry, from students to practicing audiologists. Those interested in a private-practice career may find the central topics of leadership, operational efficacy, and team building particularly helpful.
"We feel really great about the content we're producing and offering to the hearing care industry through 'Attainable.FM,' as well as the early reception we've seen," said William Smith, executive producer for the Attainable Podcast Network. "These shows are a labor of love for us as we are big believers in podcasting as an emerging medium."
To learn more about "Attainable.FM," visit the podcast website. The shows are available to download and subscribe to free of charge via the Apple Store through iTunes.
Source: Audigy Group