Events ADA | December 2013 Hearing Review Products
ADA Convention Showcases Great Transformations and New Challenges for Audiology and Hearing Care
ADA appeals for its membership to unite behind 18×18 and become proactive in the face of change
No one will ever accuse the Academy of Doctors of Audiology (ADA) of thinking small—or not speaking its mind. Since its inception, the ADA convention has been a magnet for many of the field's most successful and ambitious private-practice audiologists and thought-leaders. Likewise, the organization's contributions have helped pave the way for the dispensing of hearing aids by audiologists beginning in the late 1970s and the AuD movement of the past 15 years. So, its convention held November 8-10 in Bonita Springs, Fla, with a theme of "superhearos" and the motto "Great Transformations: Take Your Practice from Ordinary to Extraordinary," reflected its latest challenge for change in private practice dispensing, as well as the organization's continued efforts in its 18×18 legislative initiative launched—to the raised eyebrows of many—at last year's convention.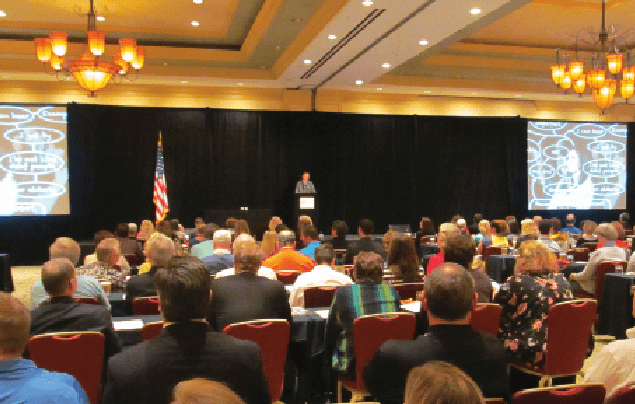 The 2013 ADA Convention featured over 20 seminars and two special "Transformative Sessions" that were designed to shed new light on hearing healthcare marketing and business practices.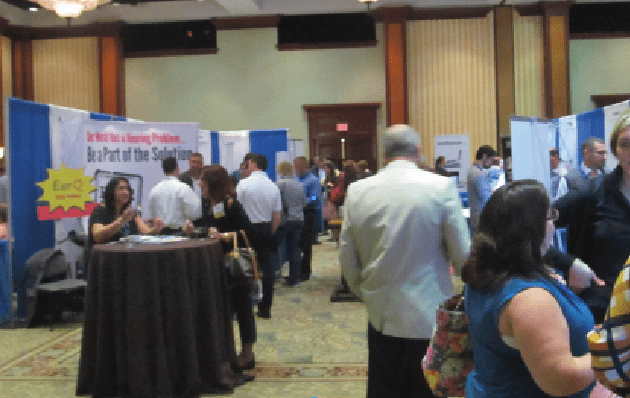 More than 60 companies and organizations showcased their products and services in the ADA Exhibit Hall.
Among the convention's many offerings were 25 excellent seminars, including two "Transformative Sessions" by frequent HR contributor Amyn Amlani, PhD, of the University of North Texas, and Curtis Alcock, founder of Audira, a UK-based think tank that focuses on hearing healthcare. In addition to an exhibit hall that featured the products and services of over 60 companies and organizations, the convention also provided an innovative and interesting Student Business Plan Competition and many activities that brought members together for what ADA is perhaps best known for: networking and sharing information in an informal collegial environment.
President Green on 18×18: Are you with Me?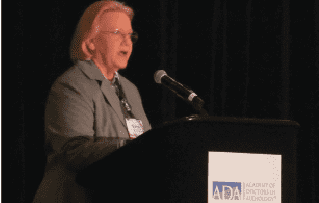 ADA President Nancy Green delivers a fiery message to members in support of the Academy's 18×18 legislative initiative to change Medicare audiological coverage and Title 18 of the Social Security Act by 2018.
ADA President Nancy Green, AuD, delivered a fiery President's Message and didn't mince words about the need for unity and commitment among ADA members in the fight for the controversial 18×18 initiative that was launched at last year's convention. If successful, 18×18 would amend Title 18 of the Social Security Act by 2018 to allow for Medicare coverage of medically necessary treatment services by audiologists, eliminate the need for the physician order required for a Medicare beneficiary to receive audiology services, and allow audiologists autonomy to make clinical recommendations and practice the full scope of audiology and vestibular care as allowed by their state licenses and as dictated by their educational requirements and competencies. However, 18×18 differs substantially from the more modest (and some argue more attainable) legislative strategies of the American Academy of Audiology, and most notably from the American Speech-Language-Hearing Association and American Academy of Otolaryngology-Head and Neck Surgery, which recently teamed together to support a joint bill, HR 2330 (for more background on this issue, see David Kirkwood's HR Blogpage column in the August 2013 HR, pages 10-12).
In a speech that might make some old-time revivalist ministers envious, Dr Green called for "parity within the Medicare system," repeatedly asking ADA members "Are you with me?" and calling on Congress to take action before the full force of 75 million Baby Boomers require hearing help. "CMS needs to know that audiologists cannot function within the Medicare system as it is because of the disparity that exists between Medicare audiology and the state licensure laws governing the scope of practice of audiology," said Green. "I insist that this dysfunctional piece of the healthcare system be addressed and be remedied. Are you with me?"
Green also cited the AuD movement as an example of why 18×18 must be won on the grassroots level by audiologists spreading the word, investing in PACs, and following the example of optometry. "It took optometry over 20 years to achieve parity with ophthalmology under Medicare, but never once did they admit defeat before they ever got started, never once did they advance their position by saying, 'The physicians will never let us do that,' never once did optometry say their goal wasn't feasible, not once did optometry consider asking less than what the public needed and deserved, and not once did optometry blame other practitioners for lack of legislative progress. If we must fight for something, let's make sure that what we win in the end will be worth the time and effort we spend on the fight. I'm not willing to give up. Are you with me?"
She also chided those organizations opposed to 18×18. "There are the nay-sayers, but their objections are manifestations of ego, turfism, and inertia," said Green. "They're much more interested in having their own ego stroked, or saving their own slice of the pie, or maintaining their own positions of power than they are in working with the audiologist to provide the most appropriate, safest, and cost-effective audiologic care possible for the American public…I don't care how well-funded their PAC is, I will not be intimidated by them because right is on my side. All the wimps, weenies, wusses, and whiners out there need to grow a backbone and stand up for what's right and understand that changing the system for the better—especially a system as complex as Medicare—necessarily involves a disagreement with those who stand to benefit from maintaining the status quo. The status quo, however, doesn't protect technicians now, doesn't protect the profession now, doesn't protect individual practitioners now, and it won't protect anyone in the future—at least 75 million of them—unless parity is achieved and audiologists take their rightful place with licensed physicians under Medicare. Even if the price of that change is a squabble among friends, I will not defend the current status quo and I will oppose anyone who tries to maintain it due to their own self-interests. Are you with me?"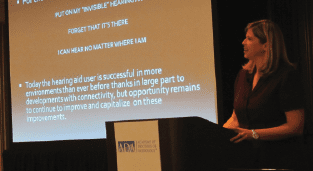 Laurel Christensen of GN ReSound presented a summary of industry advances in hearing instrument technology in her seminar "Current Trends in Amplification.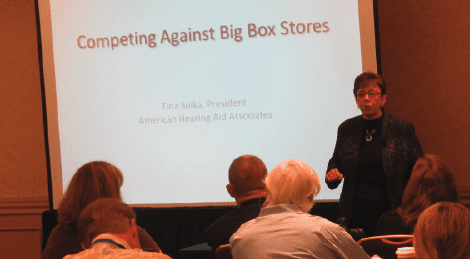 Tina Soika of American Hearing Aid Associates (AHAA) looked at Costco and other large retail competitors, including the Internet, in her seminar "Competing Against the Big Box Stores.
Green concluded by saying the profession of audiology is undergoing a great transformation that will change public perception about audiology and hearing care, in general. "Our patients need us to make a tangible solid difference [with audiological services]," said Green. "I will do everything in my power to make the system work for patients, the profession, and providers of audiology care so that the system allows us to function autonomously to the best of our ability and [so we can] finally fulfill our ethical, moral, professional, and licensing responsibilities. Are you with me?"
Transformative sessions
The market is changing. If anyone missed this message at this year's ADA Convention and the need for revising clinical, business, and marketing practices in response to the challenges from big-box stores, Internet hearing aid sales, decreasing average sales prices, etc, then…well…you should get your ears checked.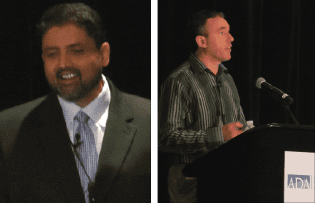 Amyn Amlani, PhD, of the University of North Texas and Curtis Alcock, founder of Audira, a UK-based think tank that focuses on hearing healthcare, delivered "Transformative Sessions" that shed new light on consumer perceptions and the marketing of hearing healthcare products and services.
Amyn Amlani, PhD, who has published numerous articles in The Hearing Review, provided a wide-ranging look at what his and his colleagues' research means for dispensing professionals and hearing healthcare in general. He showed that market penetration is not the 25% figure often quoted, but instead more likely to be 51% when practical assumptions made regarding consumers' hearing loss and economic status are considered. And, although big-box retailers are pressuring the industry, Amlani showed that the breadth of rehabilitative services like vestibular and CAPD assessment in dispensing offices—services that big-box retailers have little hope of offering—has continued to decrease. Another survey he cited showed large discrepancies between what dispensing professionals view as their strongest marketing advantages (products, price, physician referrals, advertising, and marketing) and what consumers are looking for (service driven, practice reputation, family/friend recommendation, dispenser competency, and financing options).
Dr Amlani also provided an overview of his extensive work on hearing aid price elasticity (published in the March 2008 Hearing Review) and the influence of perceived value on hearing aid purchase intent (February 2013 Hearing Review), showing that $1,645 is the average retail price where elasticity and inelasticity are equal. Over all, Amlani's point was that dispensing practices need to rely on marketing messages that convey service and expertise, use layman's terms, and unbundle features/pricing when describing benefit to consumers.
In another "Transformative Session," Oticon Inc President Peer Lauritsen introduced Curtis J. Alcock, a consultant for Audira, a UK-based think tank that focuses on hearing healthcare. Alcock described research done by Audira on the consumers' perspectives on hearing care and how societal attitudes can change—but only under the right conditions. He said that most people don't have a well-formed opinion about what hearing testing and hearing aids represent; however, by the time they come into a hearing care practice, they have a negative attitude due to impressions related to the idea of loss and disability, threats to self-importance and competency, etc. Alcock showed how our industry needs to "flick the switch" and modernize attitudes (or update old-fashioned attitudes) about hearing care. In order to effectively market the benefits of hearing, we need to discard the negative and instead concentrate on providing a positive image of who consumers wish to become (ie, someone who is always engaged, empowered, seizing opportunities). The task at hand for the industry, he says, is to steer people to a place they'd like to be and make getting to that place as easy as possible by making them see the positive opportunities in hearing everything well.
Next Year
The 2014 ADA Convention will be held at the Red Rock Resort on November 6-8 in Las Vegas. For details, visit: audiologist.org.
Original citation for this article: ADA Convention Showcases Great Transformations and New Challenges for Audiology and Hearing Care. Hearing Review Products. 2013;Winter: 30-32.