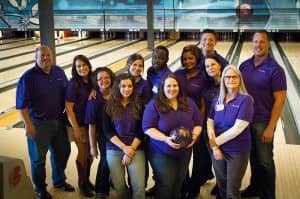 Since its founding in 2004, Audigy Group, a Vancouver, Wash-based medical management company, and its peripheral companies, Stratus Dental Group and Audigy Medical, have been committed supporters of Share House. The mission of Share House is to lead the hungry and homeless to self-sufficiency by providing food, shelter, housing, education, and compassion through the strength of its community.
Recently more than a dozen employees from Audigy's family of companies extended an invitation to 69 teenagers to enjoy an afternoon of bowling and relaxation at a local bowling alley.
The socioeconomic backgrounds of the teenagers who participated in the event varied widely, with some coming from more privileged families and secure households, while others came from low-income families in which good meals on a daily basis are never a guarantee. But food and entertainment were in strong supply, as the teens came together to take down nearly 22 pizzas and conquer 16 bowling lanes. Audigy also provided middle school and high school students with backpacks filled with school supplies, essential toiletries, and prizes for three lucky winners.
"It's really an opportunity for some of these kids who are homeless and in transition to have an activity that's a very stabilizing event," says Dellan Redjou, director of volunteers and community resources, Share House. "It's something that, because of their situations, they aren't able to participate in many times. Being able to come up and do something like this is not necessarily something that's a budgeted item for their families, so this puts them on the same playing field as the rest of the kids. And I think that's a really important thing for kids, for teenagers especially."
In the past 2 years more than 40 Audigy employees have volunteered at the Vancouver Share House, serving hot meals to those in need and contributing to the ongoing success of Share's shelter and outreach programs. This past Thanksgiving, Audigy employees collaborated to deliver 1,100 pounds of food for Share's holiday meal schedule.
Source: Audigy Group