The design of an office can affect whether a patient returns for assistance with future hearing needs.
When it comes to customer service, appearances are as important as a staff's communication skills and an audiologist's abilities. Creating an office environment that enables staff to be efficient and puts patients at ease, helps solidify relationships with patients, gives them the information they need to make the decision to purchase hearing aids, and ultimately brings them back for additional hearing needs.
DESIGNING THE BUILDING
Whether opening your first office, remodeling an existing one, or hanging your shingle at an additional location, you will start with an empty building. You could lease a shell of a brand new medical building that you "build out" with walls, plumbing, and other features situated where you deem most appropriate,1 or you could remodel an office that already has set locations for sinks and toilets, and walls dividing the space into rooms.
Going with a new building allows you to construct your dream office from scratch, but it comes with a heftier price tag—building renovation could cost $50 to $75 per square foot,2 while building out a new building could cost as much as $90 per square foot.1 (Landlords of build-out buildings do provide an allowance for designing an office, but the cost is part of the rental price.1) You will have to decide whether to invest in your office by having it built exactly to your specifications, or reduce upfront costs on the new practice by making some modifications here and there to an existing building.
However, if you are a recent AuD graduate, an audiologist who has worked for someone else's practice and is now striking out on your own, or an audiologist who is opening an office in a new community, you may want to find a building that is suitable and make modifications after turning a comfortable profit.
In any of the above scenarios, you will need to hire a contractor, architect, and/or interior designer for any modifications required. To find the right professionals for the project, ask for references.2 Find out from other audiologists and other medical professionals what kinds of modifications they had done to their offices, how much time it took to complete, the costs, and the work ethic of the building professionals, as well as your colleagues' ability to reach those professionals to discuss questions or concerns.
BUILD IN EFFICIENCY
With the construction team in place, general layout concerns to focus on include accommodating storage space for records, carving out efficient walking paths, and setting aside enough space for patients in the waiting area. Then, you will need to focus on outfitting your rooms.
Tending to design issues that impact service delivery can create efficiency in an office. For starters, the receptionist's area should be closest to the building entrance, so patients don't feel lost when they walk in.1 The receptionist also should be able to see all patients easily, "so nobody is forgotten."1 Additionally, make sure the counter at the receptionist's area is low enough so people in wheelchairs can easily converse with the receptionist.1
To determine just how big the patient waiting room should be, Medical Economics magazine offers a helpful formula: "Take the number of patients you expect to see during your busiest hour and multiply that number by 2.5 to account for tag-along relatives and friends. Then, subtract the number of exam rooms. That's how many chairs you'll need. Next, multiply the number of chairs by 20 square feet."1 You'll need interesting reading materials, windows, and lighting that is adequate but not harsh to offset any perception of the room being small and lifeless.2 Provide sturdy chairs that have armrests that elderly and ailing patients can use to push themselves up more easily, but don't forget to include a few armless chairs for the comfort of larger patients. (Have comfortable seating for employees as well, since this contributes to their ability to work efficiently.) Rather than positioning chairs in a circle along the perimeter of the waiting room, cluster them in groups to create a more inviting atmosphere in the waiting room.1
EDUCATING PATIENTS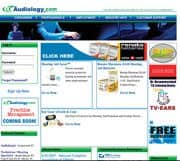 By providing materials on hearing loss, hearing aids, and financing plans, hearing health care professionals help patients feel empowered and informed.
It is also a good idea to include hearing health educational materials in the waiting room so patients can learn more about a variety of topics, including how hearing becomes impaired, how it can be improved with amplification and assistive listening devices, the process of getting hearing aids, and financing options.
Consider stocking the patient waiting area with informative brochures, a showcase cabinet of ALDs, or even a television and DVD player to loop videos regarding hearing health issues.
Offering educational materials helps put patients at ease. Many patients wait nearly 10 years to do something about their hearing problems and, because of this, they are likely to have a lot of questions. If you empower them with the knowledge of how hearing aids can help improve their social connections and emotional outlook on life, and let them know that there are third-party financing plans available that can break a price tag of a couple thousand dollars into smaller, more manageable monthly payment chunks, they will likely be more eager to purchase hearing aids from you.
Research has confirmed the power of educating patients: A 2006 survey found that 50% of respondents found it easier to focus on optimal care instead of costs when they were informed of the existence of a hearing aid financing plan at the hearing professional's office.3 A majority of these respondents left the practice feeling they had received a good value when they were told about an available hearing aid financing program.
Patients who have been educated in the waiting room will be better prepared for testing and discussions about hearing aids. When it comes to testing rooms, consider designing them identically to give your audiologists an advantage: A similar design for all testing rooms will make it easier for audiologists to find needed supplies, if they are in the same place in every room. A patient who is nervous about getting hearing aids could feel uneasy if the audiologist doesn't seem to know how to find anything.2
In rooms where audiologists will communicate with patients about their hearing loss and hearing aid options, furniture should allow for eye-to-eye conversations.1 This strategy can work psychological wonders for patients: Eye-to-eye communication may make the office visit feel more like a collaborative discussion in which the audiologist is concerned about patients' feelings, questions, and fears, rather than a session where the patient takes in the proclamations of the "all-knowing" practitioner without being encouraged to ask questions. Be sure to include brochures about hearing aids and financing plans in these rooms as well, to help provide answers for any questions patients may have.
An office design that gives patients a feeling of smooth transitions through the various stages of the visit, rather than a feeling of stops and starts, helps them have a better experience. (You should also organize the office in a way that provides a logical progression for employees when it comes to service delivery.)
RECORD-KEEPING SOLUTIONS
In addition to focusing on the infrastructure of an office and its accoutrements, you also will need to consider how to keep patient records.
We have all seen medical offices with huge areas devoted to medical records. The norm is for contractors to build in 24 inches of cabinet depth for hard-copy records.2 However, 18 inches will often suffice—and enable you to regain 6 inches of space for another room.2 Consider what your needs for space will really be, and discuss the options with your contractor.
Another way to regain space that would traditionally be used for paper records is to invest in a network of fast computers with plenty of hard drive space. Not only will a good computer network mean you need less space for storage of paper records, but it will enable you to access information more efficiently and facilitate communication with patients, insurance companies, colleagues, and anyone else to whom you and your staff would need to talk. (If you choose to store records electronically, be sure to back them up regularly on portable storage devices, such as external hard drives, which will enable you to access information despite technical difficulties or emergencies.)
A good office management system would complement the hardware purchased to promote efficiency. There are several options when it comes to office management software specifically designed for audiologists; shop around to decide which system is right for you and your employees.
Your office is the place where you and your staff spend most of your waking hours. It is also the place where patients hope to find information on their hearing loss, a caring staff, and affordable hearing aids. Building in comforts and features that support efficiency, and stocking rooms where patients will be with educational materials will help you to help your patients find appropriate solutions to their hearing problems.
REFERENCES
Lowes R. Starting a practice 5-6 months out: office design and supplies. Med Econ. June 18, 2004.
Puffer B. Design for a new medical office. Physician's News Dig. February 1997.
Inquire Market Research. Purchase behavior among hearing loss patients: results of a study with 200 patients requiring a hearing device. Santa Ana, Calif: 2006.
Danielle Campbell-Angah is a freelance writer for CareCredit and former editor of an audiology publication. She can be reached at .