The Lamar University Department of Speech and Hearing Sciences announced the publication of Evaluating and Conducting Research in Audiology written, in part, by Vinaya Manchaiah, Jo Mayo Endowed Professor; Eldre Beukes, post-doctoral researcher in the department; and Ross Roeser, a Howard B. and Lois C. Wolf Professor for pediatric hearing at the University of Texas at Dallas/Callier Center for Communication Disorders. Evaluating and Conducting Research in Audiology from Plural Publishing is reportedly "the first research methods text that is specific to the field of audiology and designed to serve as an academic textbook for audiology graduate students."
"It has been an honor and a professional highlight to work with my colleagues on writing this textbook," said Manchaiah. "This book provides knowledge that is required in evaluating, conducting, and disseminating research among audiology graduate students. It will also prove useful for audiology practitioners who are interested in clinical and applied research."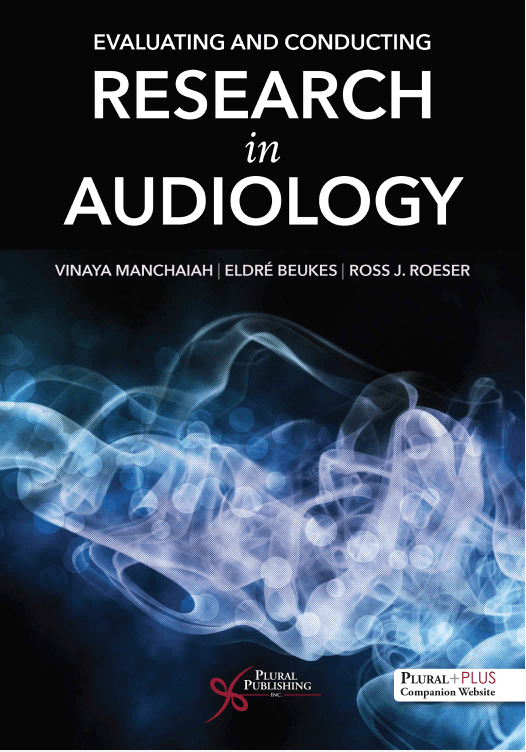 Evaluating and Conducting Research textbook consists of three sections which includes: (a) research methods, (b) evidence-based practice, and (c) conducting and disseminating research. Together, these sections provide a detailed coverage of the research methods that are relevant to the field of audiology.
The publication has six key features which include:
Comprehensive text that provides materials for multiple courses (ie, research methods, analysis of professional literature, evidence-based practice, capstone research project) within the audiology degree program.
Discusses research methods and study designs that are more relevant to the field of audiology.
Provides audiology-specific examples when explaining the concepts.
In-depth discussion of qualitative research methods, survey research methods, and systematic reviews to motivate students and early career researchers to consider these methodologies in their research.
The book chapters have been classroom tested.
Access to a PluralPlus companion website with various ancillaries such as PowerPoint lecture slides for each chapter to facilitate its adoption to an academic course.
Evaluating and Conducting Research in Audiology is currently available through Plural Publishing, Inc at: https://www.pluralpublishing.com/publications/evaluating-and-conducting-research-in-audiology.
For more information about the authors or the Department of Speech and Hearing Sciences, please visit: lamar.edu/speechandhearing.
Source: Lamar University
Image: Plural Publishing